Fives' GENI-Belt™ range of cross-belt sorters enables fully automated sorting inside postal, courier, e-commerce and distribution centers. GENI-Belt™ sorters handle a wide range of products at high speeds of up to 3m/sec (9.8 ft/sec), delivering both outstanding sorting capacity and accuracy. Its cross-belt loop technology features a continuous "train" of carrier units whose independently operated high-friction belt conveyors enable impact-less sorting. This translates to safe, accurate and efficient transfer of all items.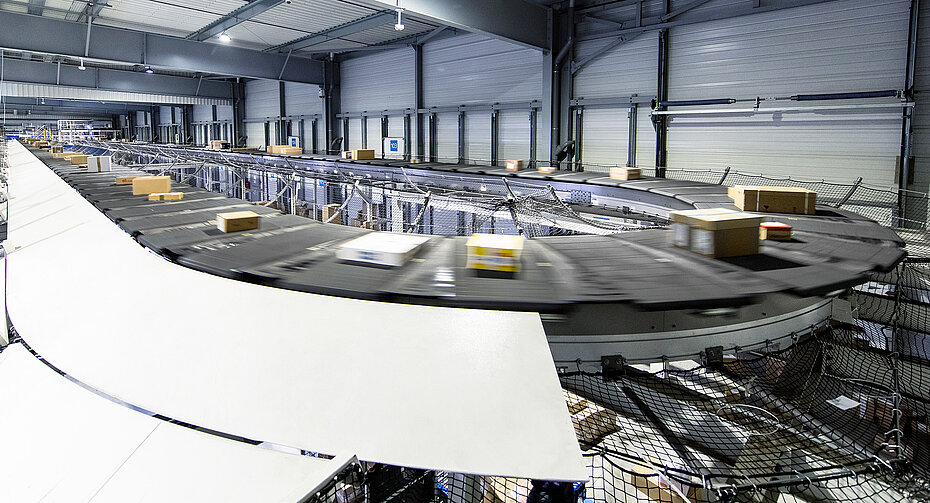 A revolutionary generation of cross-belt sorters
GENI-Belt™ is a robust, fault-tolerant system that offers unrivalled 99.99% accuracy and high sorting capacity regardless of item type. Energy-efficient and easy to maintain, it features gentle handling and total control of parcel position and behavior with no slipping or rolling.
Its modular design means it can be adapted to any facility's size and dimensional constraints. Thanks to GENI-Belt™'s continuous train of carrier units equipped with high-friction belt conveyors, the system keeps items in a controlled, perpendicular alignment throughout transportation.
The continuous, closed-deck conveying surface provides streamlined parcel transport, even in curves and when ascending or descending. Belt-to-belt flat automatic loading of items ensures high capacity without sacrificing accuracy.
The system thus offers excellent flexibility for a wide range of items and configurations.
Excellent flexibility in sortation and design
The GENI-Belt™ line is suitable for a wide range of operations and is fully adaptable to any physical constraints. A truly scalable investment, GENI-Belt™'s virtually unlimited number of configurations enable system design that meets today's needs, while taking into account future evolutions. Whether due to changing requirements or the need to handle a new mix of items, GENI-Belt™ can be easily adapted. Sorter capacity can be expanded by adding induction lines or destinations. The system we install today is thus the best solution for tomorrow.
The GENI-Belt™ single cross belt adapts its speed and acceleration during sortation, providing precise off-loading trajectories according to item position, weight and speed.
In addition, GENI-Belt™ cross-belt sorters can truly handle all kinds of items and sizes, from small parcels and documents to 1,500 mm long parcels weighing up to 80 kg. This effectively minimizes the number of non-conveyable items.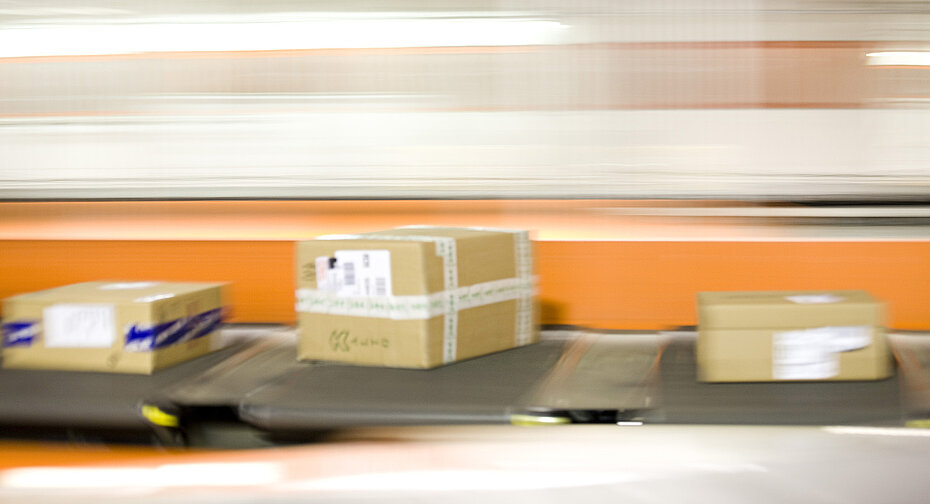 Full redundancy for greater availability
Redundancy is completely built into the GENI-Belt™ sorter, assuring an optimal level of reliability for the entire system. Each component is installed alongside a back-up part, meaning that a single failure will not affect operations. When one defective component isn't functioning, its back-up takes over. In this way, the sorter keeps on running, with no sorter standstill.
In addition, we build GENI-Belt™ according to the concept of parallel design: every single sorting unit operates parallel to the others, performing the same task. Thus, the failure or malfunctioning of one cell does not affect the adjacent cells.
GENI-Belt™'s friction driving units are a key differentiator: they are placed along the sorter loop and act as a propulsion system for the sorter. The friction drives are built to be extremely energy-efficient and reliable. Most importantly, they are installed and distributed with redundancy in mind.
Each driving unit also has built-in redundancy, equipped with two energy-efficient and reliable brushless motors.
Patented power generating wheels further ensure efficient energy transfer on board the sorter.
Maintenance made easy, with more flexible scheduling
The GENI-Belt™ sorter contains very few moving parts, making the system simple and easy to maintain. Predictive maintenance is enabled via an integrated diagnostic controller. Corrective maintenance can thus be postponed until a scheduled production downtime.
Watch GENI-Belt™ and see the difference it brings
Learn more about the GENI-Belt™ cross-belt
Chronopost is using Fives' cross-belt equipment at Jonage distribution center
Fives' ultimate solutions for Canada Post, Vancouver
Fives' turnkey handling system provided for SDA Express Courier
Fives successfully supplied Chronopost with an ultimate solution