Who provides its employees with limitless opportunities to become pioneers in their industry?
Which
human values

would THE FIVES GROUP like to share ?
A sense of
positive energy

and

collective ambition

.
Ever since its creation, Fives has been developing new technologies to build the future of industry. How? By giving free run to initiative, technical excellence and team spirit.
65
Nationalities work within the group
86%
Say they feel attached to their company
94%
of employees are positive about relationships with their colleagues
Join the Group and take the next step in your career by developing technical skills and achieving personal growth.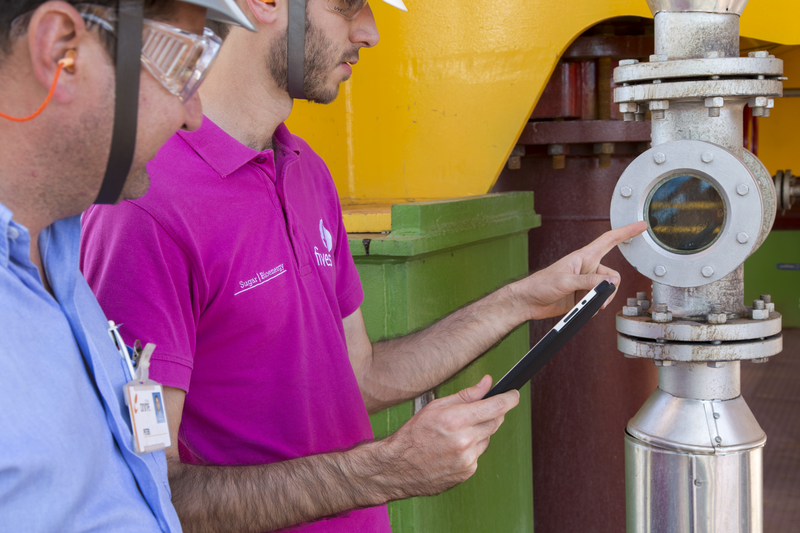 BY YOUR SIDE FROM
DAY ONE
Whether you are a technician, electromechanical engineer, or an expert engineer in your field, whether you are looking for new management experience, international project management, or industrial engineering jobs, Fives offers the opportunity to work in a wide and varied range of job lines, projects and technical environments.

Diversity is an integral part of Fives' identity. To respond to its growth needs, the Group is always on the lookout for new, dynamic candidates who are interested in technologies, science and industry. Fives takes special care of new employees, planning their integration in a way that is responsive to their initial impressions and working relationships. A mentoring scheme is in place alongside integration plans to make sure new arrivals settle into their positions smoothly.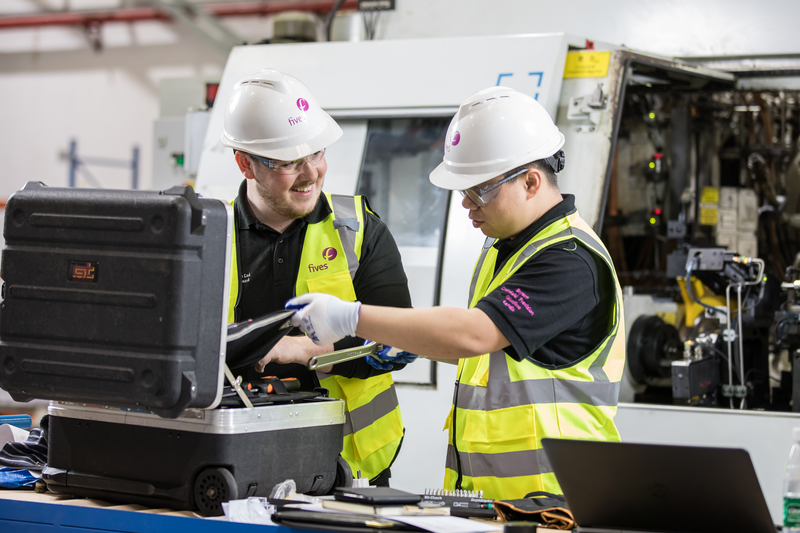 A RANGE OF EXPERIENCES

WITHIN ONE GROUP

It is Fives' policy to actively support internal mobility and career development, both in terms of promoting employees within job lines and offering opportunities to work abroad, either temporarily or longer-term.
These experiences aim to help you develop your skills, and build on your strengths, while discovering new activities and taking on exciting professional challenges.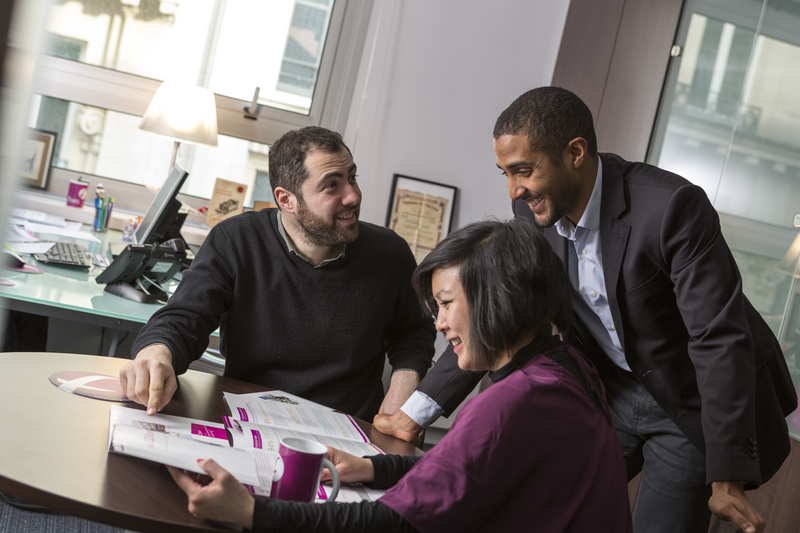 DEVELOPING YOUR SKILLS

TOGETHER
Fives places a high premium on training throughout its employees' careers. Supporting the development of skills and ensuring everyone is able to adapt to job line changes, in particular changes involving digital technologies or new, collaborative ways of working, is a must for the Group.

At Fives, you will also have the opportunity to enhance your individual skills while contributing to training your peers. The Group has a strong commitment to sharing and passing on skills. This is made possible by the generational mix within the Group.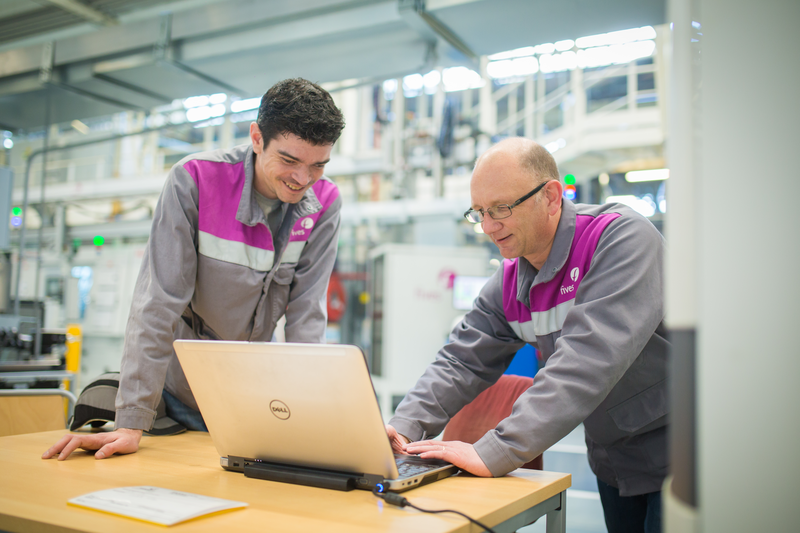 A STIMULATING ENVIRONMENT WITH A

PERSONAL TOUCH
Coming to work at Fives means joining a multi-cultural group which supports and develops close-knit organizations, and which places a premium on personal relationships and collaboration. Fives is made up of over 100 companies operating in close to 30 countries around the world. All have different international activities, markets and clients. The diversity of employees in these companies is what makes the Group's strength.
Fives works actively to improve everyday working conditions for all its employees because Fives understands the value of its teams. The women and men who make up the company are key to making Fives the best industrial equipment manufacturer and integrator in its markets.
A GROUP

COMMITTED TO THE CHALLENGES OF TOMORROW
Fives has made the decision to build bridges between industry and civil society: all the companies which make up the Group are socially engaged, playing an active part in the lives of their local communities.
Fives regularly organizes initiatives to help the public develop a better understanding of jobs in industry, open up production sites, highlight the men and women who are developing new technologies and production tools, and to establish or develop partnerships with schools, start-ups or eco-systems of companies, institutions, and innovation stakeholders.
Fives designs and manufactures equipment and production facilities for industries which have an undeniable impact on the environment (production of cement, steel, aluminium, etc.). Improving energy efficiency in manufacturing processes, limiting the consumption of natural resources and pollutant emissions, and contributing to the circular economy are all challenges which the Group has integrated into its offer and its R&D processes.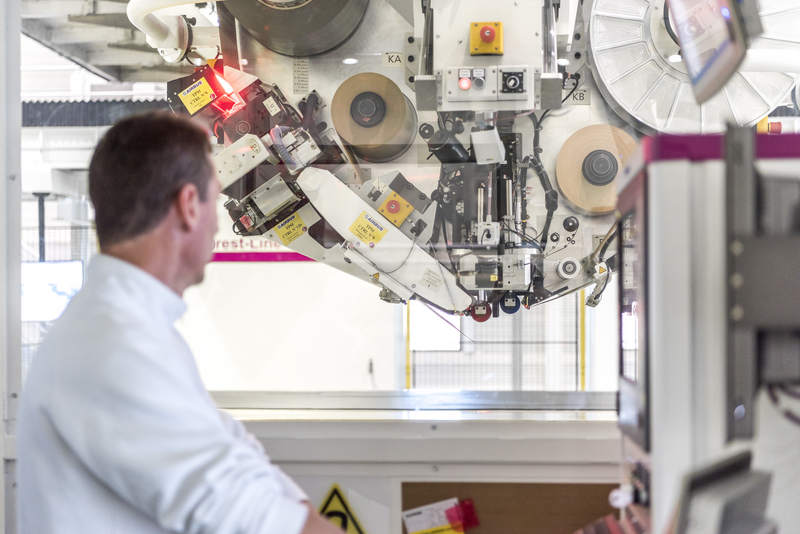 BUILDING THE

INDUSTRY OF THE FUTURE

TOGETHER
Joining the Fives group means pushing together the boundaries of what industry can do, it means developing a spirit of entrepreneurship, and challenging ideas about what industry really is.
Fives has always thrown itself headlong into innovation. Today, innovation means digital twins and composite materials, additive manufacturing and artificial intelligence. Over 200 years ago, the company was breaking new ground in locomotives, elevators for the Eiffel Tower, Alexandre III bridge, Orsay train station - so many technological achievements which have become industrial heritage.
Every day, Fives' teams draw on their ambition as leaders to imagine and rise to technological challenges, to combine innovation, industrial performance and sustainable development.