Fives leverages digital twin technology to mirror physical systems and enhance operations.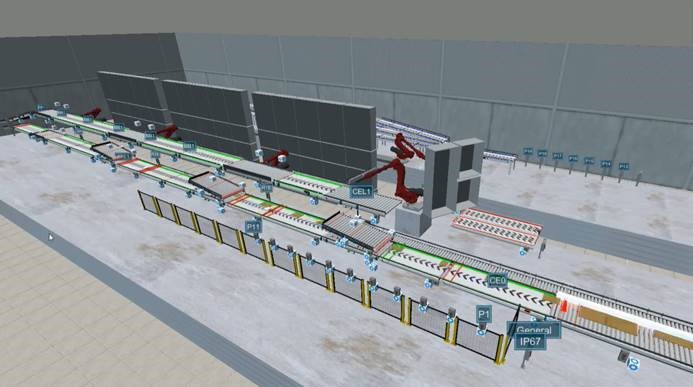 GET A DIGITAL MODEL OF YOUR SYSTEMS
Production lines and warehouses complexity is continuously increasing with more and more sophisticated equipment and systems communicating with one another. Tasks that were performed manually are now fully automated.
This complexity is combined with the need for reducing project time to market to improve overall project ROI.
Digital twins enables Fives to design, implement and commission more complex systems in a shorter time.
Mirroring automated system in a digital environment drives performance throughout the installation lifecycle. Operators can simulate production line or warehouse performance and precisely, quickly assess the impact of any change in equipment, software or production plans. The ability to test with no risk real-world scenarios in the virtual environment will prevent you to unnecessarily disturb your operations and spend money.
BOOST THE PERFORMANCE OF YOUR OPERATIONS
Fives' Smart Automation Solutions Division's Digital Twin solution is a digital, 3D and real-time representation of your system and workflows. It is the perfect simulation model to enhance performance throughout the system lifecycle. Our digital twin technology is ideal for a wide range of activities, from engineering to project execution, operations and maintenance. Its key benefits are:
System dimensioning and validation of technical choices (communication between equipment, throughput, etc.)
Virtual system commissioning (test of all programs)
Operations and maintenance teams training
Operations visualization and performance monitoring
Testing and validation of modifications (equipment, software, production plans, etc.)
Fives' Digital Twin lets you use the virtual world to optimize the real world!