Unlocking the Untapped Potential of Your Assets
SmartLine is a smart answer to steelmakers to face process and quality challenges, such as:
Multiple sources of incoming hot rolled coils
Complex final product range, from mild steel to UHSS
Advanced annealing cycles & complex product transitions
Maximum product quality with highest productivity
Lowest energy consumption and emissions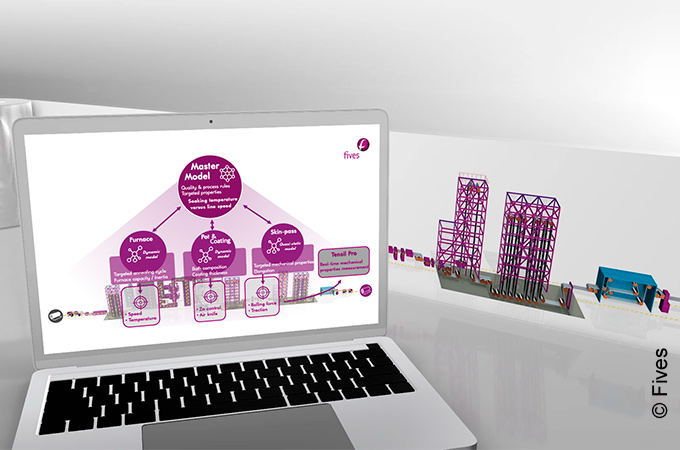 The SmartLine logs everything that happens to your coil during hot and cold rolling. This data is then used to determine the metallurgical state of the product, the best soaking temperature, and the best line speed to achieve the highest quality and productivity. This is all done through what is known as the Master Model, which links all key processes (furnace, zinc pot, wiping, skin-pass mill) in real time, anticipates process conditions, manages transitions and continuously adapts process conditions according to line speed.
The Master Model contains metallurgical models for annealing conditions based on incoming coil history information as well as process & quality rules for speed range adaptation.
The SmartLine integrates a self-learning module to prevent long term deviation and allow for process and line instrumentation evolution.
SMARTLINE, DELIVERING REAL RESULTS
Fives commissioned the SmartLine at Marcegaglia's continuous galvanizing line in Ravenna, Italy.
The automatic pilot allowed us to reduce direct costs through energy saving, increasing productivity, production flexibility, and general quality improvements," says Aldo Fiorini, Plant Manager, Marcegaglia Ravenna.