Increase the value of your operation with Virtuo™ thermal optimization advanced software. Furnace operation is under fully automatic control and optimized using predictive modeling.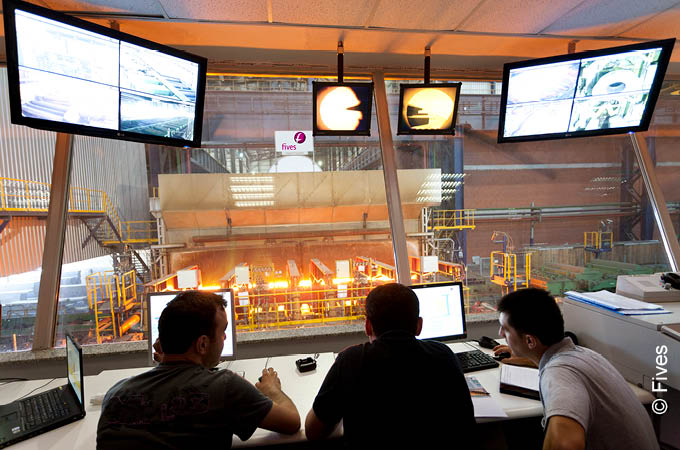 Virtuo Benefits
Advanced software powered by high precision physical models and machine learning algorithms. Virtuo™ optimizes furnace operations:
Maximized productivity
Efficient energy usage
Reduce operational costs
Repeatable and reliable quality
Minimized emissions
The following digital solutions are available for both Fives and non-Fives installations: Virtuo™-R for reheating furnaces, and Virtuo™-L for strip line furnaces.
Virtuo-R
Industrial optimization solution for reheating furnaces
Full 2D/3D modeling with product and fluid thermal balances
Optimization of online heating curves in real time
Consistent heating quality due to human error-free performance
Production bottleneck and heat demand management
Virtuo™-R applies optimum heating strategy and set-points based upon furnace design, fuel, burner type or product characteristics and provides fully automatic control for continuous and reliable operation. The result is not only optimal productivity, but optimized costs and low environmental impact. Combining this tool with Virtuo OptiScale enables you to minimize primary oxide scale.
Virtuo-L
Intelligent temperature control for strip line furnaces
Powered by AI & dynamic models
Model predictive control (MPC)
Self-optimization: furnace & speed operation
Minimized transition duration even for short campaigns
Virtuo™-L is easily implemented in any steel processing line. Even in very stringent production conditions, it can reduce the number of downgraded coils by more than 90%. The software offers precise strip control, prevents strip mistracking and heat buckles, even at maximized throughput. It is also one of the essential components of the SmartLine to optimize process and enhance quality.