Coating types and end-uses vary significantly and continue to expand. Thus a progressive and novel family of coating or painting lines is required. Color coating lines (CCL), combined galvanizing and painting lines (CGPL), film coating and laminating lines are offered, all designed to process high quality strip coating efficiently and effectively.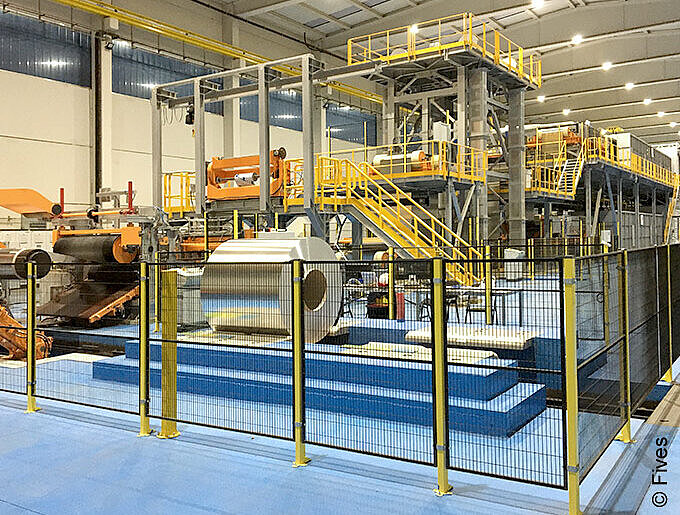 NeoKoil® CCL
Designed for your process
Our NeoKoil® color coating lines (CCL) process high quality strip coating for all your different applications - a wide range of coatings and line types - including: automotive, construction, home appliances, white goods, food and packaging industries.
Features:
Curing ovens: convection (direct, indirect gas heating), induction
Recuperative or regenerative incinerators
Proprietary or integrated coaters
Vertical or horizontal roll-coaters for chemical paint
Finish roll coaters with a quick roll change device
NeoKoil® CGPL
Reduce costs with a combined galvanizing and painting line
The main principal of our NeoKoil® combined galvanizing and painting strip processing lines (CGPL) is to provide galvanizing and painting sections in one processing line. This reduces investment and operational costs, as well as increasing quality and safety by reducing coil handling and treatment time.
Benefits
20–25% reduction in investment costs
15% reduction in operational costs
Quality improvement (handling, storage or strip protection is not needed between galvanizing and painting sections)
The combined line is designed for the production of different steel grades from full hard (HRC) and commercial quality CQ (CRC), to various high-strength steel and coatings, such as regular spangle, minispangle, 55% AlZn galvalume, 5% AlZn galfan, ZnMgAl, aluminized products, etc.