A rapid heating solution for long products incorporates CELES CELINE high-flux reheating inductors for sizable cost and energy savings, as well as improved product quality.
HIGH-FLUX INDUCTOR ADVANTAGES
New requirements for intermediate heating at conventional hot rolling mills or thin slab casting are characterised by extremely high power densities and power levels. We developed a conductor that can be used to design multi-layer inductors, which enables significantly greater power density. Consequently, injectable power levels allow the targets to be reached. Common applications for high-flux inductors include:
Reheated billets for pressing, stamping, forging or hot rolling
Reheated pipes or rails for continuous heat treatment
The main advantages of high-flux reheating inductors are their heating efficiency and compactness.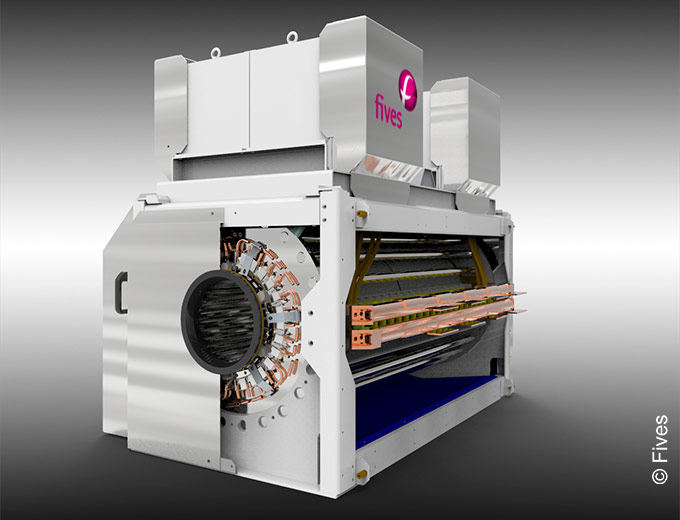 Lower costs with CELES CELINE
CELES CELINE high-flux inductor is a versatile and eco-friendly solution for hybrid furnaces or mini mills. Customer benefits include:
Significant reduction of production costs and metal loss
Eco-friendly production: ultra-low emissions
Temperature deviation is automatically compensated
Maintenance free
If you combine a gas-fired reheating furnace with the CELES CELINE inductor, you can reheat materials very quickly at lower furnace temperatures. The result is incredible: power density is six times greater than conventional inductors. With heating maintained at a continuous temperature, skid marks are reduced and production quality is improved.
Lower maintenance, greater reliability
The high-flux inductor doesn't need refractory and it has adequate thermal and mechanical protection, meaning maintenance requirements are minimal. Moreover, the furnace benefits from operating at a lower temperature, giving you a longer refractory life, reduced maintenance costs, minimized NOx emissions and a reduction of scale formation.