Air gateway hubs process express shipments dispatched by airfreight. Located near airport runways, the hub facility contains inbound/outbound areas for controlling both airside and landside material flow. Fives' Smart Automation Solutions Division enables shipments to be offloaded, processed and reloaded in a very short time.
We form true partnership with our clients, helping them integrate all necessary technologies to automate their hubs. At Fives, we have the expertise, know-how and spirit of innovation to distinguish us from market competition.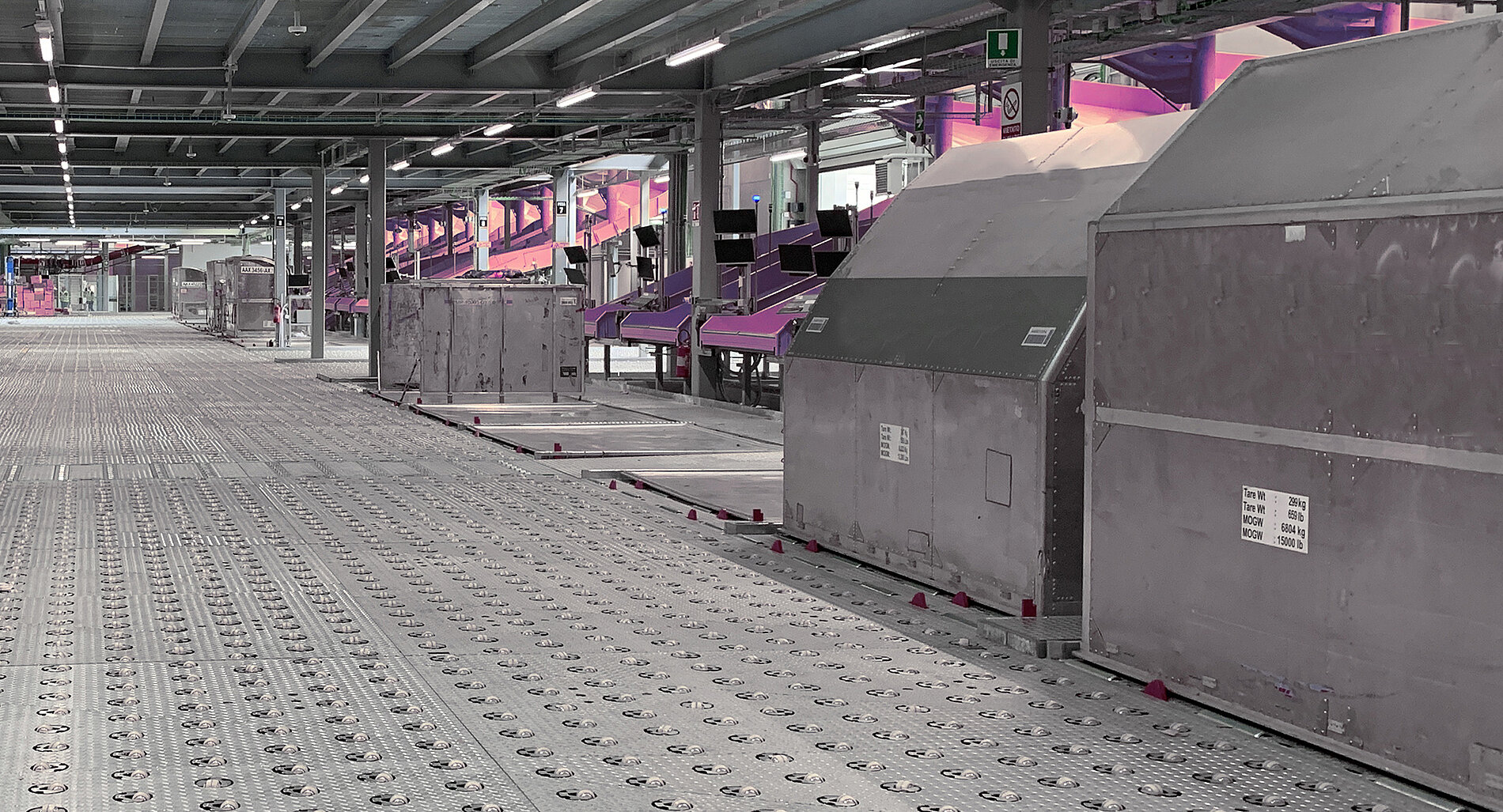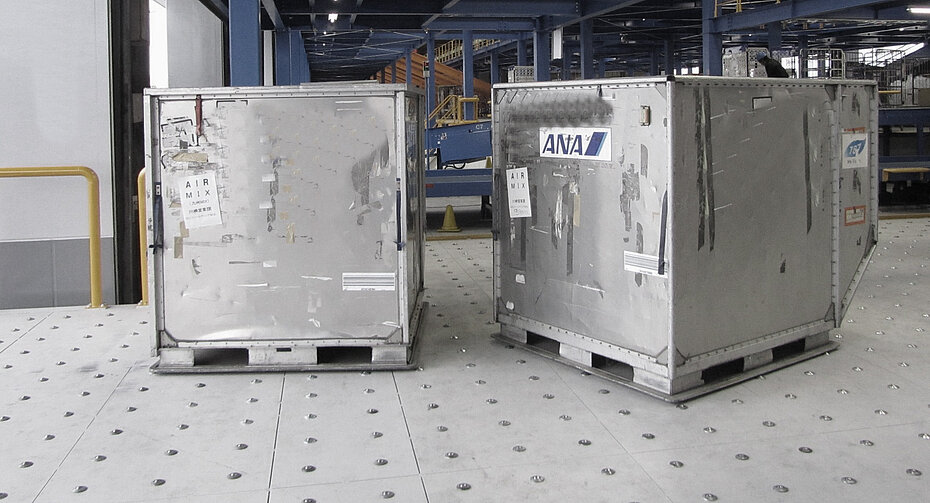 Unit load devices (ULD) are closed containers designed to fit inside an airplane to facilitate rapid loading and unloading. Airport ground handling vehicles transport inbound ULDs from an aircraft to the airside docks, which are equipped with ULD positions and castor decks. Outbound reloaded ULDs are likewise collected and transported by vehicle to the aircraft.
Inside the warehouse, workers move ULDs on castor decks from airside doors to unloading positions, and from reloading positions to airside doors. ULDs are manually unpacked and packed in offloading and reloading areas.
Leveraging our consolidated competence, Fives' teams support customers from the initial engineering phase. We thus enable seamless integration of the castor and roller deck modules and relative systems.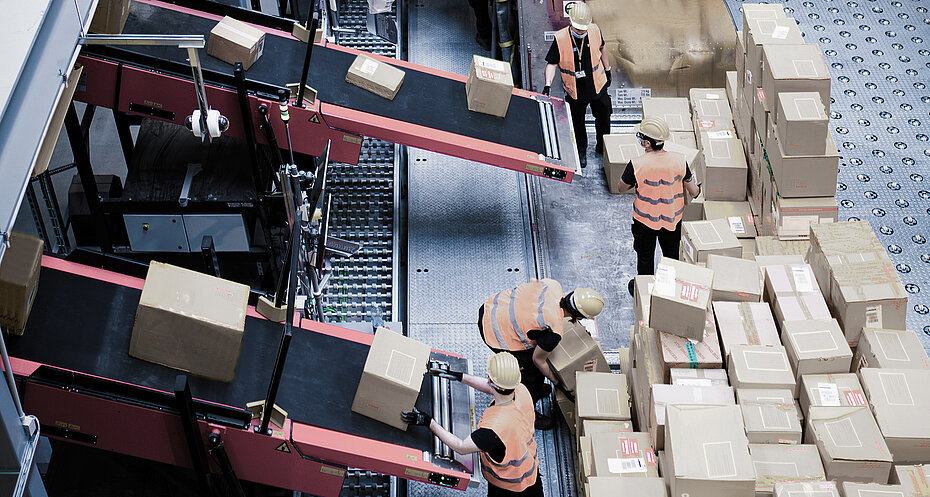 Within the ULD offloading area, workers open inbound ULDs and remove loose parcels to place them onto upstream conveyors. In the truck and van offloading areas, workers unload inbound road traffic vehicles.
Inbound Gaylord boxes, pallets and roll cages are transported to the automated unloading area, where tippers tilt the containers to unload their contents. Non-conveyable and exception parcels are processed in dedicated manual working areas.
Our expert engineers work with client teams throughout the process. We help coordinate the issuing of purchase specifications, plan material deliveries and schedule installation phases for all needed systems to optimize integration into the solution.
Material flow entering the hub passes through Check Weight Cube (CWC) devices. These devices capture weight, length, width and height to ensure packaging size accuracy. They also scan item labels, collecting all information required for sortation to the correct destination.
Providing turnkey solutions, Fives ensures integration of the various technologies available on the market, and represents a single point of reference for the client.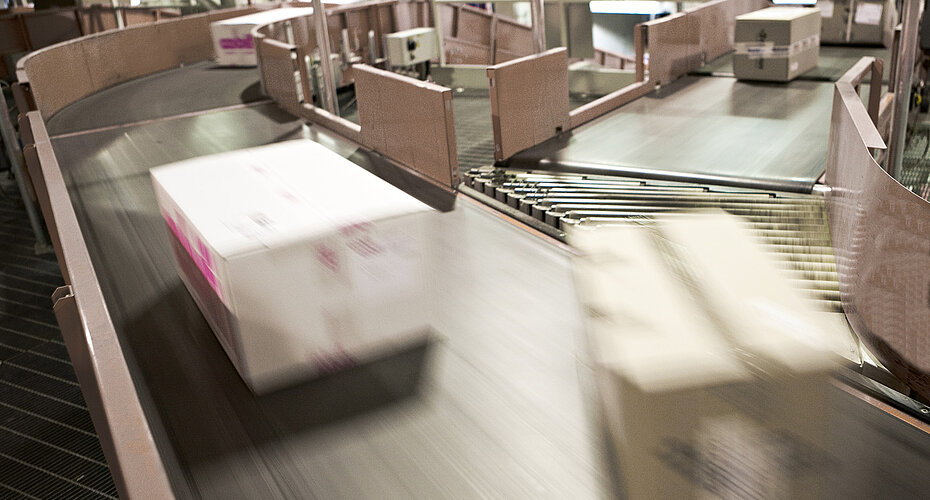 Fives' conveyor system connects the various processing points, controlling material flow between locations within the hub. Upstream conveyors transport inbound material flow to the sorter infeed lines. Downstream conveyors transport outbound flows from the sorter outlets to the reloading positions.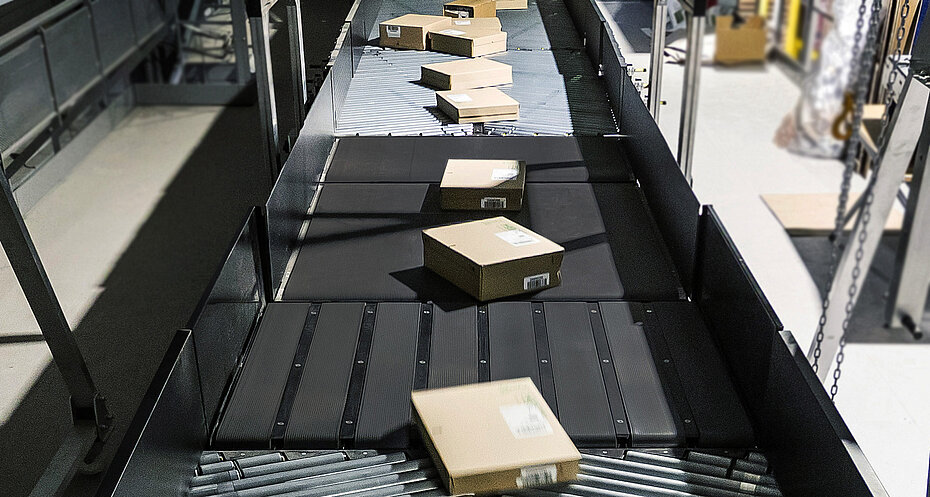 Parcels unloaded by automated tippers pass through our parcel singulator, which converts bulk flow into a single file by destacking overlapped items and separating side-by-side items. The singulator feeds the sorter with an array of singulated, aligned and properly spaced items.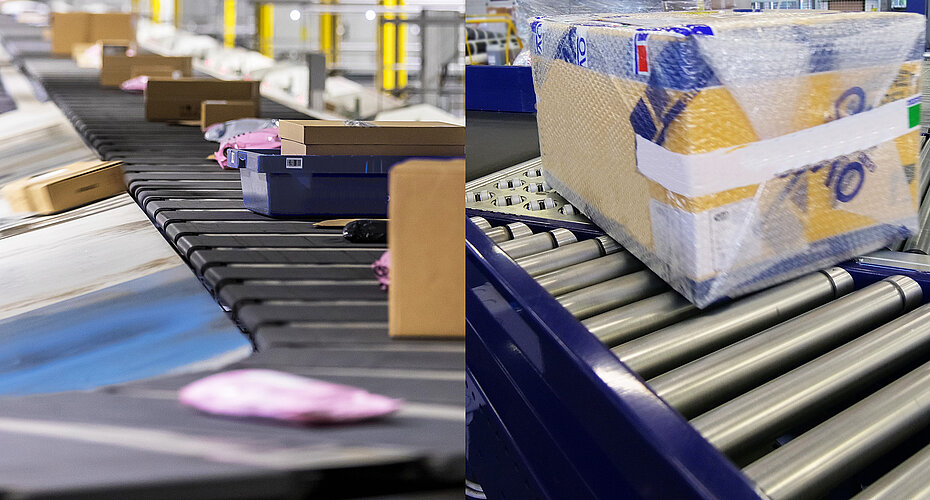 Our automated sorter handles inbound and outbound parcels coming from land and air. Utilizing Fives' loop cross-belt sorter, items are placed onto sorter induction lines either manually or automatically. The sorter control allocates each incoming parcel to a specific destination. The item is then transferred onto the cross belt, which runs in a continuous loop. At the destination, the item is discharged into a chute.
With a linear automated sorter, parcels are transported on a conveyor line. Each parcel is scanned upon entry by a data capture device. At the destination, the item is diverted onto a take away conveyor.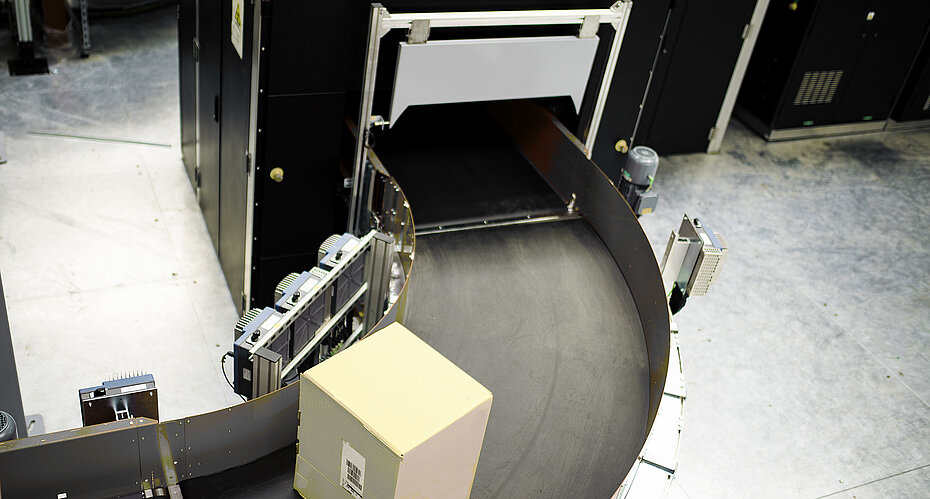 A special area is incorporated for automated or manual x-ray machines and explosive detection systems. Parcels pass through the security check on conveyor belts.
Leaning on our deep experience, we manage the interface between security screening and parcel handling equipment, aiming to improve and increase all processes' performance.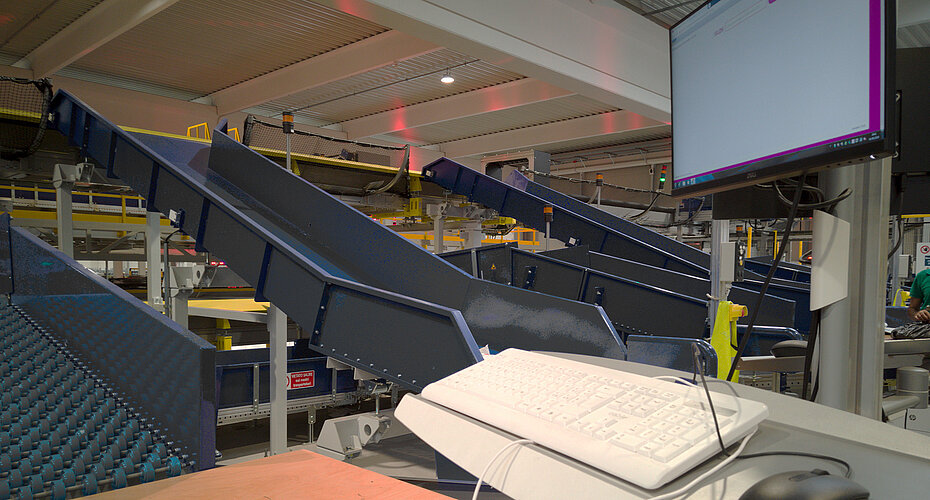 Manual reworking may be required in situations such as barcode label missing, no-read, no assigned outlet, etc. In these cases, the sorting system deviates affected parcels to the dedicated manual reworking station. Operators scan the barcode by hand and perform other required tasks. Reworked parcels are then manually re-loaded onto the sorter to head to the next processing point.
Fives' system engineers design user-friendly, safe and ergonomic solutions to optimize operators' positions. We can provide a wide range of tailored solutions according to each client's manual operations.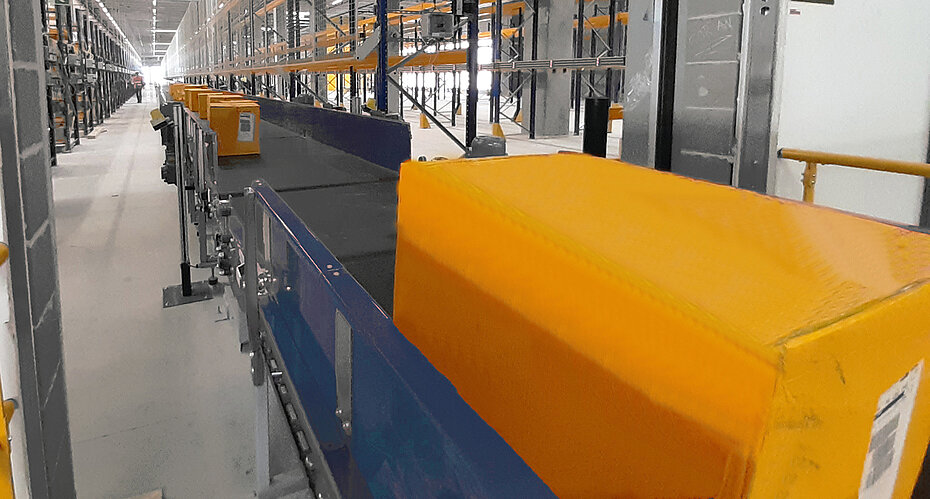 We integrate our tailor-made solutions into the processing stage to facilitate customs clearance operations inside the hub.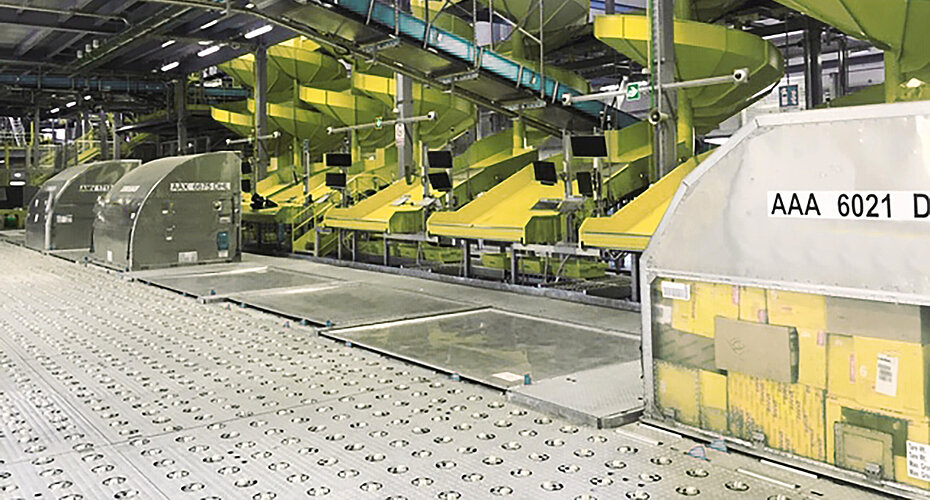 Sorter outlets serve dedicated air and ground destinations. On the airside, operators pick up parcels from sorter outlets and pack the ULDs. Workers move them by hand to the exit doors, where a vehicle collects them for transportation and loading into the corresponding aircraft.
On the landside, operators remove the full bag, Gaylord box or roll cage and consolidate it for vehicle reloading.