Conveying solutions for assembly lines
Fives offers automated conveyor and handling solutions for manufacturing plant and distribution lines for Automotive / Aircraft / heavy machinery and general industries. We provide bespoke development of intelligent technology for specific processes, alongside full-service production start-up, after sales and maintenance support.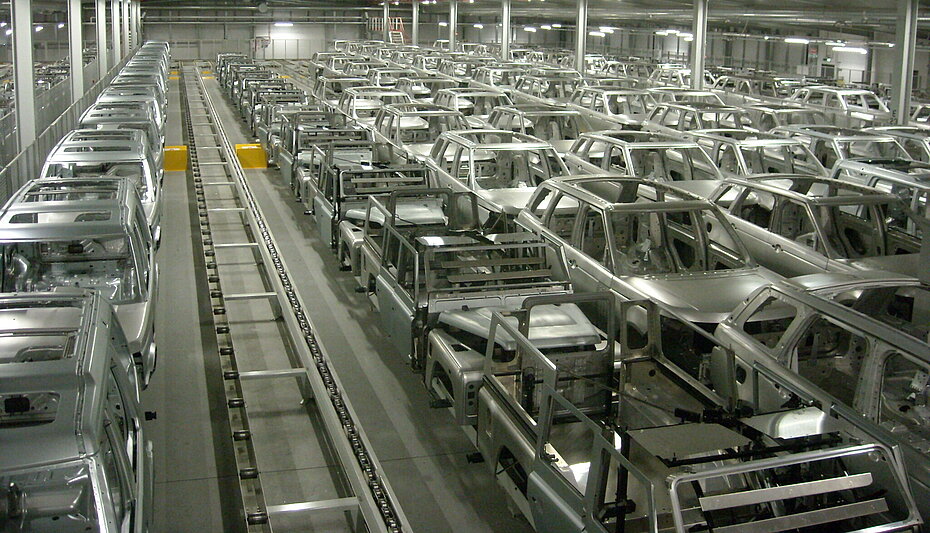 Body and parts delivery system between process building (Body in White / Paint / Trim & Final )
The first stage of the assembly process is the reception of bodies from Body in White (BIW) or painted body stores. Our CFC Rollerbed system for parts delivery can reach speed up to 60m/min (197 ft/min) and is able to handle loads from 50 kg (110 lb) to 5 metric tons. The range comprises twin chain and twin belt conveyors, drop sections, turntables, shuttles and lift tables.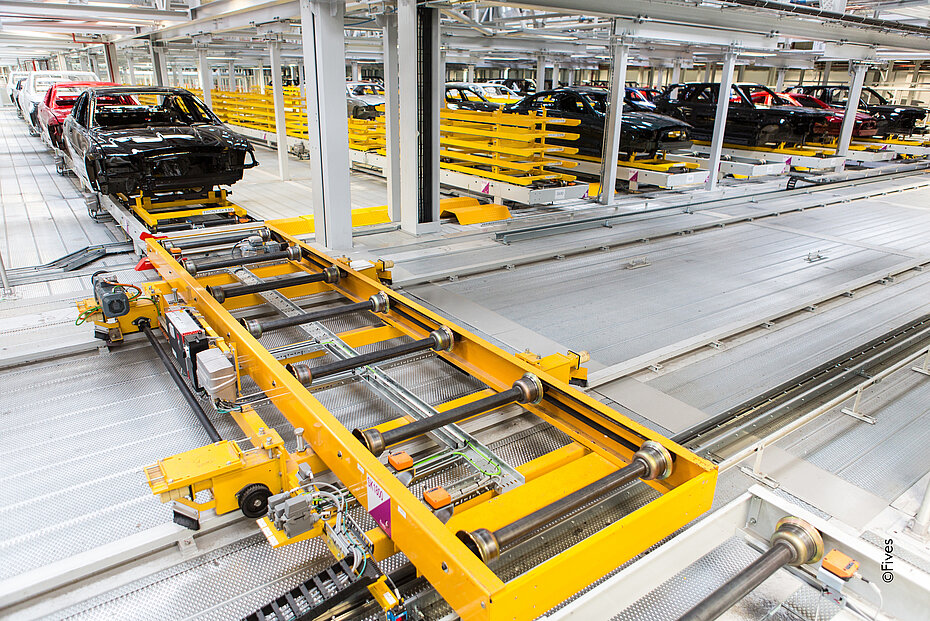 Pre-trim line in final assembly line process
Assembly lines are defined according to project needs—to facilitate product assembly—and for proper ergonomic positioning of the fitters on the line.
Our CFC Frixline Skillet can handle loads of up to 15 metric tons and is suitable for processes with fixed or variable height. Its lift tables adjust according to operator requirements, and it can be controlled conventionally or via Wi-Fi.
Our CFC Slat Conveyor is a turnkey solution that can operate in continuous or step-by-step mode. Capable of handling loads from 80 kg (176 lb) to 20 metric tons, it is available in a variety of single- and double-track configurations. We offer a range of steel, stainless steel and composite belt choices to suit different process lines.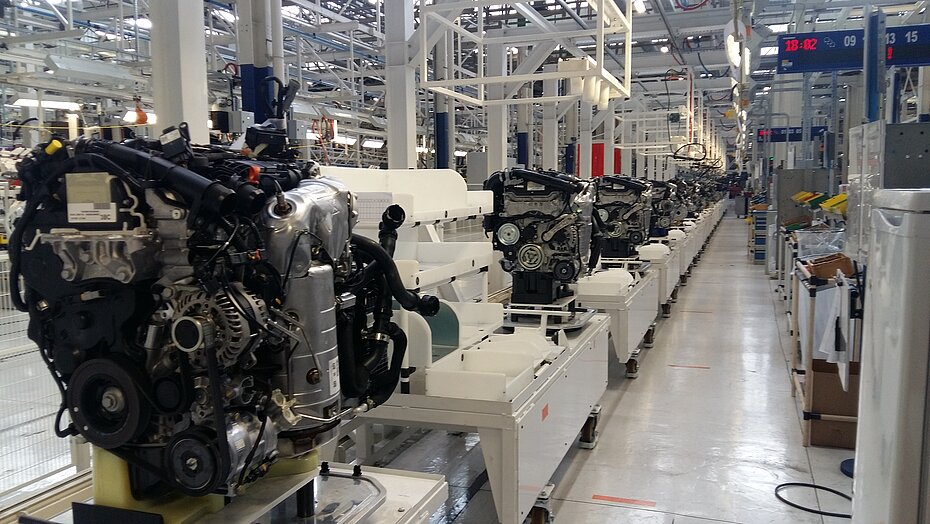 Powertrain / Mechanical lines & sub-assembly module
Alongside the main assembly process, small parts & sub-assembly lines are required to maximize production line efficiency.
Fives offers different automotive industry handling solutions for the cooling pack, doors, engine, powertrain and axle assembly lines. These can be either floor mounted or by overhead conveyance system.
We also offer in-house design and manufacturing of chassis dogbones and axle decking pallets.
Fives' custom handling stations are fully automated and capable of dealing with loads from 1 to 10 metric tons.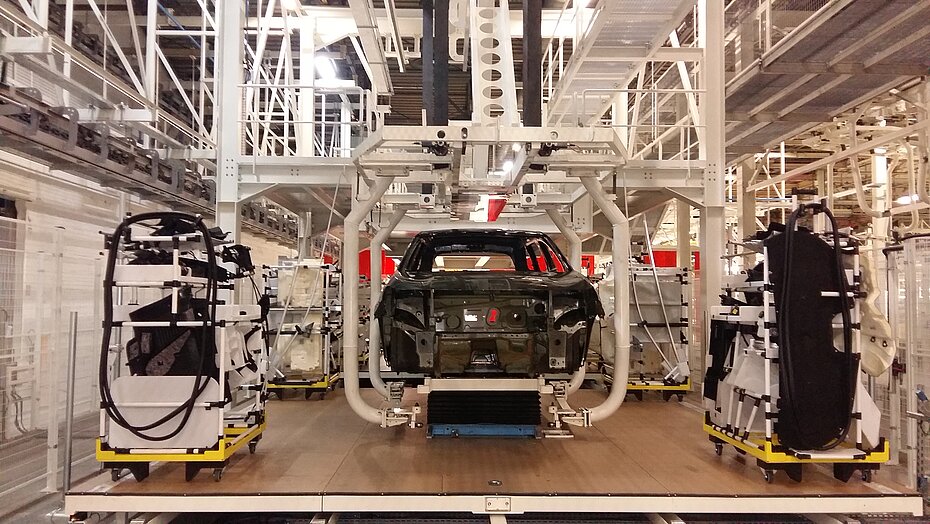 Main trim & final assembly line
This is the heart of the manufacturing line, where constraints are integrated in order to make the final product
Fives proposes a number of solutions for overhead conveyor assembly lines, including underbody works access and facilities in a safe, ergonomic environment.
CFC Overhead: easy installation, durability and excellent compatibility
CFC Power and Free: modular design and the possibility of both stop-and-go or continuous operation
CFC EMS / H-EMS with autonomous carriers transporting loads at high or process speed, this is our innovative inverted Electrical Monorail System (EMS)
CFC Frixline: designed to handle isolated or inter-linked loads while remaining energy efficient, quiet and lubrication-free
CFC Chain system: suitable for both inclined and declined track configurations, easy to use and economical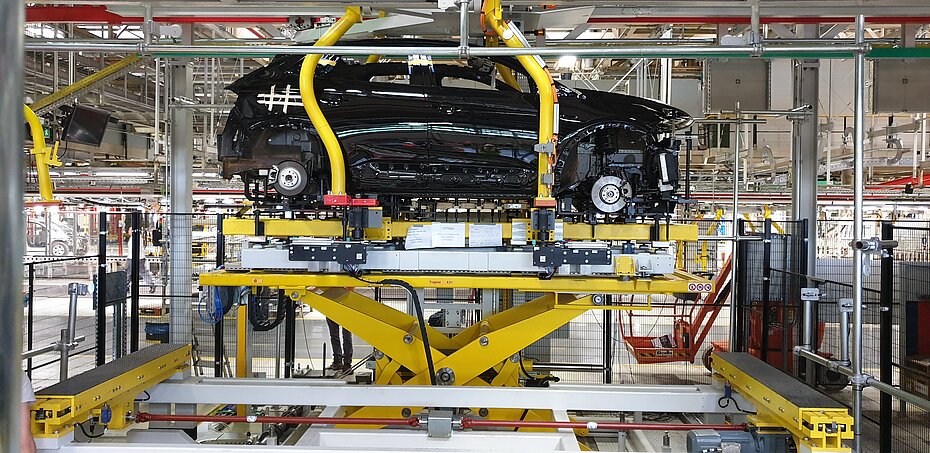 Marriage & decking / auto-tightening stations
This is the key station within a manufacturing line, where critical items are put through general assembly to create a final, complete product. For aircrafts, vehicles or any finished good requiring absolute precision, this step is called the "marriage."
According to production volume throughput, our marriage lines can be either fully manual, semi–automated or fully automated. Fives also proposes tightening solutions for vehicle powertrain assembly. We can also integrate a camera station for tool configuration validation.
To optimize assembly line workflow and process time, we propose Pulse or Moving lines, suitable for a variety of industries. Lastly, our standalone robotic configuration station offers automatic configuration of toolings, carriers and wheel fitting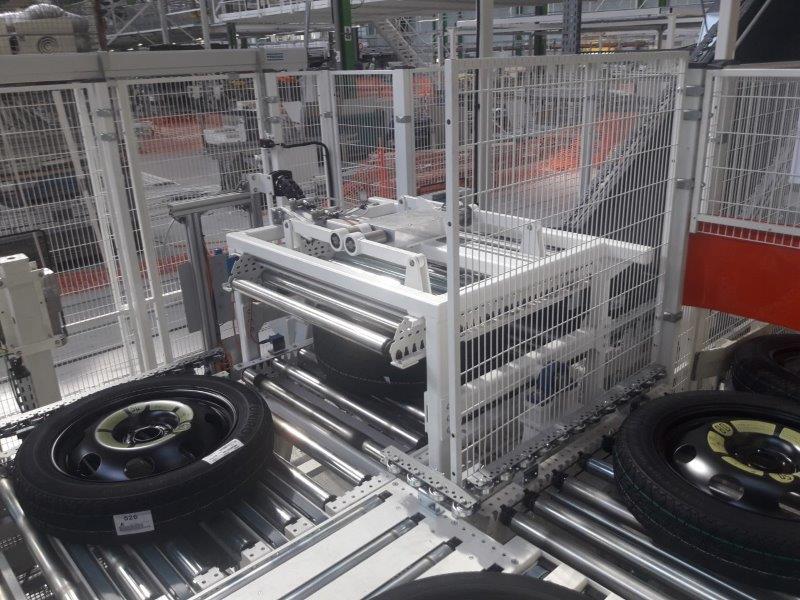 Our bespoke solution handles any kind of product on pallets or unitary in sequence from the tier 2 supplier until the point of fitting. Robust and low-maintenance, Fives' equipment plays a particularly key role in delivering parts within a Just in Time System (JITS). These include:
EV batteries
VCATs
Wheels
Seats
Cockpits
Vehicle bumpers
JITS can also be integrated into line side manipulators and load assistors for an automatic, synchronized application.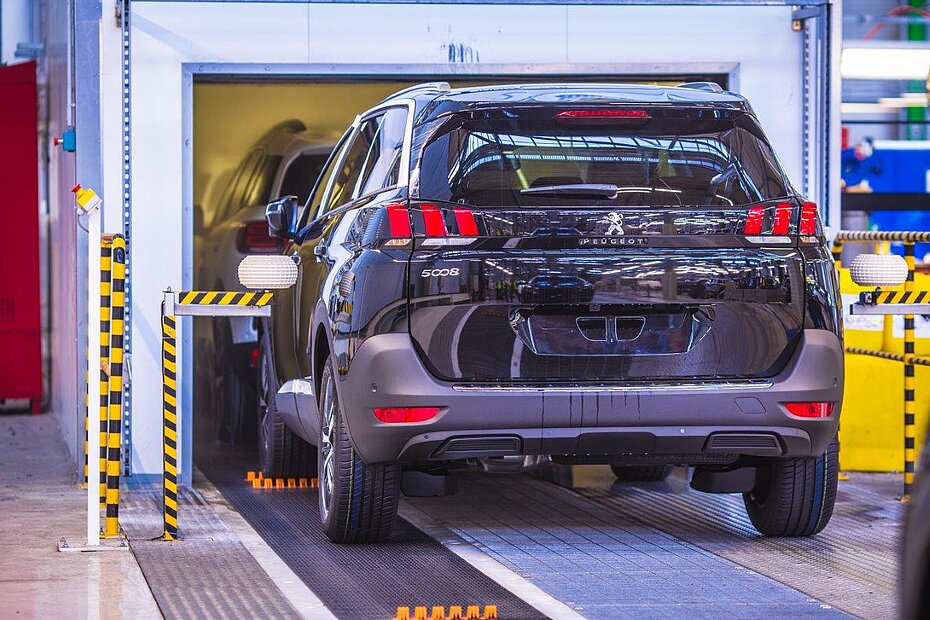 Final line, quality inspection & spray booth
Quality inspection of the final product is crucial within any production facility. Fives offers all types of equipment, from visual inspection to shower line and buy-off lines prior to shipment and delivery to the customer.
We also design specific stations such as drop-on wheels or Lift & Shift units.
Our CFC Slat Conveyor is a turnkey solution that can operate in continuous or step-by-step mode. Capable of handling loads from 80 kg to 20 metric tons, it is available in a variety of single- and double-track configurations.
We offer a range of steel, stainless steel and composite belt choices, either narrow or wide to suit different process lines.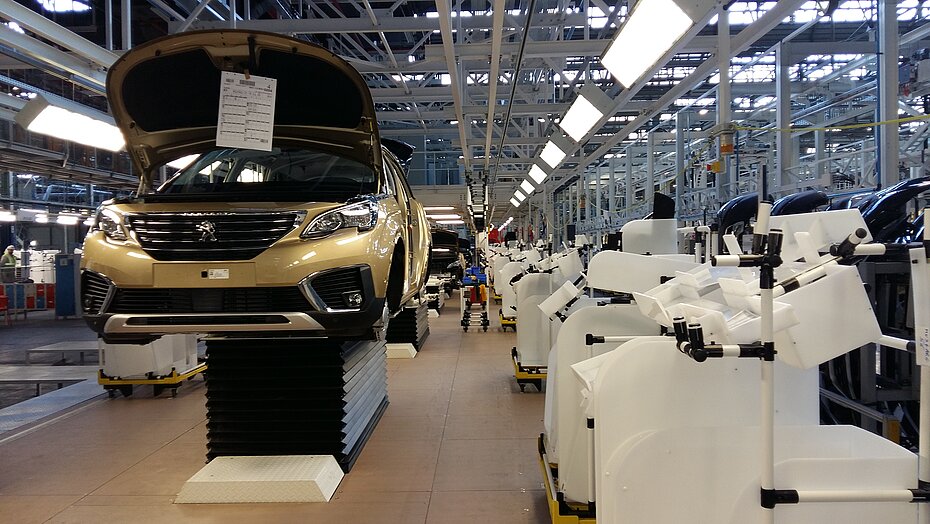 Kitting & parts distribution
Full kitting solutions now see widespread use across new manufacturing lines. They consist in creating dedicated picking areas to maximize production flow efficiency while integrating a diverse range of final products.
The kitting system can be integrated with a logistics management system for Lean applications and stock depletion information.
In addition to offering AGV transportation for kitting solutions, we can improve ergonomic issues around manual handling by providing auto pick and drop solutions.
Our kitting and parts distribution technology helps clients achieve their Lean goals. We also help reduce their footprint in these areas, which are often the most congested due to the number of small parts assemblies required.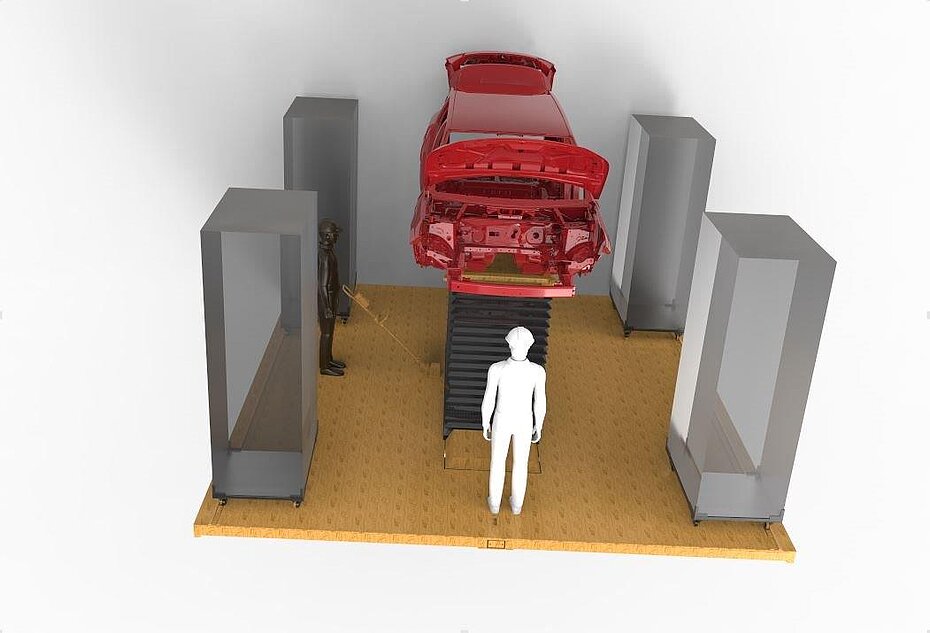 Simultaneous engineering & new production lines development
Fives can offer any type of custom handling solution according to client needs:
Pantographs / elevators / tilting body carriers adjustable for different wheelbases
Loads from 1 to 50 t
Exchange stations designed around body pick-up constraints to transfer from paint skids to skillet; skillet to OHC; and OHC to slat conveyor, including drop-on wheels
Integrated loading/unloading