Fives delivers automated baggage handling solutions that improve airport efficiency thanks to its proprietary equipment and technologies. Our airport logistics solutions fully integrate circular cross-belt sorters and conveyors with the following:
Check-in systems
X-ray screening
Hold baggage screening (HBS)
Early baggage storage (EBS)
Flight make-up
Baggage reclaim carousels


Passengers leave their baggage at the check-in area, where airport personnel assign the IATA label on the luggage. This label contains all identifiers required for the entire handling process. Oversized items are carried manually to the aircraft hold.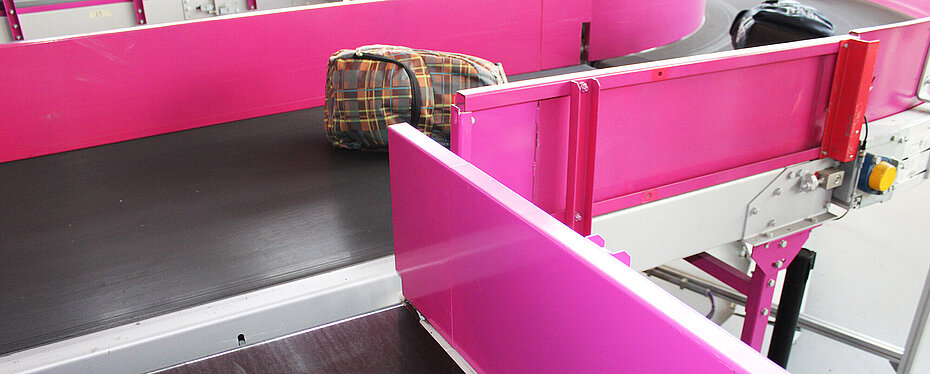 Conveyors transport luggage between zones, from check-in to HBS, EBS and automated sorting systems. Belt conveyors transport luggage on flat, inclined and declined conveyor routes. Conveyor system functions include metering, merging and diverting.

As luggage is transported via conveyor, it passes beneath a laser scanner, which reads the IATA label. An automatic tag reader (ATR) identifies the bag and performs full tracking throughout the screening process. If the ATR fails to identify a bag, the item is sent via conveyor and deviator to a manual encoding station. Operators manually scan the barcode before reloading the item onto the conveyor for further processing.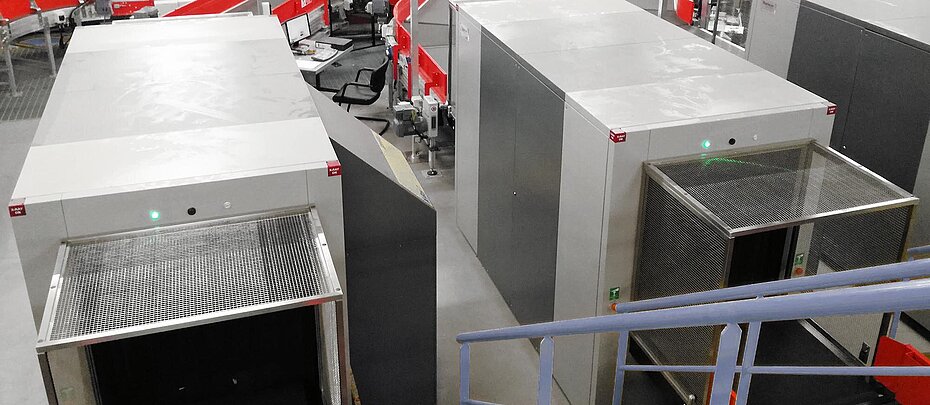 Before heading to the aircraft, luggage must be declared "clear." Each bag passes through x-ray machines and explosive detection systems. The screening system checks bags according to the highest security standards. Fives' Smart Automation Solutions Division integrates conveyors, automatic tomographic and x-ray machines into the HBS system in line with ECAC Standard 3 security regulations.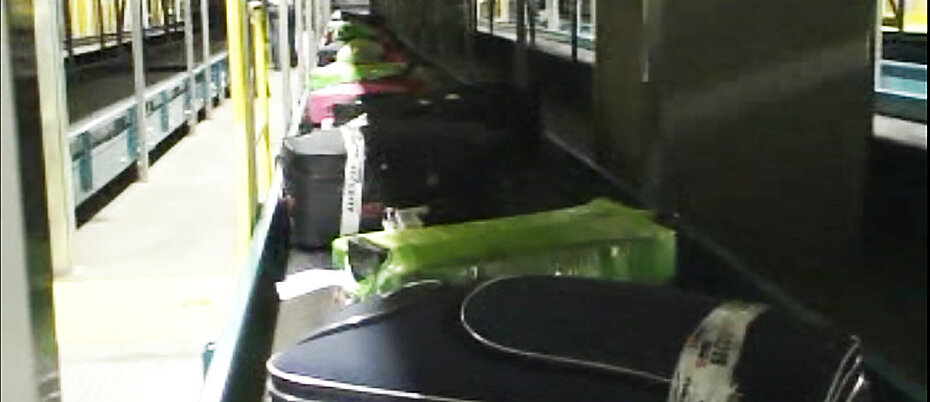 Fives offers completely automated baggage storage systems that handle baggage quickly and efficiently. If baggage arrives to the airport handling system before the corresponding flight is open, it is held in the early baggage storage system. Storage is organized according to departure time or flight number, and items are automatically reinserted into the sorting system at the appropriate time.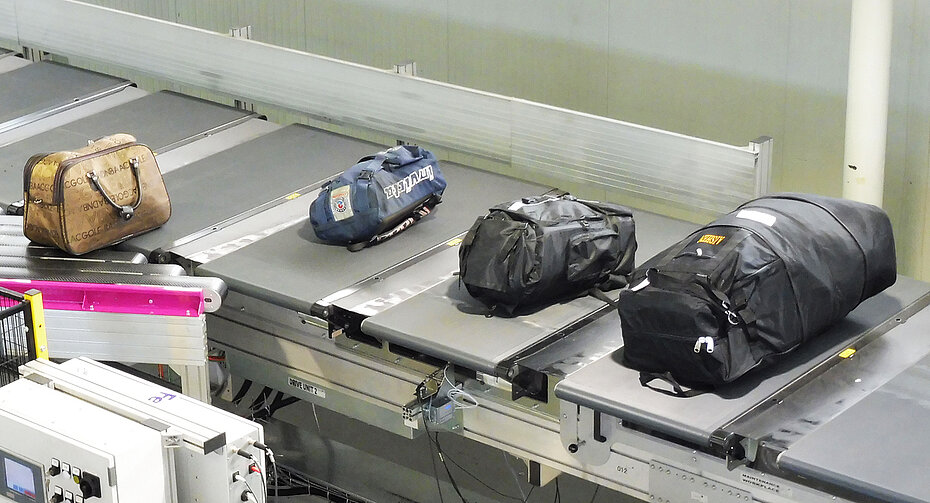 Fives provides state-of-the-art technologies to fully automate baggage handling. In small airports, automated systems are based on vertical switch conveyors, diverters and pushers. For medium to large airports, the GENI-Belt BH cross-belt sorter and GENI-Feed induction lines offer a compact, modular design when integrated into the BHS.
The GENI-Belt BH sorter sorts all types of luggage at high speed, improving handling time and throughput. Cross-belt technology transfers baggage without tilting or sliding luggage. This enables gentle handling and 99.99% sorting accuracy with any type of luggage—even the most difficult, oversized or heavy item.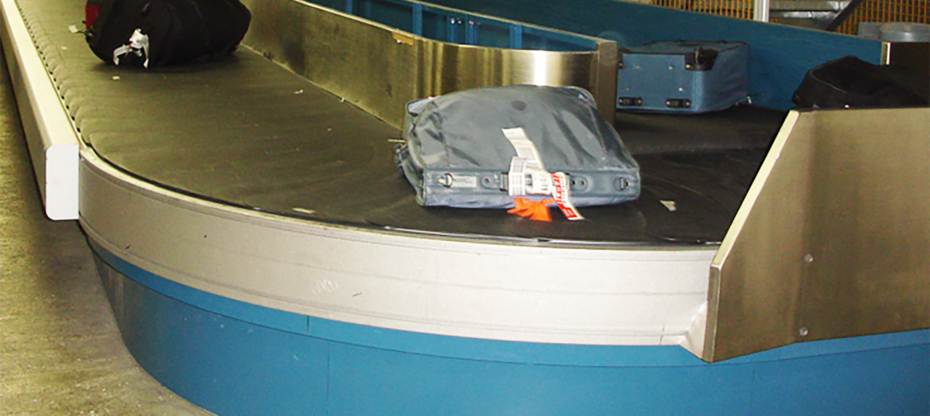 Baggage make-up and unloading system
In the make-up area, baggage is sorted to head to its final destination, where operators unload it into dollies for transport to the airplane. Final sortation is performed using cross-belt sorters or conveyor belts. Depending on available space and required performance, the baggage make-up area may include automated carousels, piers or chutes.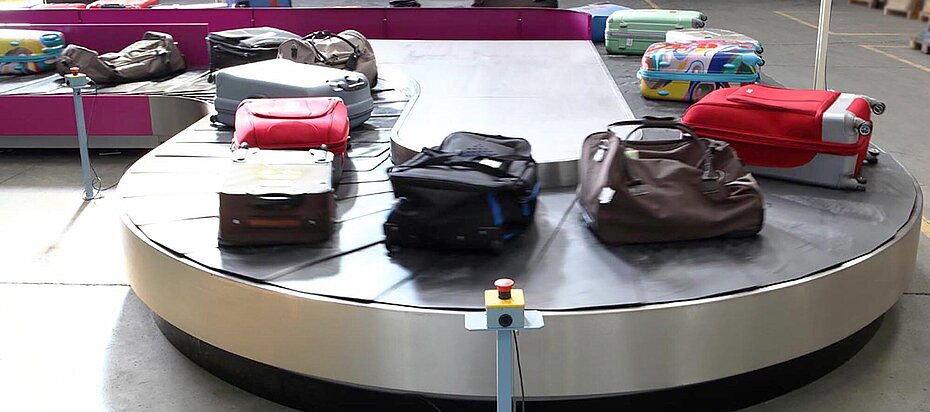 Baggage reclaim is where passengers collect their own luggage upon arrival. Fives' Smart Automation Solutions Division provides modular carousels that are customizable based on space and occupancy. Baggage reclaim contains automatic scanning systems in accordance with IATA standard regulation 753.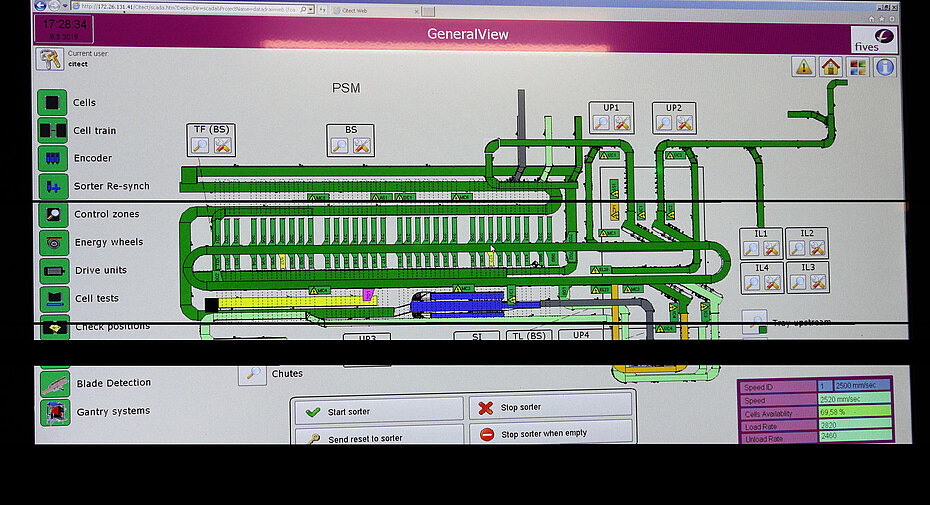 Control and monitoring system
Our software manages the entire baggage handling system (BHS), from check-in to HBS & EBS, final sortation, offload and reclaim. This control and monitoring system contains low-level controls based on programmable logic controllers, and high-level controls based on fault tolerant servers (SCADA and SAC).
The control monitoring system offers maximum reliability, safety, maintainability and expansion capacity with minimal manual intervention. Our system is designed to operate 24 hours a day, 365 days a year. It complies with IEC/EN safety regulations.