Through a combination of controls, software and mechanics, automated palletization offers businesses enhanced efficiency, productivity and flexibility as well as cost savings. Fives' Smart Automation Solutions Division carries a complete range of robotic modules covering all classes of loads and containers for multiple uses in production and logistics in a variety of markets.
Production palletization systems
Fives' Smart Automation Solutions Division robotic palletization solutions can handle a variety of packaging, including bins, boxes, cans, bottles and trays. Available in mono- and multilingual modes, they can be used for homogenous or mixed palletization. They are able to withstand harsh environments such as washable zones, places with high humidity, and temperatures down to -30°C.
The ergonomic design of the man-machine dialogue on our solutions facilitates their use. Traceability is integrated into all pallet loads, and these solutions offer full integration with other systems such as conveyors for light loads. In addition, by improving conditions for operators, our robotic solutions reduce health and safety risks.
Logistic palletization systems
In our constant pursuit of innovation, Fives' Smart Automation Solutions Division has developed a new concept of mixed palletization, which enables facility operators to place loads of various sizes and shapes on a single pallet. Used in conjunction with a cutting-edge computer calculation system, our new concept preserves loads by taking into account a range of criteria including stackability, overflows, fragility, the load supported by a package, and the physical proximity of identical references. The system also allows for stretch wrapping of the pallet during its construction.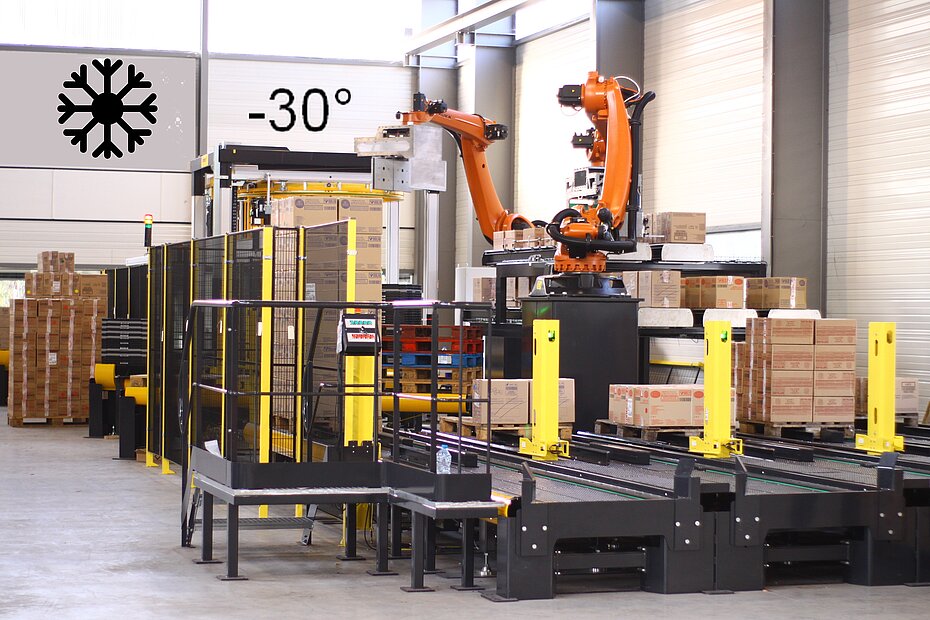 Negative temperature palletization system
Fives' Smart Automation Solutions Division has extensive experience and expertise in palletization for the fresh food industry at positive temperatures. Now, we have extended our know-how to offer palletizing systems that can handle temperatures as low as -30°C. Both homogeneous and mixed palletization can now take place directly in cold rooms. This remarkable innovation significantly improves the working conditions of operators, which reduces health and safety risks. As a result, human resource management and productivity are both improved in this particularly difficult and restrictive context.