Wood Panel and Furniture Solutions
Building on our expertise in providing automated solutions for automotive facilities, Fives is quickly becoming a European leader for furniture manufacturing facilities as well. With deep experience in automation, robotization and flow management, our customized solutions include interlinking, buffering, sorting, stacking and cabinet assembly. Our unique solutions use reliable standard components such as conveyors, storage units, gantries and grippers.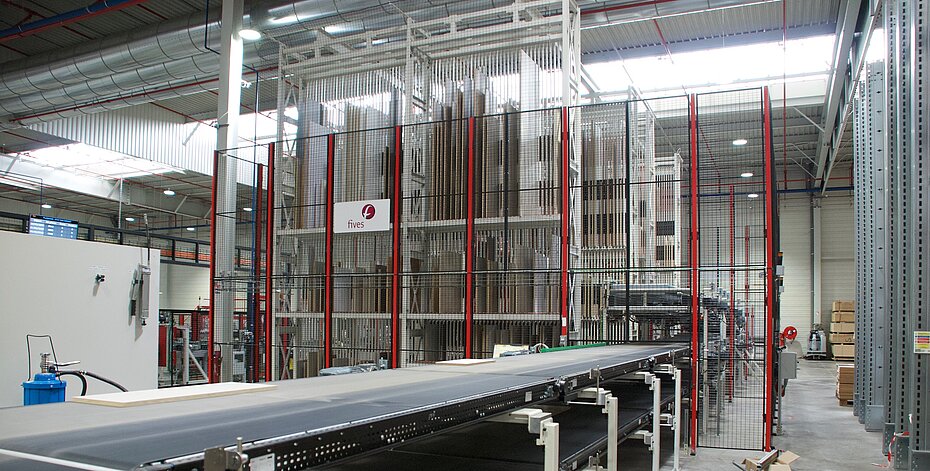 With our controller solutions, we help our clients regulate the number of panels between saws and edge banding machines, ideal for installations with discontinuous cadences. Panel flow can reach a rate of up to 35 panels per minute. Our robots store excess panels to avoid upstream saturation, and re-inject panels to avoid downstream de-saturation.
This unique solution limits parts in the production line, speeding up production time considerably. It offers extremely high availability compared to similar solutions within the furniture industry.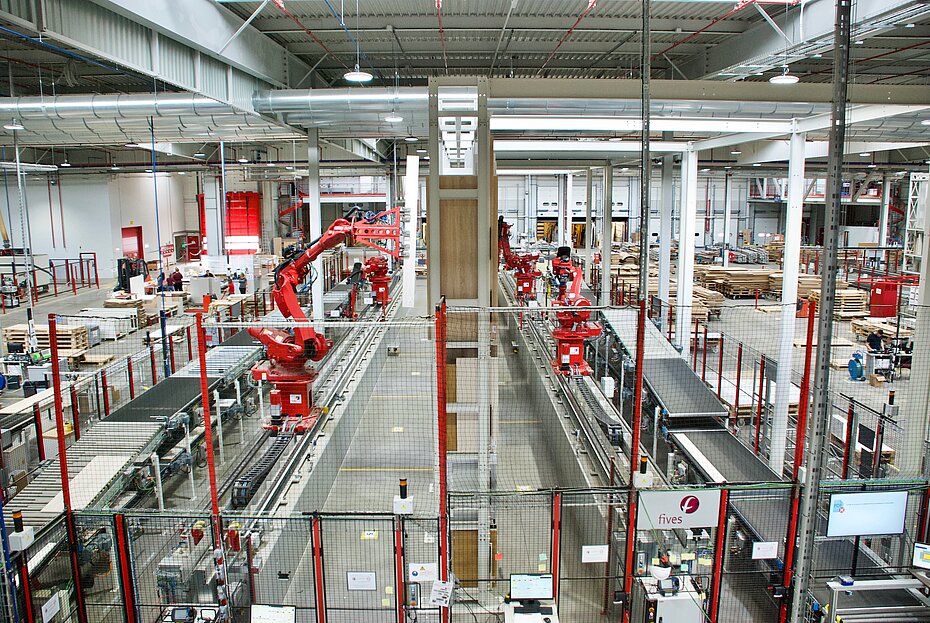 Fives' solution features a high-performance smart sorting system dedicated to batch one panel production. Automated sorting ensures that panels arrive for assembly or packaging in the correct order without constraining process machines. This smart system connects directly to an existing manufacturing execution system or database and is fully customizable to facility operators' needs.
Our patented robotic solutions deliver extremely high availability thanks to 6-axis robots and standard modules such as conveyors, grippers, 7th axes and more. Upstream and downstream panel unloading are completely independent. Parallel architecture enables continuous production even in cases of component failure.
Fives' algorithms and dedicated simulations adapted to batch one production make this a truly unique smart solution. Depending on the destination, various stacking modes are available based on robots and gantry robots, including piece-by-piece or lane-by-lane. Stack stability in a static or moving situation is simulated using our in-house software.
Fives offers its expertise in mechanized solutions to help our clients choose the right conveying equipment to match their needs. This may include automated guided vehicles (AGV), wide range conveyors or heavy load conveyors.
We optimize AGV fleets in terms of layout, even in complex loops, and ensure effective communications with other robots, programmable logic controllers, databases, and warehouse management system software.
Our unstacking system enables panel identification in a heterogeneous stack. Unstacking cells read and identify panel information using a barcode reader and 3D camera. A high-performance smart machine vision system recognizes and locates each panel in the area. Robots then supply drilling machines, packaging and assembly lines at a rate of almost 10 panels per minute.
Storage, Buffers & Picking
Fives offers a wide range of automated storage solutions. These vertical and horizontal storage compartments are suitable for all panel sizes, from 100 mm2 to 2x6 m. Depending on component diversity and stock size, options include tower storage with a fixed robot or in-line storage with a 7-axis robot. Our capacities in flow optimization, supervision and database communications guarantee high-efficiency operations.
At Fives, we help our clients leverage state-of-the-art robotics to gain flexibility, reliability and availability within cabinet assembly lines. A dedicated robot carefully handles each cabinet component. Robotic precision and torque sensors ensure quality control throughout assembly. Our software enhances flexibility by making it easy to add new furniture sizes or accommodate new facility configurations as needed.