Fives' Smart Automation Solutions Division offers mechanical and vacuum depalletizing robots for use according to any facility set-up. Whether dealing with individual parcels piece by piece, multiple parcels in a line, or an entire layer of parcels as part of a unit load, we match solutions to our industrial clients' specific needs. Our efficient systems help them reduce handling costs while taking great care of products. By improving operating conditions, our clients can reduce health and safety risks.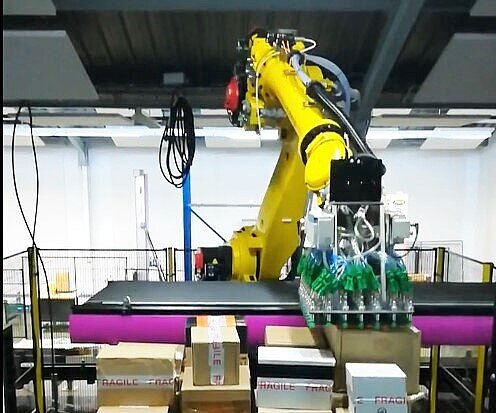 An agile system for logistics centers
Fives' Smart Automation Solutions Division has developed particularly efficient depalletizing systems for logistics centers involved in distribution, parcel processing and e-commerce. Our depalletizers can handle packages of all sizes ranging in weight from 300g to 35kg, with a throughput rate of 900 packages/hr.
They can perform depalletization on pallets and in rolls, whether packages are flat or inclined. Our systems scan be used for products of all kinds—from dry and fresh goods to frozen foods. They can process both rigid and flexible products such as bags and easily overcome the specific challenges of depalletizing glass bottles.
A high-performance vision system
By equipping our depalletizing solutions with a powerful artificial intelligence-based vision system, it is possible to detect the shape, position and measurements of each package in three dimensions. As a result, the depalletizer is able to adapt to the size of the packages, as well as to their weight and position. This offers a significant advantage for the efficient and careful handling of mixed pallets.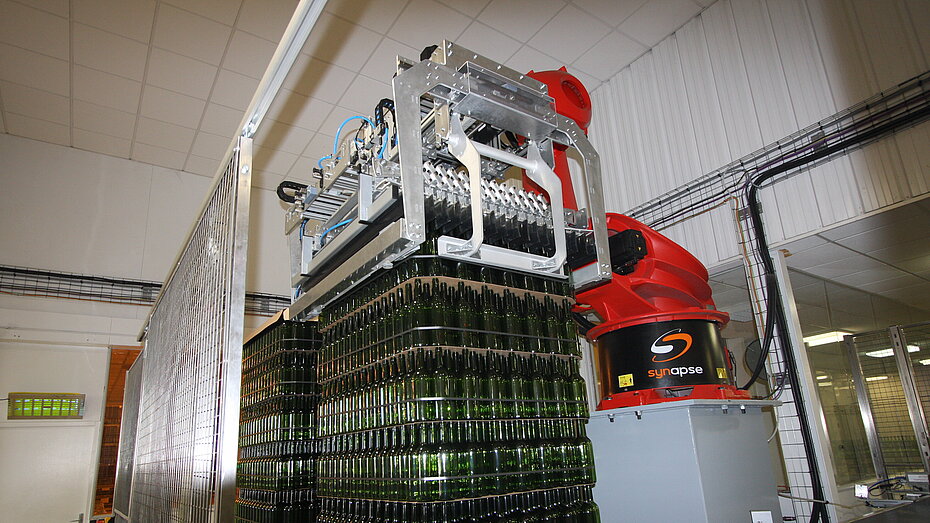 Depalletizing glass bottle pallets
With specific expertise in the wine sector, Fives' Smart Automation Solutions Division offers dedicated solutions for the depalletization, boxing and unboxing of glass bottles. Used in conjunction with our Cutline plastic link de-strapper, the system enables the management of glass bottles of all kinds. A powerful and silent yet affordable innovation, the de-strapper reduces links to 8 cm pieces for more compact stockage.
Automating the removal of links and films both accelerates the depalletization process and reduces the risk of operator injury. Speed and safety significantly boost return on investment.