Fives' TunnelWash™ is a modular, multi-stage, linear conveyorized parts washing system. It is designed as the economical and high-speed solution to support batch cleaning of small parts with uncomplicated geometries, such as gears and small shafts.
TunnelWash™ offers shorter cycle times and higher throughput yields. It is thus best suited to perform general cleaning and drying of high-volume prismatic and cylindrical parts up to 610 x 250 mm (24 x 9.8 in).
High-speed, conveyorized batch cleaning
TunnelWash™ features an in-line conveyorized operation for solvent-free, continuous cleaning. Parts to be cleaned are delivered to the washer either manually or via conveyor belt. Parts being transported through the system can either sit freely on the conveyor or be carried as a group of small parts via a wire basket.
Once loaded, the parts are driven through a linear tunnel. They pass under a series of strategically placed nozzles that deliver a low-pressure aqueous-based spray (up to 87 PSI/6 bar). Finally, they reach the blow-off station where any residual water is cleared away.
Modular configurations to support any production line
TunnelWash™ is a compact, highly flexible, modular solution for cost-efficient high-volume production cleaning in a single, configurable machine.
The washer's modular design can expand to support up to four consecutive treatment zones: wash, rinse, secondary rinse, blow-off. It can also outfit up to four conveyor-driven lanes to simultaneously process a variety of small component types.
Its standard configuration utilizes belt conveyor or dual-strand chain conveyor systems. Custom configurations are also available to support overhead conveyor, bound pallet chain conveyor, free roller and monorail systems.
TunnelWash™ provides versatility, along with programmable cycle times, fixed and variable conveyor speeds, and indexing conveyor drives. These translate to production rate flexibility that would otherwise require multiple machines and more floorspace.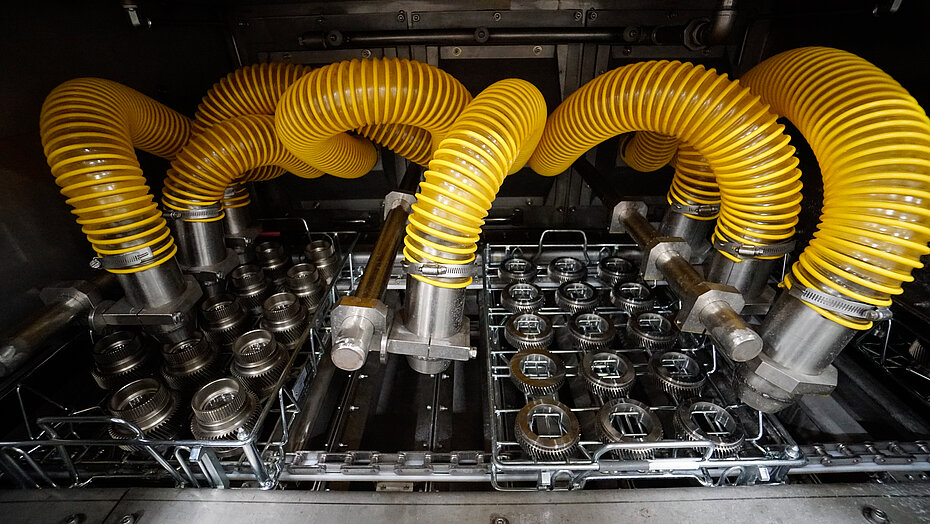 Proven technology trusted by the automotive industry
With hundreds of units sold and commissioned, TunnelWash™ is the proven batch cleaning technology of large automotive suppliers and OEMs around the world. Our 90-year brand legacy has a reputation for quality and reliability, built from a foundation of trust from our customers.
No matter the industry or application, TunnelWash™ is the ideal solution for the batch cleaning of small prismatic and cylindrical parts. Contact us to explore part cleaning solutions to fit your exact facility process and plant specifications.