Fives' RotaryPartWash™ industrial parts washer is designed for high-volume, high-precision cleaning of cylindrical powertrain components. These can include parts such as crankshafts, camshafts, axle shafts and spline shafts. All cleaning and drying occurs within a single chamber.
High-precision cleaning for cylindrical parts
Our RotaryPartWash™ system deploys a highly filtered, aqueous-based spray at elevated pressures of up to 250 PSI (17 bar). This targeted spray cleans the entire workpiece, removing chips, oil and swarf from external geometries, cross holes, deep holes, tap holes and more. The workpiece is secured by a spindle and manipulated radially by a rotary shaft. This allows it to repetitively impinge and drain throughout the wash cycle.
Its nozzles are securely fixed in place to prevent any accidental repositioning, and are accessible from outside of the chamber. This promotes easy access for maintenance. The drying process utilizes high-pressure air, shearing moisture away from the part. The result is a completely dry and spotless product that is ready for assembly.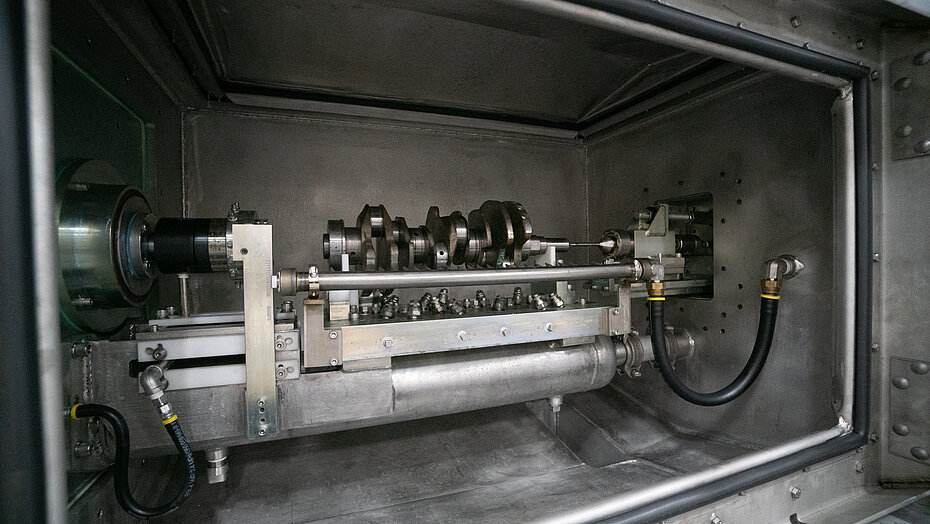 Strategically rounded surfaces and visual access
RotaryPartWash™ supports high-volume production during in-process and final assembly stages. Single cylindrical parts are top loaded into the chamber using a gantry crane. A transparent safety glass window enables continuous visual checks and easy maintenance access to the parts being washed as well as the machine's supporting mechanics.
The chamber's envelope has strategically rounded surfaces, which allow water to roll off the side walls and into an integrated drip pan. This eliminates the possibility of water dripping directly onto the part and leads to a cleaner and drier part following the wash cycle.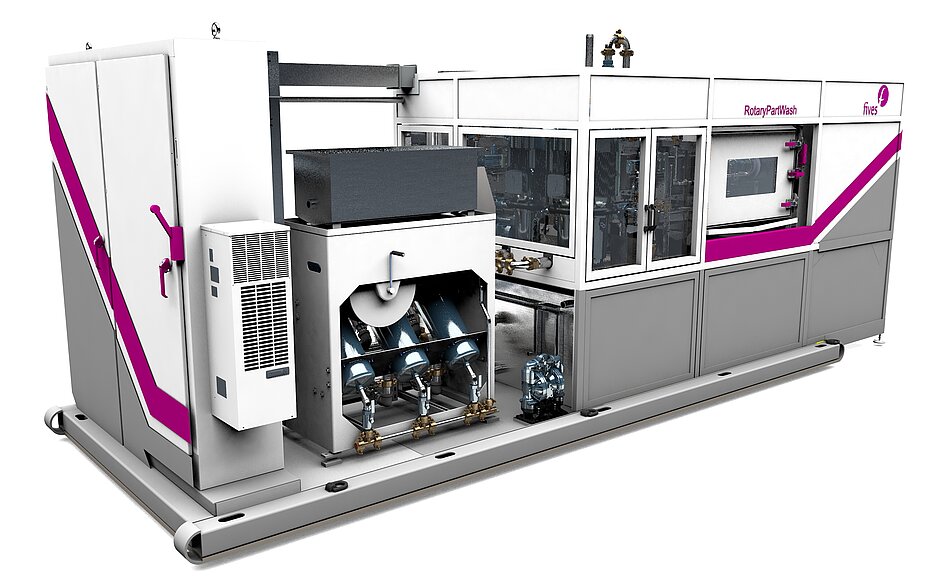 Compact and modular design for scalable production
RotaryPartWash™ was designed to perform all cleaning and drying within a single chamber measuring 150 x 150 x 600 mm (5.9 x 5.9 x 23.6 in). It can be externally rotated and adjusted using a programmable logic controller (PLC)-based control panel. This compact and efficient design offers a small footprint, leaving valuable floor space to scale alongside production demands.
Modular by design, RotaryPartWash™ can be set up as a single or dual chamber configuration to meet any facility's volume requirements. When outfitted with dual chambers, the stations run independently of each other, enabling continuous operations.