With part length capacity ranging from 4,500mm up to 8,500mm and beyond, the Landis LT3e is the ideal solution for large crankshaft grinding. Flexible, precise and productive, this is the state-of-the-art solution for your large crankshaft grinding needs.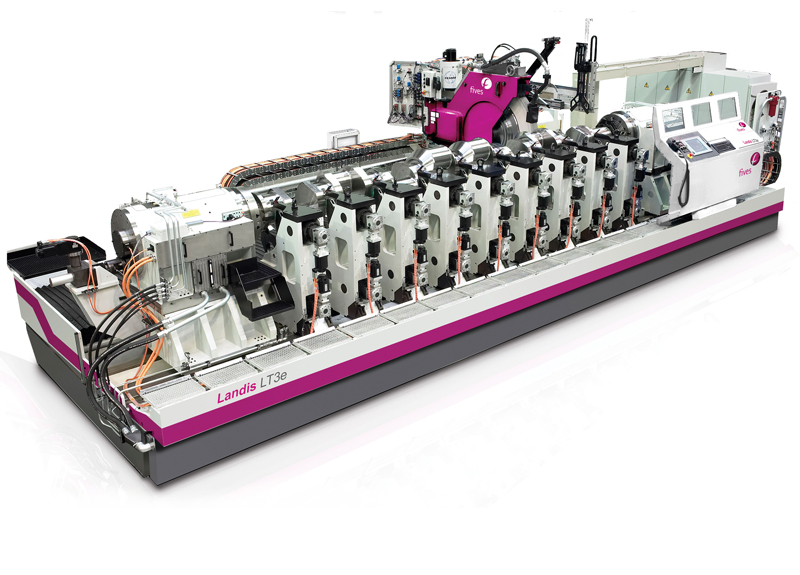 Accurate, flexible and reliable grinding for large components
It's not just the size of the Landis LT3e that's impressive. It is also packed with the latest technological developments and features to ensure the highest quality and productivity, including:
CNC hydrostatic wheelhead and workhead bearings
Concentric and orbital capabilitiy
Up to 40 brushless servo axes
Hydrostatic wheel and crankhead spindles with integral spindle drives
Electronically synchronised crankheads
In-process gauging
Linear motors on infeed and traverse
Linear motor infeed and cross traverse on dresser
Check out our Landis LT3e flyer to learn more.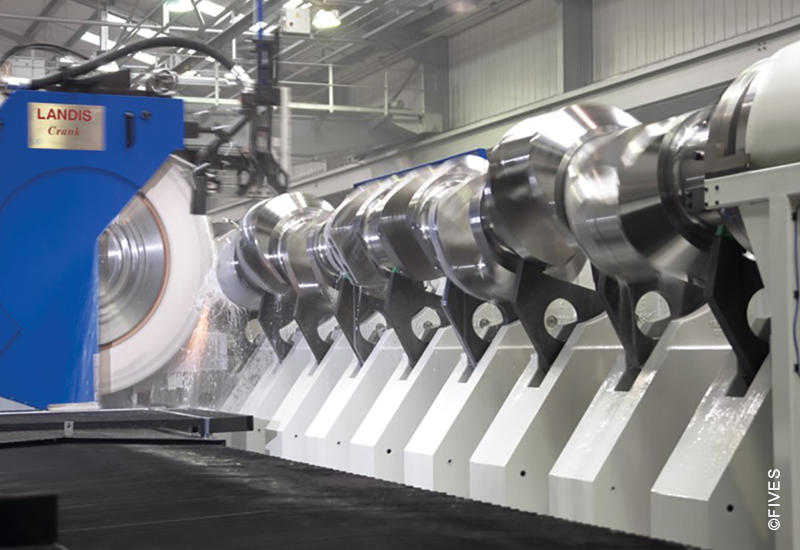 In addition, the Landis LT3e can grind pins and journals up to 350mm in diameter, throw up to 250mm and swing up to 850mm. This is all possible while maintaining stability and performance at weights up to 8,500kg.
In fact, geometric accuracy of the shaft is increased by grinding the crankshaft main bearings on axis, while orbitally grinding crank pins. All without having to remove the shaft from the machine.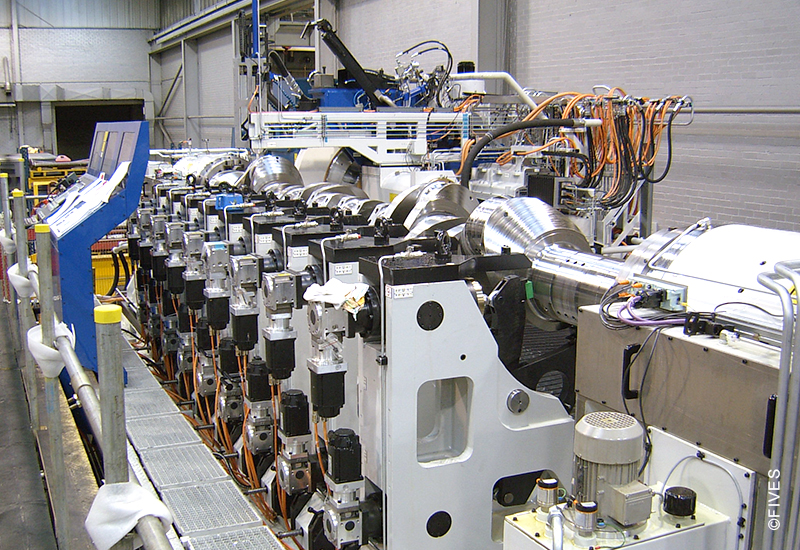 Low maintenance and minimized downtime
With its long-lasting hydrostatic spindles and bearings, the Landis LT3e is a durable machine with low maintenance requirements. Downtime is minimized, which keeps production running efficiently, further saving you time and money. In addition, the health and safety risks associated with operator interaction are reduced.
Interested in a precision location tool that allows uniform stock removal?
Our MicroLocate innovation enables simple and efficient finish grinding of new and remanufactured large crankshafts with a precision location tool that allows uniform stock removal. With improved location accuracy, you can save money and improve efficiency in your finish grinding operation.
Landis LT3e 4500
Landis LT3e 6500
Landis LT3e 8500*

GRINDING CAPACITY

Max. component swing

850 mm

850 mm

850 mm

Max. pin diameter

350 mm

350 mm

350 mm

Max. journal diameter

350 mm

350 mm

350 mm

Max. throw

250 mm

250 mm

250 mm

Max. part length

4,500 mm

6,500 mm

8,500 mm

Max. grinding length

4,500 mm

6,500 mm

8,500 mm

Max. workpiece weight

4,500 kg

6,500 kg

8,500 kg

wheelHEAD

Wheel type

Aluminum Oxide

Aluminum Oxide

Aluminum Oxide

Wheelhead

Single wheel head

Single wheel head

Single wheel head

Max. wheel Ø

1,400 mm

1,600 mm

1,600 mm

Max. wheel width

250 mm

250 mm

250 mm

Wheel surface speed

35 m/sec

35 m/sec

35 m/sec

Spindle power

60 kW

60 kW

60 kW

Bearings

Hydrostatics

Hydrostatics

Hydrostatics

WORKHEAD & FOOTSTOCK

Workhead speed range

0-12 rpm

0-12 rpm

0-12 rpm

Max. workhead motor torque

8,000 Nm

8,000 Nm

8,000 Nm

Workhead bearings

Hydrostatics

Hydrostatics

Hydrostatics

Footstock stroke

150 mm

150 mm

150 mm

AXES

Linear guide ways

Hydrostatics / Linear rails

Hydrostatics / Linear rails

Hydrostatics / Linear rails

Grinding spindle

Hydrostatics

Hydrostatics

Hydrostatics

Drive

Linear Motors

Linear Motors

Linear Motors

Dimensions

Dimensions (W x D x H)

10,225 x 5,550 x 3,925 mm

12,400 x 5,500 x 3,925 mm

14,575 x 5,500 x 3,925 mm

Machine weight

80,000 kg

90,000 kg

100,000 kg

*larger sizes are available
Landis LT3e 4500
Landis LT3e 6500
Landis LT3e 8500*

GRINDING CAPACITY

Max. component swing

33.5"

33.5"

33.5"

Max. pin diameter

13.8"

13.8"

13.8"

Max. journal diameter

13.8"

13.8"

13.8"

Max. throw

9.8"

9.8"

9.8"

Max. part length

177"

256"

334.7"

Max. grinding length

177"

256"

334.7"

Max. workpiece weight

9,921 lb

14,330 lb

18,736 lb

wheelHEAD

Wheel type

Aluminum Oxide

Aluminum Oxide

Aluminum Oxide

Wheelhead

Single wheel head

Single wheel head

Single wheel head

Max. wheel Ø

55"

63"

63"

Max. wheel width

9.8"

9.8"

9.8"

Wheel surface speed

114.8 ft/sec

114.8 ft/sec

114.8 ft/sec

Spindle power

60 kW

60 kW

60 kW

Bearings

Hydrostatics

Hydrostatics

Hydrostatics

WORKHEAD & FOOTSTOCK

Workhead speed range

0-12 rpm

0-12 rpm

0-12 rpm

Max. workhead motor torque

8,000 Nm

8,000 Nm

8,000 Nm

Workhead bearings

Hydrostatics

Hydrostatics

Hydrostatics

Footstock stroke

5.9"

5.9"

5.9"

AXES

Linear guide ways

Hydrostatics / Linear rails

Hydrostatics / Linear rails

Hydrostatics / Linear rails

Grinding spindle

Hydrostatics

Hydrostatics

Hydrostatics

Drive

Linear Motors

Linear Motors

Linear Motors

Dimensions

Dimensions (W x D x H)

33.6' x 18' x 12.9'

40.7' x 18' x 12.9'

47.8' x 18' x 12.9'

Machine weight

176,370 lb

198,416 lb

220,462 lb

*larger sizes are available