Cranfield Precision machines are renowed for precision, reliablity and repeatablity. The Cranfield Precision EcoR is equipped with exceptional stiffness and damping, high thermal stability, and single point diamond cutting tools, which makes it ideal for the optical film market.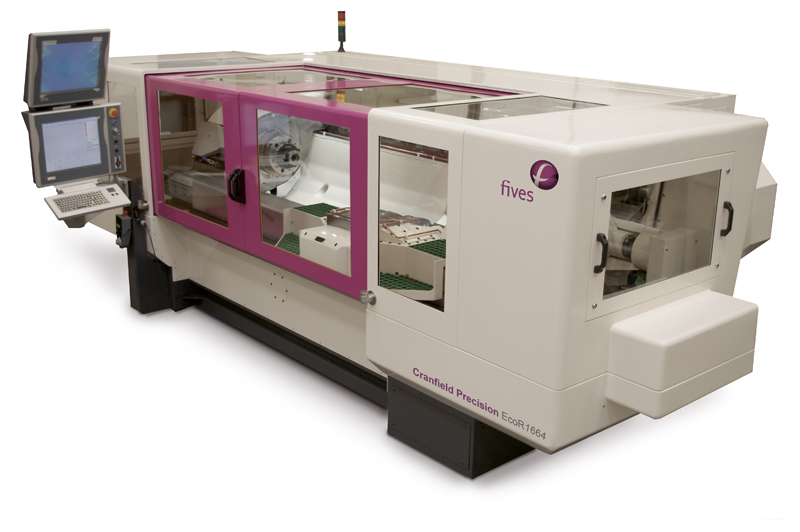 Minimal errors, optimum productivity
The EcoR 1664 diamond roll turning machine is specifically engineered to machine high precision copper rolls for the production of high-quality optical film.
The main axis of the machine uses a stepped rail hydrostatic design, to provide minimal roll errors in the tool infeed direction. The result? Maximum repeatability and precision.
Check out our Cranfield Precision EcoR 1664 flyer to learn more.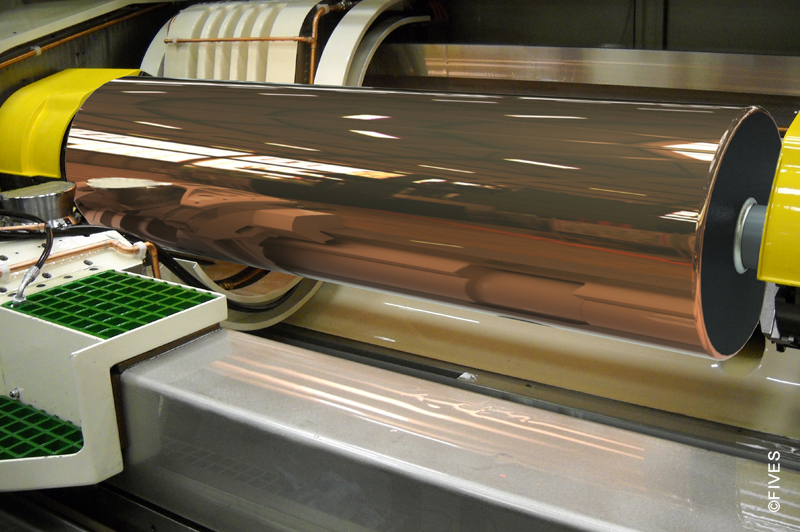 Ultimate performance starts with advanced design
We use advanced 3D CAD techniques and FEA to ensure the Cranfield Precision EcoR 1664 delivers the precision and consistency you need for your optical film application. Furthermore, the EcoR 1664 works with both the Cranfield Precision CNC6400 and Delta Tau control systems.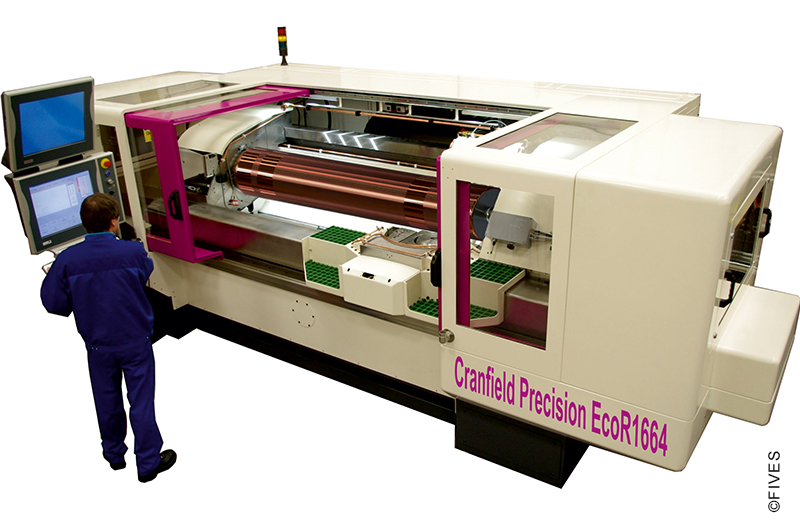 precision, reliability and repeatability
We have worked hard to minimize the opportunities for human errors through the use of hydrostatics, increased stiffness, and frictionless linear encoder seals. The machine base is a polymer concrete-filled steel fabrication to eliminate vibration. In addition, the raised rear bearing rail configuration produces a bed stiffness 1.6x higher than conventional flatbed designs.
Oil temperature is maintained at 0.01˚C for both the hydrostatic axes and the oil shower to produce a highly controlled microclimate.
The machine is designed for workpieces up to 410 mm diameter and 1,600 mm long, weighing up to 1,000 kg. It is typically used for machining copper rolls but can be used with a range of parts and sizes. Contact us to talk about your application.
Grinding capacity

Max. roll diameter (OD)

410 mm

Max. roll length

1,600 mm

Max. roll mass

1,000 kg

X AXIS (TOOL INFEED)

Axis stroke

205 mm

Compensated accuracy

<0.5 μm

Feedback resolution

1 nm

Maximum linear motor force

1,385 N

Maximum axis velocity

50 mm/sec

Maximum axis acceleration

50 mm/sec²

Z AXIS (TOOL TRAVERSE)

Axis stroke

2,200 mm

Compensated accuracy

<2 μm

Feedback resolution

1 nm

Maximum linear motor force

1,748 N

Maximum axis velocity

50 mm/sec

C AXIS (HEADSTOCK SPINDLE)

Load capacity

500 kg

Max. speed

1,200 rpm

Axis resolution

<0.05 arc sec

A AXIS (TAILSTOCK SPINDLE)

Load capacity

500 kg

Max. speed

1,200 rpm

Axis resolution

<0.05 arc sec

B AXIS (TOOL SPINDLE)

Load capacity

100 kg

Feedback resolution

0.05 arc sec

Maximum torque

40 Nm

ENVIRONMENTAL CONTROL

Microclimate (oil shower temp. control)

0.01°C

Dimensions

Machine dimensions (W x D x H)

5,900 x 3,150 x 1,900 mm

Machine weight

25,000 kg



Grinding capacity

Max. roll diameter (OD)

16"

Max. roll length

64"

Max. roll mass

2,204 lb

X AXIS (TOOL INFEED)

Axis stroke

8.1"

Compensated accuracy

<0.5 μm

Feedback resolution

1 nm

Maximum linear motor force

1,385 N

Maximum axis velocity

2 in/sec

Maximum axis acceleration

2 in/sec²

Z AXIS (TOOL TRAVERSE)

Axis stroke

86.6"

Compensated accuracy

<2 μm

Feedback resolution

1 nm

Maximum linear motor force

1,748 N

Maximum axis velocity

2 in/sec

C AXIS (headstock SPINDLE)

Load capacity

1,102 lb

Max. speed

1,200 rpm

Axis resolution

<0.05 arc sec

A AXIS (TAILSTOCK SPINDLE)

Load capacity

1,102 lb

Max. speed

1,200 rpm

Axis resolution

<0.05 arc sec

B AXIS (TOOL SPINDLE)

Load capacity

220 lb

Feedback resolution

0.05 arc sec

Maximum torque

40 Nm

ENVIRONMENTAL CONTROL

Microclimate (oil shower temp. control)

0.01°C

Dimensions

Machine dimensions (W x D x H)

19.4' x 10.3' x 6.3' mm

Machine weight

5,512 lb