Reliable vertical double disc grinding that offers high stock removal on large and small parts. Our flexible range of machines utilize a modular system that can be engineered to suit your production process.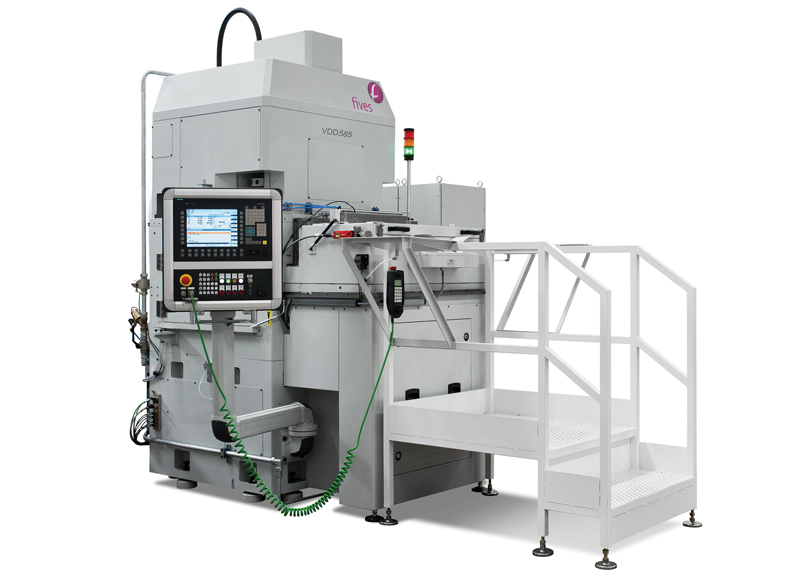 MODULAR DESIGN FOR ENGINEERED SOLUTIONS
For superior rigidity, our line of vertical double disc grinding machines is built on a three-block cast iron box type framing structure. This ensures our VDD machines have exceptional stiffness and robustness. We offer both conventional and super abrasive grinding wheel (CBN & diamond) options. As a result, you get reduced cycle time, higher throughput and increased cost efficiency.
Check out our Vertical double disc flyer to learn more.
Gardner, Giustina or Daisho grinding machines will be proposed according to the standards in the specific geographical areas.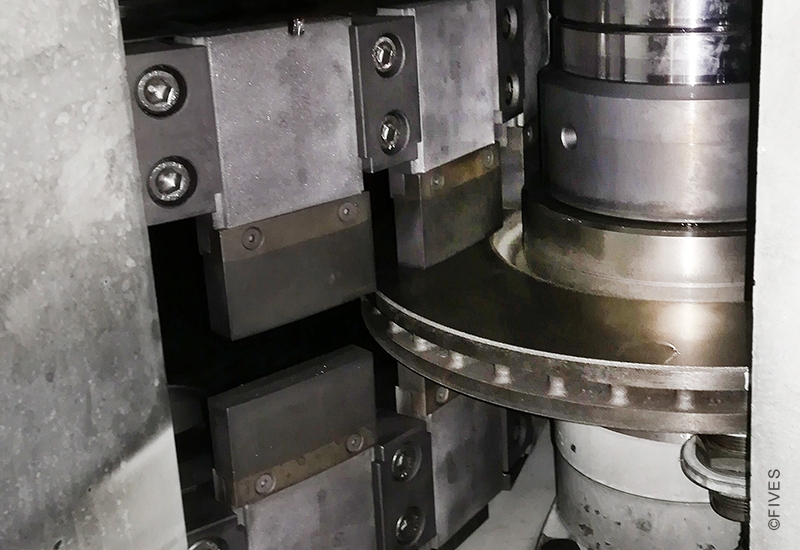 COATED BRAKE DISC GRINDING
Our expert engineers have developed new working parameters and wheel specifications using our current grinder product range that will meet the grinding requirements of the new dust-free composite coating material.

Contact the Fives team to schedule a demo or test grind to see how we can help you with your coated brake disc applications.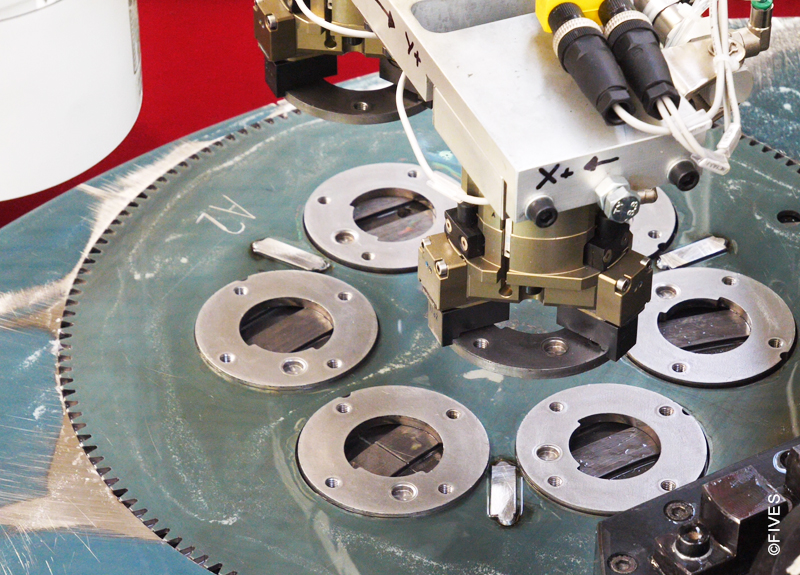 flat and parallel surface grinding
Our flexible vertical double disc machines are ideal for high precision grinding for a variety of flat-surface components including:
Rotors
Stators
VVT components
Bearings
Spacers
Pump parts
Connecting rods
Piston rings
And many other components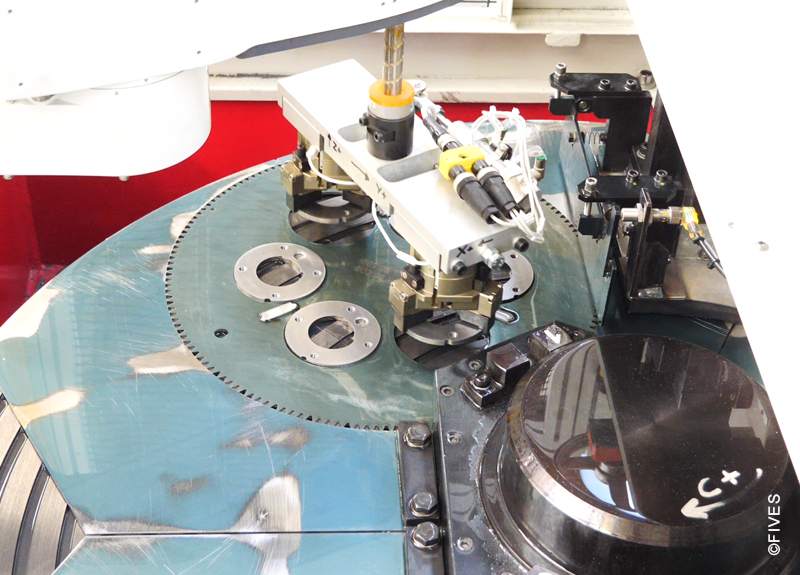 Our machines are available in multiples sizes and can be engineered to suit your production needs. Additional key benefits include:
A high resistance cast iron machine structure
CBN, diamond or conventional grinding wheels
Servo-controlled wheelhead and dresser positioning
Automatic or manual loading/unloading system
Small footprint
Our VDD machines are used to surface grind workpieces with different working methods that include:

Check out the VDD in action
Vertical Double Disc Grinder
Our reliable vertical double disc grinders offer high stock removal on large & small parts and are available in a range of sizes with various working methods to suit your production needs.
VDD305
VDD355
VDD455
VDD510
VDD585
VDD760

MACHINING CAPACITY

Max. workpiece OD

5 - 50 mm

5 - 50 mm

15 - 75 mm

15 - 75 mm

20 - 240 mm

25 - 350 mm

Max. workpiece thickness

85 mm

85 mm

85 mm

85 mm

85 mm

85 mm

Min. workpiece thickness

0.7 mm

0.7 mm

0.7 mm

0.7 mm

0.7 mm

0.7 mm

wheelHEAD

Max. wheel Ø

305 mm

355 mm

455 mm

510 mm

585 mm

760 mm

Max. power grinding wheel

5.5 - 7.5 kW

7.5 - 11 kW

11 - 15 kW

11 - 15 kW

22 - 30 kW

37 kW

Positioning precision

1 μm

1 μm

1 μm

1 μm

1 μm

1 μm

Dimensions

Dimensions
(W x D x H)

1,550 x 1,625 x
2,200 mm

1,550 x 1,625 x
2,200 mm

1,550 x 1,625 x
2,200 mm

1,550 x 1,625 x
2,200 mm

2,700 x 3,100 x
3,100 mm

2,700 x 2,700 x
3,200 mm

Machine weight

5,500 kg

5,500 kg

5,500 kg

5,500 kg

12,000 kg

15,000 kg
VDD305
VDD355
VDD455
VDD510
VDD585
VDD760

MACHINING CAPACITY

Max. workpiece OD

0.2" - 2"

0.2" - 2"

0.6" - 3"

0.6" - 3"

0.8"- 9.5"

1" - 13.8"

Max. workpiece thickness

3.4"

3.4"

3.4"

3.4"

3.4"

3.4"

Min. workpiece thickness

0.03"

0.03"

0.03"

0.03"

0.03"

0.03"

wheelHEAD

Max. wheel Ø

12"

14"

17.9"

20"

23"

29.9"

Max. power grinding wheel

5.5 - 7.5 kW

7.5 - 11 kW

11 - 15 kW

11 - 15 kW

22 - 30 kW

37 kW

Positioning precision

1 μm

1 μm

1 μm

1 μm

1 μm

1 μm

Dimensions

Dimensions
(W x D x H)

5.1' x 5.3' x 7.2'

5.1' x 5.3' x 7.2'

5.1' x 5.3' x 7.2'

5.1' x 5.3' x 7.2'

8.9' x 10' x 10'

8.9' x 8.9' x 10.5'

Machine weight

12,125 lb

12,125 lb

12,125 lb

12,125 lb

26,457 lb

30,069 lb