With the capabilities and precision of two Landis LT2e grinding machines in one flexible and compact package, the Landis DuoFlex increases the possibilities for concentric and non-concentric workpiece processing.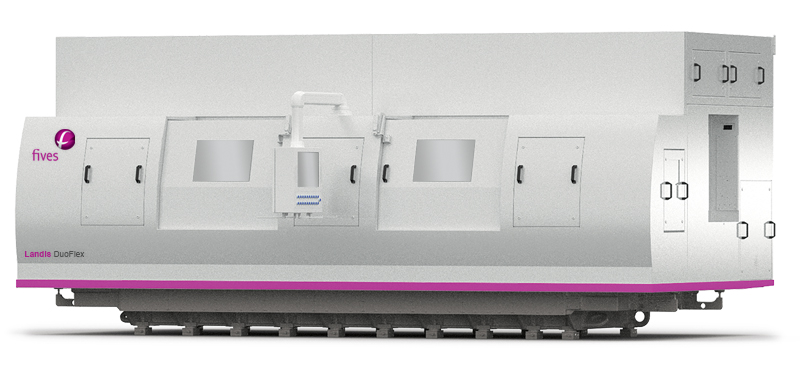 Two independent workstations, one grinding machine
The Landis DuoFlex incorporates two independent LT2e workstations, with up to four wheelheads and B-axis options, into one grinding machine. In doing so, it expands what is possible on a single unit with the capability to grind all features: OD plunge, angle spindle plunge, axial 'bump' grind, orbital and other non-round shapes. There is also an option for polishing on this machine.
Check out our Landis DuoFLEX flyer to learn more.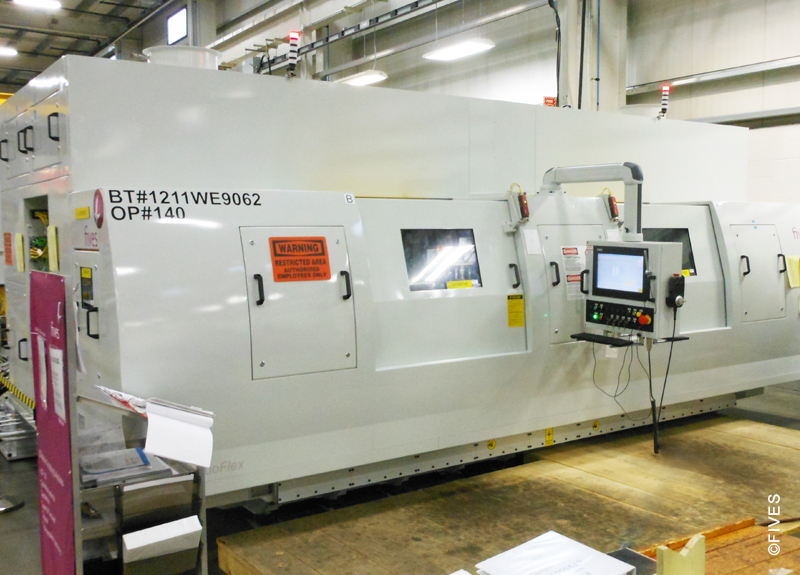 Proven reliability and precision
The design of the Landis DuoFLEX is based on tried-and-tested Landis machine technologies. This includes LT2e table tooling and geometry, LT2e-based 28 kW wheel spindles, and a slightly modified Landis Flex 2500 bed. The enclosure also uses LT2 details, where possible.
HIGHLY CONFIGURABLE PLATFORM
The Landis DuoFLEX is a highly configurable platform. In addition to two- and four-wheelhead options, a three-wheelhead configuration is available with right, left and center wheelheads.

Wheelhead slides feature linear bearings on the z-axis, hydrostatic linear bearings on the x-axis, and Fibro swivel with 3-degree Hirth coupling and worm drive.
Additional key machine features include:
Linear motors on all feed and traverse axes
Hydrostatic wheel spindles and wheel feeds
High precision linear rail traverse axes
CBN wheelhead
A festoon arrangement of power cables to reduce assembly time
Reduced power consumption and overall floor space compared to two equivalent machines
Grinding capacity

Max. component swing

210 mm

Max. grinding length

750 mm

Max. workpiece weight

250 kg

WHEELHEAD

Wheel type

CBN

Max. wheel Ø: main thrust & pin grinding

520 mm

Max. wheel Ø: post & flange grinding

570 mm

Max. wheel width: main thrust & pin grinding

30 mm / 40 mm / 60 mm

Max. wheel width: post & flange grinding

30 mm - 90 mm

Max. wheel surface speed

180 m/sec

Max. spindle power

28 kW

WORKHEAD

& FOOTSTOCK

Max. workhead speed

300 rpm

Workhead drive power

13 kW

Max. workhead motor torque

250 Nm

Footstock stroke

160 mm

AXES

Linear guide ways

Precision linear rail / Hydrostatics

Grinding spindle

Hydrostatics

Drive

Linear motors

Dimensions

Machine dimensions (W x D x H)

6,536 x 4,998 x 2,862 mm

Machine weight

26,500 kg



Grinding capacity

Max. component swing

8.3"

Max. grinding length

29.5"

Max. workpiece weight

551 lb

WHEELHEAD

Wheel type

CBN

Max. wheel Ø: main thrust & pin grinding

20.5"

Max. wheel Ø: post & flange grinding

22.4"

Max. wheel width: main thrust & pin grinding

1.2" / 1.6" / 2.4"

Max. wheel width: post & flange grinding

1.2" - 3.5"

Max. wheel surface speed

590.6 ft/sec

Max. spindle power

28 kW

WORKHEAD

& FOOTSTOCK

Max. workhead speed

300 rpm

Workhead drive power

13 kW

Max. workhead motor torque

250 Nm

Footstock stroke

6.3"

AXES

Linear guide ways

Precision linear rail / Hydrostatics

Grinding spindle

Hydrostatics

Drive

Linear motors

Dimensions

Machine dimensions (W x D x H)

21.4' x 16.4' x 9.4'

Machine weight

58,423 lb