With the highest cut quality, minimum waste and low maintenance needs, our range of flying cut-off machines includes solutions for every tube size, material type, steel grade and performance requirement.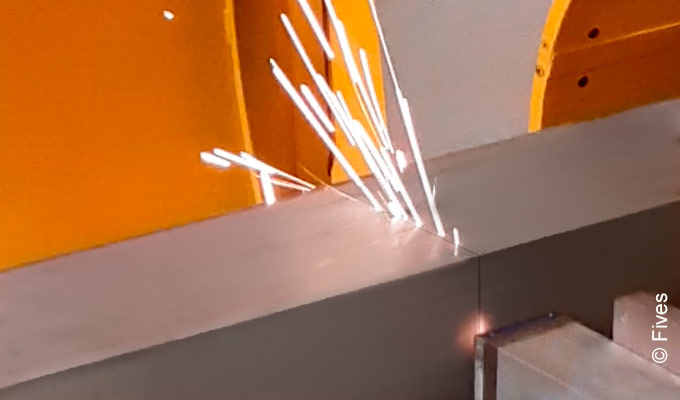 Our fiber laser cut-off technology enables the operating cost to be cut by 80% compared to traditional orbital cut-off solutions. The laser cut-off can handle speeds from 20 – 50 m/min and is designed for stainless steel applications.
No blade changes
Zero changeover time
No need for lubrication or cooling
Maintenance is simple, with easy access from the top
TWIN EVO, a new generation of twin-blade cut-offs
The TWIN EVO cut-off, designed for tubes for construction, irrigation and furniture applications, features improved blade life, better cut quality and better access. With a 20% quicker changeover, you also get quicker and cheaper maintenance with this cut-off solution.
Cold saw cut-offs
The range of cold saw cut-offs is designed for small, medium or large tubes, providing maximum quality levels and safety, minimum cut tolerances, easier equipment maintenance and longer blade life.
Friction saw cut-offs
This flexible and widely applicable technology is capable of cutting hard materials as well as big tube sizes, all at high speeds. This cut-off technology ensures maximum operational safety and final product quality.
Shear type cut-offs
Specially designed for carbon and stainless steel tubes, the shear type cut-offs achieve high speed productions and short tube lengths. Reliability and consistency are guaranteed by the machine's automated control system.
Precise cut-off with advanced control
All machines are equipped with a microprocessor to manage all unit functions, ensuring reliable and precise cutting lengths, precision and minimal maintenance:
Cut-off MANAGER
The easy-to-use Cut-off Manager system allows the operator to simply set all key cutting parameters, and automatically provides feedback and statistical data. This gives an optimized cutting sequence, with higher cutting speed, reduced scrap, and lower machine wear.
Blade manager
The Blade Manager software accumulates data on the blades used and their original supplier. Every cut, incidence and square meter of cut material is stored in the database, giving you the insight you need to choose the optimum blade for each application.