Imagine if you could anticipate precisely every element of how your strip moves through the line. With OptiLine™, you can simulate every aspect of your strip processing line to ensure you design for optimum efficiency and reduced CAPEX.
What do you get with OptiLinE?
Fully animated 2D or 3D modeling
Real-time complete line simulation
Calculation information reports
Easy definition of driver pre-sets
Thorough and exhaustive analysis

Line behavior prediction
Detect potential malfunctions
Line tension optimization
Roll slippage and strip marks avoidance
Targeted recommendations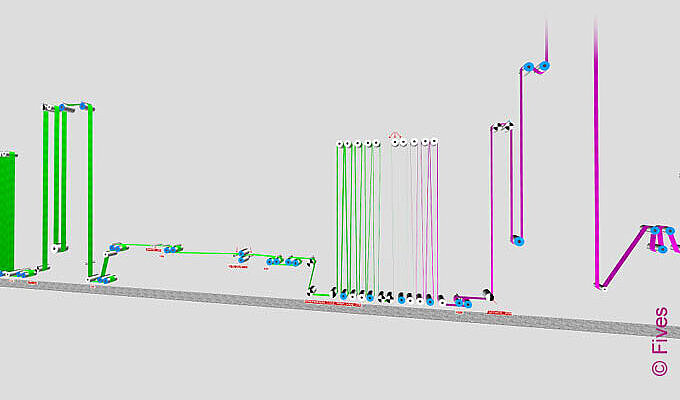 Enhanced performance
With OptiLine™, performance is smoother, strip quality is improved, and risks are minimized. This advanced simulation tool enables you to:
Plan better for new grades or strip sizes
Minimize equipment modifications for upgrade projects
Calculate the requested characteristics of each motor in the line
Guarantee the required line tension during operation
Simulate coil transition in real time
Suitable for both Fives' installations and those from other suppliers.
Strip processing simulation for success
OptiLine™ uses animated 2D and 3D modeling software to simulate and predict coil and strip processing line behavior. It also helps you anticipate the line behavior during the development of new steel grades.
More effective, lower cost maintenance
When your strip processing line is designed for optimum performance, wear and maintenance is decreased, giving you greater reliability and lower operating costs. Plus, with the data you have from OptiLine™ you can calculate the 'performance gap' between simulated and real line behavior and take measures for improvements.