Maximize your ROI with this hybrid ATL/AFP system for tape laying and fiber placement. With the GEMINI Dockable Gantry System, you have the flexibility to process a wider array of parts with greater productivity.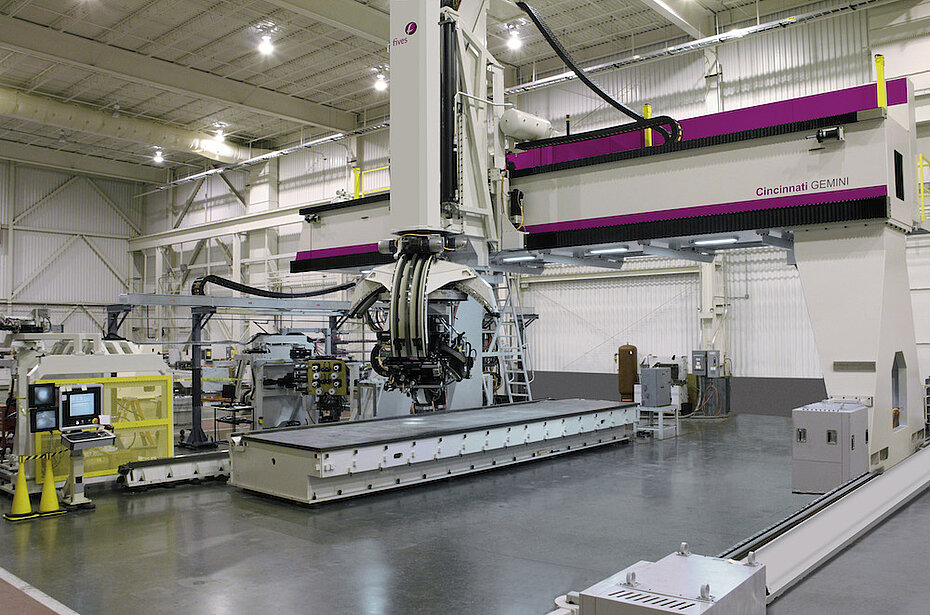 One platform, two processes – hybrid ATL/AFP
The Cincinnati GEMINI provides unmatched economy and flexibility in automated composites processing. Featuring your choice of interchangeable heads with fixed or docking options, this hybrid ATL/AFP system can be customized to almost any application.
The GEMINI's hardware and software interfaces allow you to switch seamlessly between ATL and AFP processes, even within the same ply. The ATL head is ideal for all courses of a ply that are full width and have no complex cuts or significant contouring. The AFP head is perfect for narrow courses, complex cuts and high contour areas.
All heads are optimized for aerospace applications, with a focus on accuracy and repeatability. Heads can be swapped in a matter of minutes, maximizing productivity and reducing parasitic time.
Multiple capabilities, flexible capacity
Large parts are no problem for this hybrid ATL/AFP machine, which can manufacture composite components upto 8 m long. The GEMINI accommodates both single stage tape laying (3 in, 6 in or 12 in widths) and dual-stage tape laying (bulk and pre-cut rolls). The large gantry platform enables you to position multiple parts for concurrent work, saving time on the production floor. And, docking is outside the work cell, giving you more work space.
Cincinnati CHARGER Tape Head – Fixed or Docking
Forest Liné ATLAS 2 Stage Head – Fixed or Docking
Cincinnati VIPER Fiber Placement Head – 16 tow 1/8 inch
Cincinnati VIPER Fiber Placement Head – 16 tow 1/4 inch
Cincinnati VIPER Fiber Placement Head – 16 tow 1/2 inch
Universal Docking System for limitless head designs