Optimize your tape-laying operations with Forest-Liné TapeLay, a purpose-engineered CAD software designed to serve the ATLAS/ACCESS.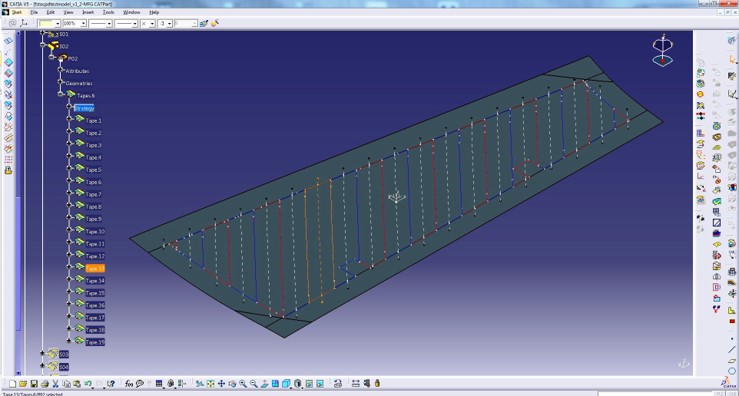 Everything you need for accurate and efficient tape-laying
The Forest-Liné TapeLay software incorporates two modules integrated into the CATIA V5® architecture: tape generation and tape manufacturing. Each module gives you all the functions you need to optimize your tape laying operation. Define the width, starting point and tape laying course with the Tape Generation module. This program also enables you to modify the tape course and to analyze it for gap/overlap, steering and angular deviation.
The Tape Manufacturing module includes laying, trimming and laser check operations for total quality control. It also includes Path Computation and APTSource file generation: to calculate the tool path and to generate the APTsource file.

Multiple programming options
The software is also used for the programming of additional phases of your composite manufacturing:
Ultrasonic ply cutting
Ply contour verification with laser
Inkjet marking
Two complementary programs:

Pre-PPMaD® – user friendly interface addressing the post-processors of the access off-line cutting machine and of the ATLAS tape layer.
TLayingVisual® – user friendly display of the apt files generated by the post-processors.