Two to three times faster than the market standard, the Forest-Liné ATLAS/ACCESS is a dual-phase solution for composite manufacturing. Combining pre-cutting and tape laying, this machine is designed for high-speed laying of parts up to 6.5 m wide.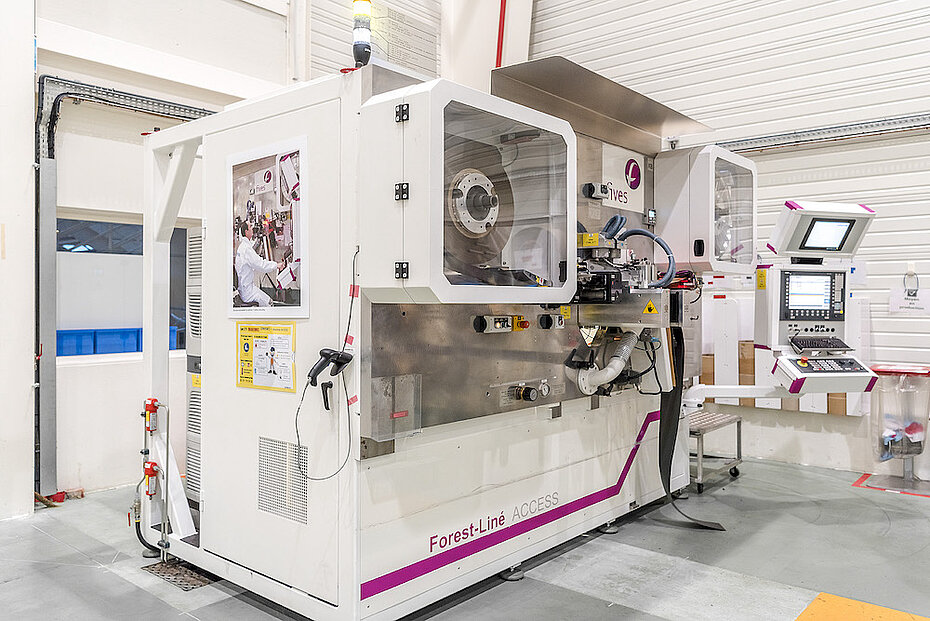 Optimize productivity with the ATLAS/ACCESS
The Forest-Liné ATLAS/ACCESS takes all the benefits of the ATLAS One and adds increased capacity, speed and flexibility. While the ATLAS machine takes care of the tape laying, the ACCESS is a pre-cutting machine equipped for 150 mm carbon prepeg tape. Together, they offer unrivalled capability for dual-phase tape laying of wide composite parts with double curvature and complex shape.
The ultimate advantage of the ATLAS/ACCESS technology is its flexibility. By combining pre-cut 150 mm tape and 300 mm bulk material you open up a world of design potential. Whether you are manufacturing wing skins, central wing boxes, or tail parts, this system virtually eliminates your manufacturing limits.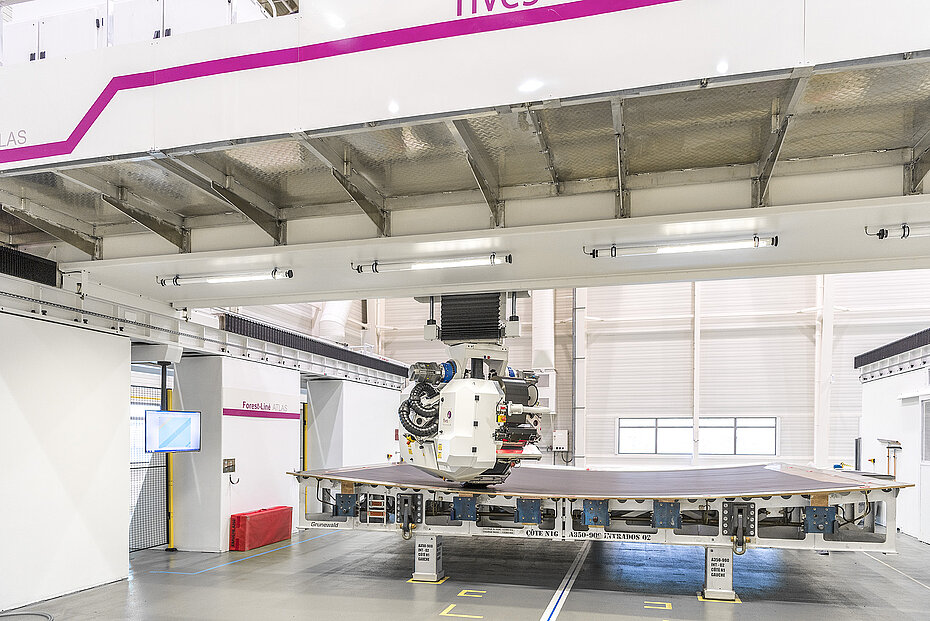 Precision and productivity
With tape positioning within 0.5 mm, 100% traceability, highly dynamic axes and linear motors, accuracy is assured. And with feed rates of 60 m/min, there's no compromise on productivity. Even complex ply shapes and double curvature parts are no problem for this workhorse. It is equally capable of laying up non-developable surfaces, slopes, ramps and padups.
Offering a further economic and environmental benefit, the ATLAS/ACCESS reduces scrap by 5 – 10% depending on part complexity. And the optimized tape laying process results in parts that are 3 – 5% lighter, a significant advantage for the aerospace industry. The Forest-Liné ACCESS pre-cutting machines can feed up to three Forest-Liné ATLAS tape-laying machines.
In-process recording of the lap and gap values for Quality & Assurance
Foreign object detection
Infrared heating
Ultrasonic trimming cutter
Inkjet marking
Ply boundary inspection
Program simulation offline
Part traceability