The Cincinnati VIPER® 6000 is our high-capacity automated fiber placement solution. It brings versatility and productivity to the production of composite parts up to 8 m in diameter.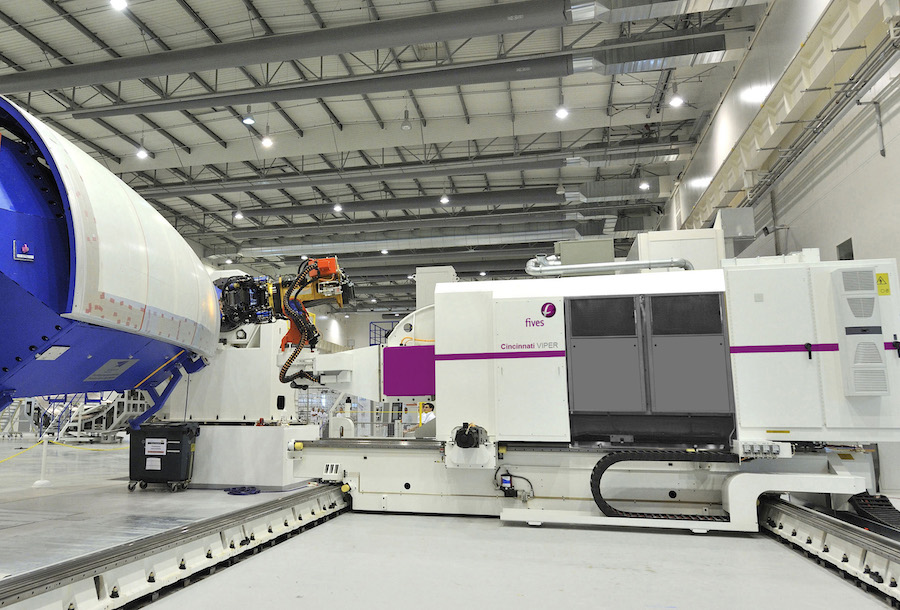 Automated fiber placement for large parts
The Cincinnati VIPER® 6000 is the "big sister" of the VIPER® 1200 and brings all the same advantages, on a bigger scale. With 32 independently-controlled tows or slit tapes, you can vary the bandwidth according to your needs. Add and cut individual tows at any time, and change ply angle on-the-fly for the ultimate in machining flexibility. This machine can accommodate part diameters up to 8 m, with no limits to ply orientation. Our advanced CM100 control system and ACES® software ensure a constant angle is maintained even on a complex surface.
Low-waste automated fiber placement
Combining tape laying and filament winding with cutting-edge controls and an agile Cut-Clamp-Restart (CCR) system, the Cincinnati VIPER® 6000 ensures absolute precision and minimal waste. Each tow can be independently dispensed, clamped, cut and restarted during fiber placement. Gaps and overlaps are minimized, as the machine precisely lays interior or exterior contoured boundaries.
All the VIPER® machines incorporate in-process compaction of material, for optimum consolidation. Whether you are using carbon or glass fiber, thermoset epoxies, BMI, dry fiber or out-of-autoclave prepegs, quality is our watchword. That's why our automated fiber placement solutions are trusted by so many aerospace manufacturers worldwide.
Patented technology in the Cincinnati VIPER® range
Patented segmented roller
Patented bi-directional tensioners
Patented redirect roller system
Individual tow cut-clamp-restart head
Backing film removal system