Increase productivity on complex applications with advanced robotics. The Cincinnati Robotic VIPER® is an automated fiber placement solution for applications that would previously have been laid up by hand.
Evolved automation – the Cincinnati Robotic VIPER®
Engineered to meet the highest quality standards, the Cincinnati Robotic VIPER® brings automation to the next level.Whereas its sister machines, the VIPER® 1200 and 6000, are on a machine platform, the Cincinnati Robotic VIPER® is on a robotics platform.
This machine is designed to automate applications that were previously laid up by hand. With expanded monitoring capabilities and a best-in-class In-Process Inspection capability, you get improved accuracy and speed.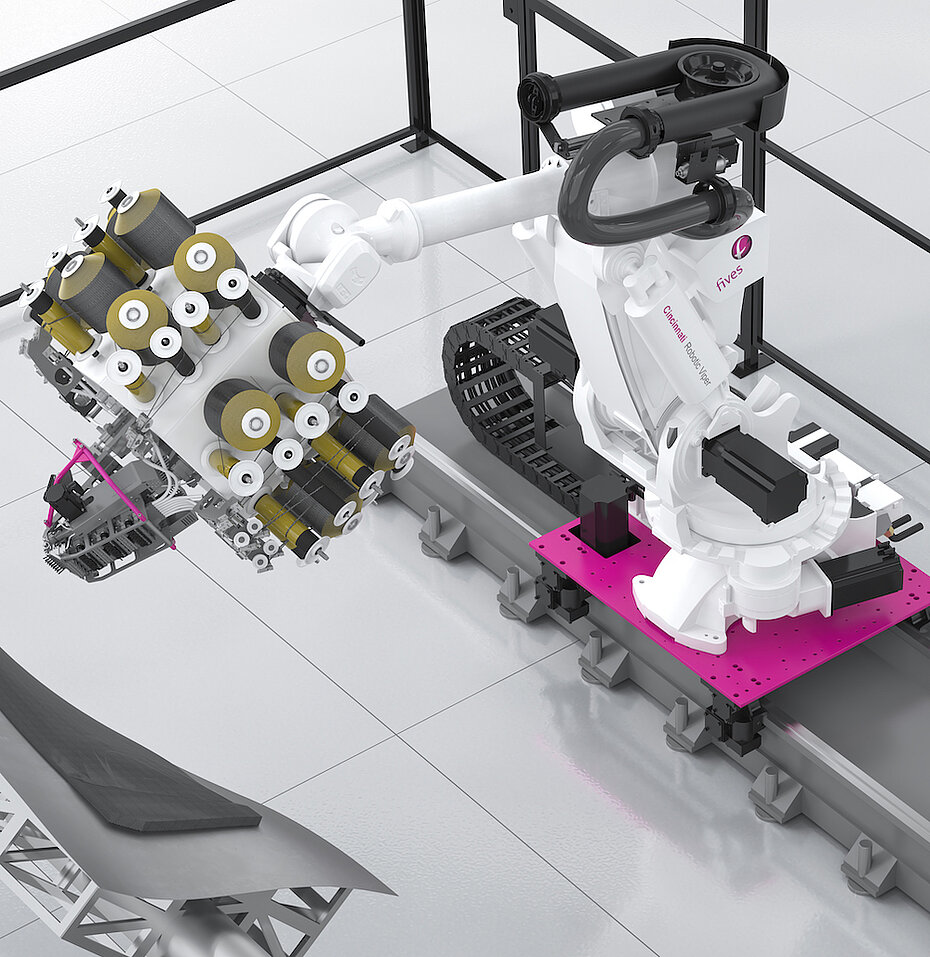 Customized robotics for your application
We customize off-the-shelf robots with our own kinematics technology for purpose-built fiber placement excellence. But it's not just the robotics that make this automated fiber placement tool smart. It's also compact and low-maintenance, with a modular panel design and open compaction slide for easy access to the CCR modules.
The compact 16-lane automated fiber placement head utilizes an ATI connection robotic tool changer. All utilities pass through ATI utility modules for maximum flexibility and ease of use. All these – and more – adjustments create a lightweight AFP head, perfect for robotics applications.
The Robotic VIPER® comes with an extruded profile roller as standard, but can be equipped with a segmented roller if preferred. You can also choose to add a 3-bulb IR Heating Module assembly for higher speed applications.
Ideal for a range of applications and industries
Commercial aircraft
Brackets
Winglets
Engine fan blades
Inner & outer engine covers
Floor beams
Wing components
Military aircraft components
Inlet ducts
Wing skins
Fuselage components
Space launch components
Skins
Satellite components
Fairings
Payload adaptors
Pressure bulkheads
Helicopter components
Fuselage panels
Rotor blades
Tail boom