Quality and productivity in a compact footprint. Our horizontal mill solutions enable you to make the most of your available floor space. Customized configurations and part geometries, advanced pallet systems and exceptional chip management ensure optimum all-round efficiency. Ideal for a range of milling operations on aluminum, titanium, composites and multi-layered materials.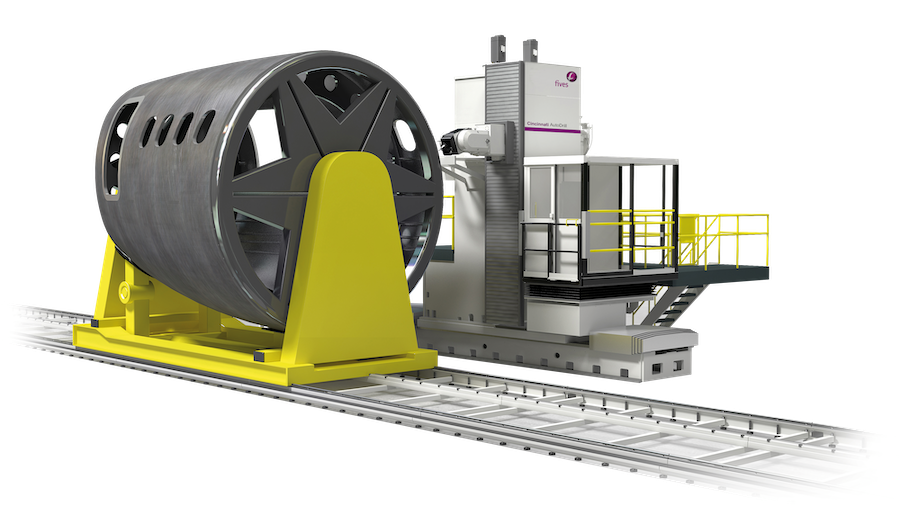 Cincinnati Automated Drill & Trim
Large capacity, high efficiency, ultra precision
For the ultimate in multi-functional large capacity machining, choose the Cincinnati Automated Drill & Trim.
This highly precise horizontal mill has the capability to drill assembly holes and mill section edges, windows, and door cut outs with ease.
Designed to meet the needs of the aerospace industry
The Cincinnati Automated Drill & Trim delivers extended reach and ultra-precision processing capability to machine massive barrel-shaped parts. Laser sensors accurately measure the distance from the tool tip to the work surface and verify the approach angle for highest accuracy. We also use quills for more accurate drilling. In addition, you can choose from a range of pressure foot options to suit your application.
The Cincinnati Automated Drill & Trim system combines a rigid boring mill chassis and extended-reach ram with the unique Cincinnati Automated Drill & Trim gimbal head for large capacity, high-efficiency, and ultra-precision machining of both composite and multi-layered materials.
5-axis base machine with rotary option adding a sixth axis
Single and dual spindle configurations maximize processing flexibility
Expandable work envelope allows the processing of the largest wing panels and body sections in a single setup
Q-axis pressure foot detects the part surface at each hole location for precise countersink depth control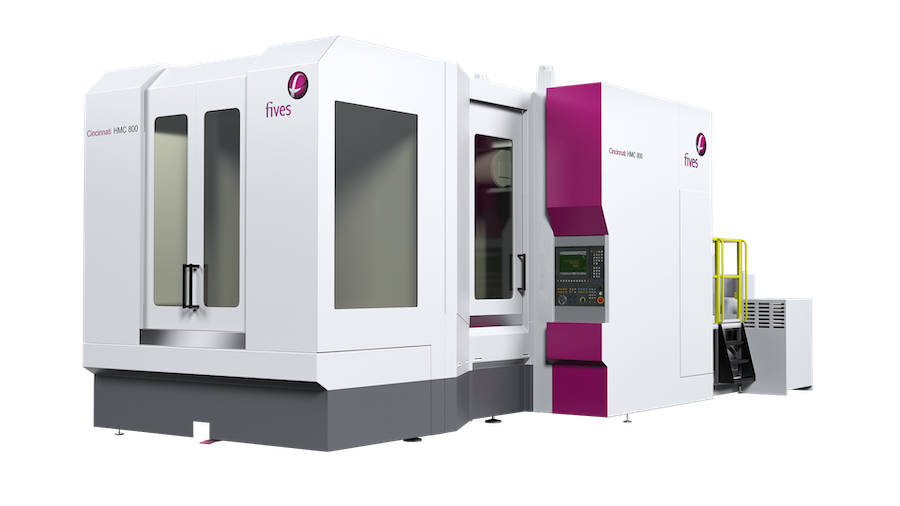 Cincinnati HMC 800 MAX
Power, speed, precision
The Cincinnati HMC 800 MAX horizontal mill is designed for high-torque, high-precision machining applications.
Equipped with a fast, heavy-duty automatic work changer, the HMC 800 MAX is capable of handling pallet loads up to 2200 kg and pallet size options up to 800 mm x 1000 mm for over-sized parts. For turning or mill-turn applications, you can choose to add a robust and reliable 600 rpm table. These horizontal mills can also be easily integrated into cells for multi-machine processing.
Customizable configuration, precision performance
Whichever configuration you choose, you will benefit from the box-in-box machine structure, which provides industry-leading stiffness. The high-torque geared spindle gives reliability and torque to power through heavy cuts, meanwhile the machine's high dynamic stiffness makes it ideal for repeatable, precision hard metal processing.
Aeroengine | Aerospace | Agriculture, Construction & Mining | Defense | Energy | Rail
Symmetrical dual ballscrew design on XYZ axes provides speed, stiffness and maximized thermal stability for precision accuracy
High strength, single-piece, modular cast bridge structure provides superior damping to maximize rigidity
Precision roller linear guideways allow fast positioning rates
Rigid and lightweight spindle saddle allows high vertical acceleration and axes feedrates
Absolute scales provide precision and accuracy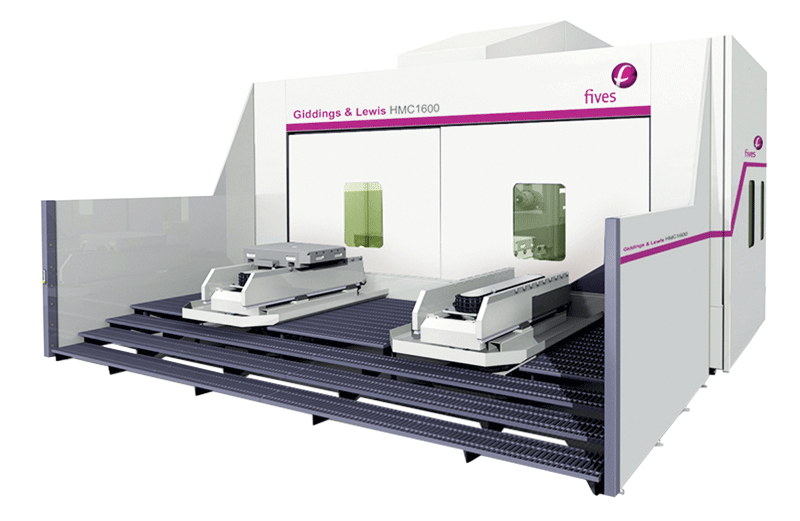 Giddings & Lewis HMC 1250/1600
The ultimate in speed and performance
This modular horizontal mill gives OEM manufacturers and job shops the opportunity to perfectly match the machine features to the application.
Customize travels, controls, tool magazines, attachments, coolant systems and several different headstocks for optimum performance.
Accurate machining for large part production
Capable of swinging up to 3000 mm and shuttling capacity up to 7000 kg, the Giddings & Lewis HMC 1250/1600 are built with rugged machining centres for the utmost accuracy. These machines were engineered based on customer input. They are designed for rigidity, reduced cycle time and the capacity to handle a wide range of parts. Multiple advanced software programs monitor spindle load, adjust to spindle growth, control the feedrate according to cutting conditions, and more. Available on Siemens and Fanuc.
Aeroengine | Aerospace | Agriculture, Construction & Mining | Defense | Energy | Rail
Benefits include:
High performance drive/way system capable of high thrust and up to 40 m/min traverse
Superior axis stiffness thanks to hydraulically preloaded ballscrews
High torque and impressive stiffness even at high traverse and feed rates
Unmatched positioning accuracy in the hydrostatic rotary table
High-speed, high-torque, tilt and live spindle options in addition to the standard 10 000 rpm spindle
Versatile machining with the integrated multi-functional contouring head
Reduced cycle times thanks to wide range of contouring heads and programmable boring bars
NEW FOREST-LINÉ AEROSTAR POWERING PERFORMANCE WITH DIGITALIZATION
Thanks to an unmatched level of automation, the new-generation AEROSTAR is a high-end powering equipment designed for the mass production of structural workpieces for aerospace.
This large-part milling machine tool offers ultimate productivity and best-in-class manufacturing processes. The High-Speed 5-Axis Horizontal Machining provides the perfect solution for rapidly removing large volumes of material, such as aluminum alloys. The closed structure ensures high rigidity while considerably reducing the effects of temperature rises, thus providing the best manufacturing accuracy and geometrical stability. At the same time, the mobile pallet system ensures the secure and effcient loading and unloading of complex parts.
This new-generation AEROSTAR offers the market's most efficient, dynamic, and versatile solution
Quick and user-friendly
Easy software
FM supervisor
FMS flexible manufacturing system
High speed 30,000 rpm and high-power 125kw
High-precision finished parts
Easy operations
Flexible configuration: stand alone or FMS
Designed and produced in France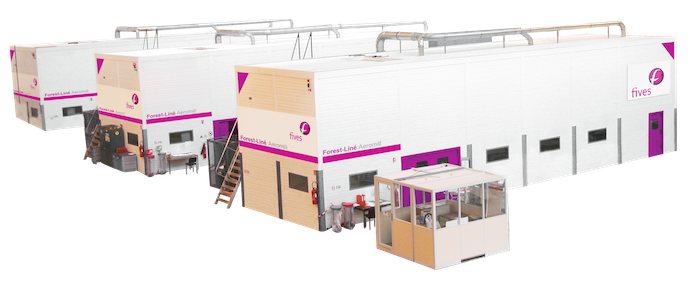 Forest-Liné Aeromill
High-speed horizontal mill
If you need high-velocity, reliable, precision processing of large-sized aircraft structural parts and panels, you need the Forest-Liné Aeromill.
This powerful, accurate horizontal mill is capable of handling pallet sizes up to 3.4 m wide and 20 m long. Suitable for roughing, finishing and complex machining with angle heads, the Aeromill meets the needs of OEMs and job shops seeking optimum machining efficiency.
Aluminum wings and aircraft structures up to 20 m
The Forest-Liné Aeromill 5-axis milling equipment uses linear drives on the X, Y and Z axis for increased dynamic stiffness, low wear and a smooth finish. Additionally, the vertical position of the table and the machine's closed structure ensure efficiency and accuracy.
Clean: quick removal of the chips for efficient recycling, filtering and treatment of the fumes
Productive: pallet system and hidden time preparation of the parts
Powerful: spindle up to 125 kW
Easy to maintain: quick spindle removal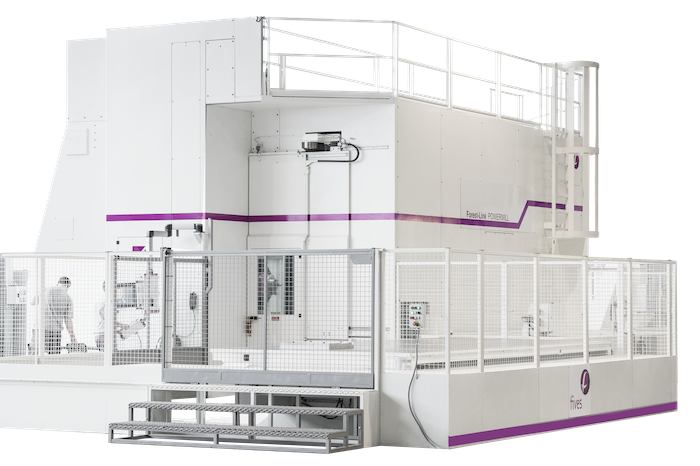 Forest-Liné Powermill Ti
Adaptive solutions for titanium machining
The Forest-Liné Powermill Ti is a 5-axis horizontal profiler for roughing and finishing titanium and hard materials.
Designed for machining aircraft structural complex parts, the Powermill Ti benefits from a patented 'constant overhang ram'. This ensures high stiffness and accuracy, whatever the position.
Versatile and accurate titanium processing
With a horizontal spindle and moving vertical table, the Forest-Liné Powermill Ti is a versatile precision machining solution. Talk to us about your needs – we will engineer a tailored solution.
Benefits include:
High stiffness and accuracy
High torque mechanical spindle
High pressure and flowrate coolant processing
Secure process
Extra compact machines
Stand-alone or FMS configuration
In-house design and manufacture of 5-axis milling heads
Liné Machines HMM
Moving column horizontal mill
Custom-designed for soft and hard materials, the highly versatile Liné Machines HMM is suitable for multiple industries.
The Liné Machines HMM is available in three versions, suited to different types of materials and dry or wet machining. The high speed 3-to-5-axis model is designed for machining aluminum alloys and carbon fiber. This version is ideally suited to manufacturing aero monobloc parts such as beams, floors, spars, rotor blades and ribs. Alternatively, the high-torque 3-to-5-axis model for hard materials is suitable for manufacturing lift arms, frames and large steel tubes. Every machine is supplied with equipment that is designed to withstand severe working conditions.
Automated tooling reduces set-up times
It is easy to combine the HMM with robotic processes and solutions. Our robotics technologies, such as the Liné Machines FlexiTool and RoboTool, ensure set-up is fast and safe.
Aeroengine | Aerospace | Agriculture, Construction & Mining | Energy | Oil & Gas | Rail | Shipbuilding | Space
A range of configurations are available:
Dual column – 2 x HMM on same bed
Dual Process – High precision machining and deburring
Tilting table – roughing in three axes
5-axis finishing machine to fit on existing HMC foundation
A-axis for arm orientation
Shuttle for off-line load/unload
Large choice of fixtures, including:

Head and tailstock
Rotary table
Floor plate
Tilting table
MMS Mirror Milling Star
Leading innovation with proven technology
Mirror Milling Star is the digital machining solution for high-speed milling, drilling and trimming of 3D aluminum or composite fuselage panels.
MMS allows mass production of skin panels aircrafts and space launchers waffle parts. Its mechanical milling process advanced solution replaces chemical milling.
Thanks to its surface scanning system, the machining adapts to the real shape of the panel and the dual 6-axis heads arranged in a mirror guarantee an unequaled level of precision by controlling the symmetry and the thickness of the pocket depth bottoms, whatever be their complexity and diversity.
Large range of panels
Flexible Manufacturing System
Unmatched productivity
Easy to manage
High quality
Fives process expertise
Energy savings
Cost savings
Made to last, Fives Design expertise
Dufieux Drimill
Complete rail machining solution
The Drimill offers a complete machining solution. It has the ability to clamp, mill, drill and saw rails up to 65 m long. And it can move the rails into and out of the cell.
With a 3-position indexing head (vertical up, horizontal, and vertical down) and a tool changer with 32 positions, this is a flexible machine with a large capability.
Turnkey operation
Safe, fully automated clamping and conveying system
Large capacity – up to 65 m