Whether you're trimming, drilling, milling, surfacing, deburring or polishing, or all of the above, we have the automation and fixturing solution for you. Our multiprocess robotic cells are highly flexible and can perform bespoke, complex functions, for any application.
From simple machine loading to the optimization of an entire production workshop, we can design a cost-effective and flexible automated solution to strengthen your production capabilities.
Expertly engineered solutions
More than a machine
When you choose a solution from Fives, you are getting much more than just a standard machine.
We pride ourselves on our ability to provide comprehensive, customized solutions that will transform your manufacturing process.
Our bespoke offerings include advanced automation and fixturing solutions, such as automatic loading and unloading, material delivery, ancillary equipment and FMS (Flexible Manufacturing Cell/Pallets Systems).
We also provide design and control technology that is linked directly to your specific robot. This means we can provide continued support, for both in-line and stand-alone work cells. With our extensive experience and expertise, you can count on us to meet all of your advanced robotic software and programming needs, for any specification.
Applications include:
Assembly

Pick and place

Sorting

Palletizing/depalletizing

Distribution

Robotic guided vision (2D & 3D)

Spot welding

Robot vision inspection

MIG welding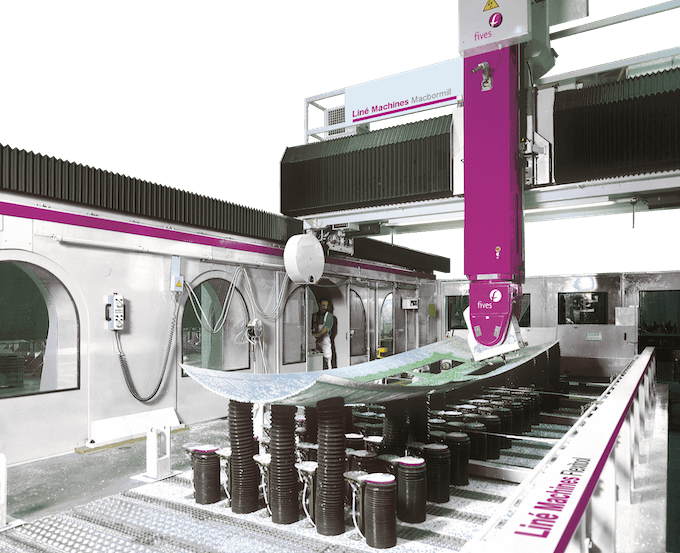 LINÉ MACHINES FLEXITOOL
THE ULTIMATE FIXTURING SOLUTION FOR PARTS
Offering high reliability, high efficiency and low maintenance, the Liné Machines FlexiTool is the ideal addition to your production process.
Engineered with superior stiffness, the machine is designed to accurately position and clamp panels of various sizes for trimming, routing and drilling operations. It can also be used for laser scribing or assembly applications.
Designed as a cost effective, low maintenance automated fixturing solution, the Liné Machines FlexiTool offers minimized set-up times and enables you to enhance your existing production configuration for lower recurring operating costs.
This is the latest generation in automation, offering configurable tools for a versatile and customizable setup.
Ball screw technology
Rigid guiding
Point-of-contact cup rotation
Simple, non-hydraulic design
Proven technology
Secure vacuum grip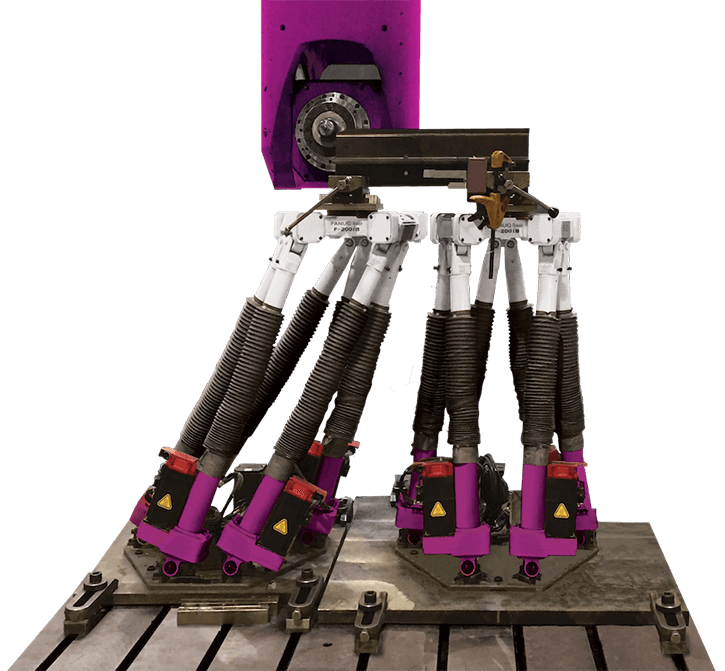 LINÉ MACHINES ROBOTOOL
EFFICIENT AND RELIABLE AUTOMATED SOLUTION
The Liné Machines RoboTool is a highly flexible and reliable solution for maximizing efficiency and optimizing precision.
The Liné Machines RoboTool consists of a series of hexapod robots that communicate with one another and with the CNC. This provides a high degree of adaptability and customization for a wide range of applications.
The RoboTool can be installed under most new or existing machines and features easy programming, so no civil engineering is required. This is an easy, highly flexible tool to work with.
Aeroengine | Aerospace | Defense | Rail | Space
Engineered for simplicity, the Liné Machines RoboTool is highly reliable and efficient.
Reduce your tooling cost
Optimize your equipment use
Custom end-effectors