Reduce energy consumption and emissions while optimizing plant operations
Fives improves operational efficiency and smelter conditions by combining equipment and process expertise with advanced innovations. Our SMART GTC for a more sustainable aluminium industry includes the Continuous Emission Monitoring System (CEMS), Smart filter and advanced process control.
Fives' SMART GTC allows for enhancing smelter environmental performance and reducing operating costs through constant monitoring of emissions and equipment.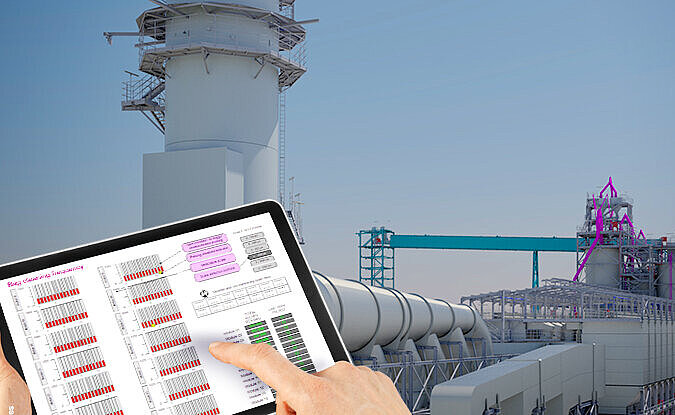 A complete 4.0 solution for your centre
With the SMART GTC, Fives can connect remotely to clients' programmable logic controller (PLC) through a safe gateway to offer experts' assistance and regular reporting and recommendations.
The tool continuously monitors key process parameters to maintain optimal performance over the long term. Three modules are accessed via a single interface:
Emission monitoring:

provides trends and history for pollutant emissions within the Gas Treatment Centre.

Equipment monitoring:

tracks alumina fluorination content, bag filter settings and parameters, cleaning valves and pressure drop, power consumption, faults, and more.

Advanced process control:

with real-time monitoring of process parameters, it improves emissions reduction, stabilizes alumina fluorination and lowers operating costs.
Fives' SMART GTC is compatible with your existing equipment and technology.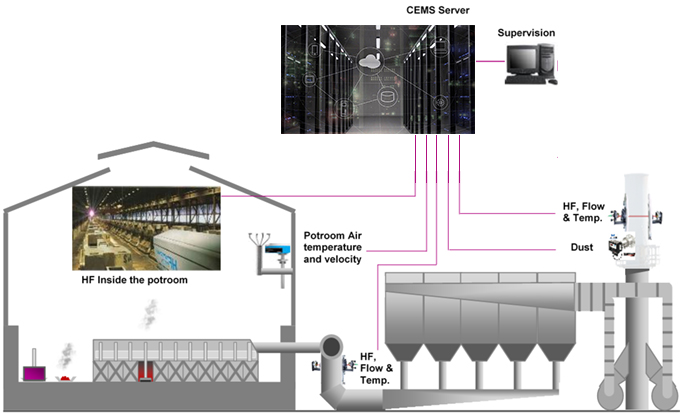 Continuous monitoring for emission and dust control
Fives' continuous emissions monitoring system (CEMS) measures the release and treatment of effluent gas streams emitted during the industrial process.
CEMS enables complete real-time monitoring of fluoride and dust emissions throughout the whole smelter, and offers corrections as needed.
The system consists of a range of analyzers placed throughout the Gas Treatment Centre (GTC), including:
GTC inlet: equipped with an HF analyzer, a Venturi flowmeter and a temperature sensor
Stack outlet: via an HF analyzer, multi-point Pitot Tube flowmeter, temperature sensor and dust analyzer
Potroom: through an HF analyzer, anemometer and temperature sensor
CEMS offers operators better knowledge of the equipment, including its functions and capabilities. Its analyses can highlight critical plant areas that need inspection or maintenance, and help optimize OPEX and limit CAPEX. They are also a prerequisite for any plant amperage increase project.
SMART FILTER FOR ENHANCED EQUIPMENT MONITORING
Smart Filter is a proprietary solution based on Fives CortX platform. It provides filter data analysis through a proprietary gateway, dedicated Human-Machine interface and custom-designed dashboards.
­ MAIN ADVANTAGES
• Real-time filter operation data and analysis
• Cleaning system efficiency
• Gas flow distribution performance
• Customizable dashboards & automated reports
With enhanced monitoring of filter operation via easy access to data, the customer will be able to improve the life of the filter bags, resulting in potential savings of 25-30% on CAPEX. and 5-10% on power consumption.
In addition, Fives' experts will be able to provide remote monitoring, combine this data with emissions and enable preventive maintenance.