Reduce emissions and fuel consumption with regenerative burner technology
Fives' North American TwinBed™ II regenerative combustion technology reduces NOx emissions and improves process efficiency resulting in less CO2 emissions. This low-NOx burner is perfect for many high temperature furnace operations.
Common applications for the North American TwinBed™ II industrial burner include aluminum melting, steel and titanium forge furnaces, steel reheat furnaces, heat treat furnaces, and retort furnaces.
Increase your thermal process efficiency
The advanced North American Twinbed™ II is made up of an Ultra-low NOx burner and a regenerative bed. Together, they recover waste heat from furnace exhaust gases to preheat the combustion air. This process significantly increases thermal efficiency compared to conventional burners or burners with recuperators. Fives' North American TwinBed™ II regenerators are heat and corrosion resistant, and tolerate hostile environments that can destroy recuperators. The burners save significant amounts of fuel when applied to a variety of high temperature furnaces. The higher the process temperature, the higher the potential fuel savings when compared with conventional burners.
The standard North American TwinBed™ II offers high efficiency, unmatched quality and extended burner life. Over time, this lowers the cost of ownership to make it the most cost-effective solution on the market. The North American TwinBed™ II also meets the world's toughest NOx emissions standards in applications such as aluminum melting, steel forge furnaces, steel reheat furnaces, heat treat furnaces, and retort furnaces.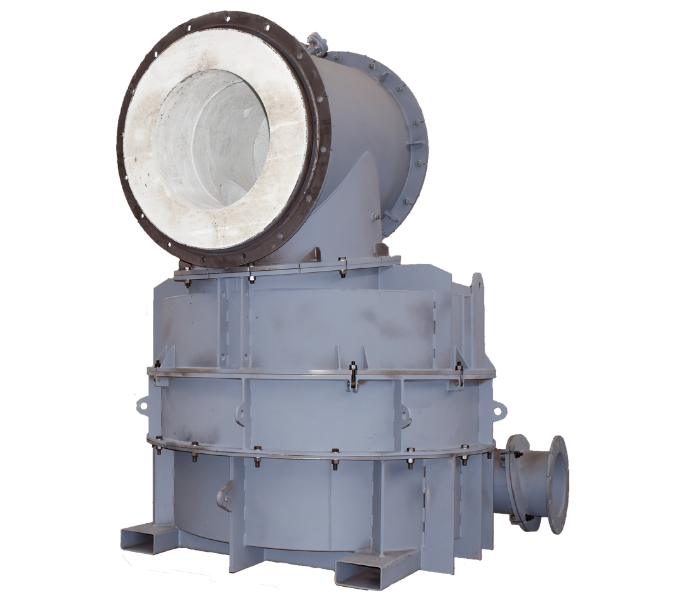 Innovative cassette regenerative bed design
The North American TwinBed™ II comes standard with a round cassette regenerator. Our improved cassette design achieves high efficiency heat transfer and facilitates media replacement when cleaning is required. Its advanced design reduces media bed change-out time from 30 minutes to as low as 10 minutes. A smaller regenerator footprint frees up floorspace, while accessible quick release connections make change-outs easier. Together, these enhanced burner features cut down on labor costs, reduce furnace downtime, and lessen workers' exposure to hot surfaces.
The North American TwinBed™ II regenerator's robust design is also applied to the round cassette. Its features include a heavy gauge steel shell and flanges, a stainless-steel media plate, large fasteners, and high alumina, high density insulation. The round cassette reduces weight and wall loading stresses on furnaces by 20% when compared with previous designs.