Pioneering dual fuel concentric burners for direct-fired hot gas generators
Fives' ITAS Intensityflame industrial conical corner burners increase the overall combustion and system efficiency. Featuring dual fuel operation and a short, intense flame, they are an effective solution for a range of combustion processes. They are ideal for direct fired hot gas generators.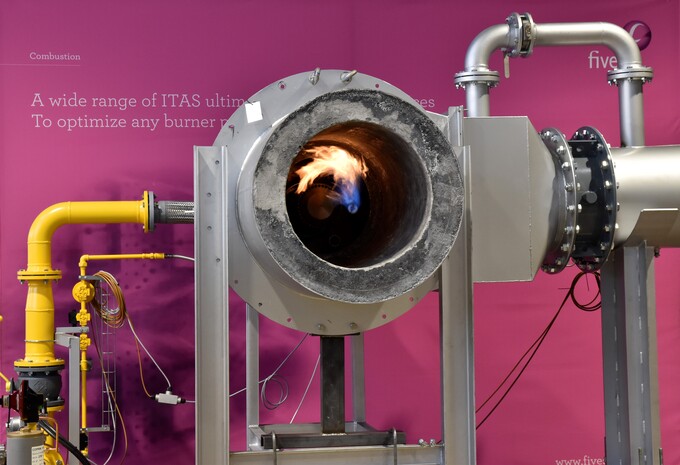 Flexible burners available as single or packaged units
Our ITAS Intensityflame burners are flexible in design and available as complete packaged or stand-alone versions.
They obtain balanced mixing thanks to the combination of combustion air swirl and a gas nozzle, offering a short, high-stability flame.
Fives' custom-designed systems can be composed of a burner, gas and combustion air skid, burner management system and combustion chamber. Low CO emissions are ensured when an ITAS Intensityflame burner is combined with a Fives-designed combustion chamber and an electronic link modulating the air and gas.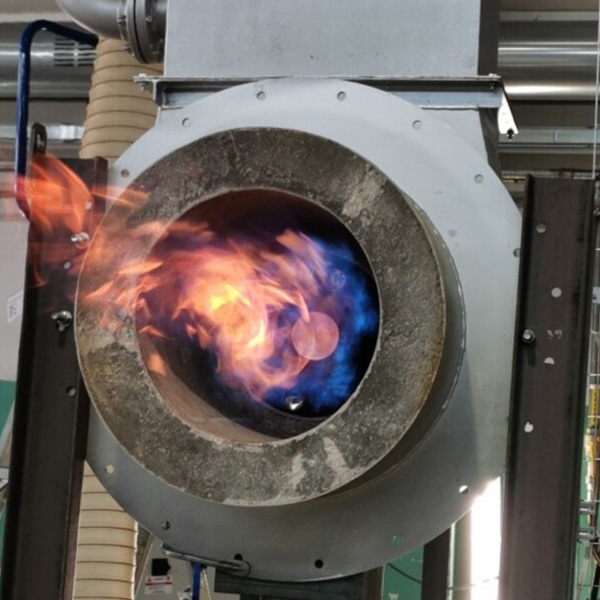 Maximum efficiency, at medium or high intensity
Fives' ITAS Intensityflame burners can be set to medium or high intensity. They operate at maximum efficiency when firing natural gas, propane, butane, tail gas, other mixed gas or fuel liquid oil. The burners can be configured to multiple fuels—both gas and liquid—with dual fuel and dual gas as well as with modulating, fresh or pre-heated combustion air.
The ITAS Intensityflame can be used in hot air generator applications under any process conditions. They are available in 12 diverse sizes and with different capacities:
Burner duty: 1,500 kW to 55,000 kW
Turndown ratio: up to 15:1
Upstream process air up to 450°C (842°F)
Downstream process air up to 900°C (1,652°F)
The burners' fuel-oil assisted atomization is obtained through high-pressure, compressed air or steam. This ensures a high turndown ratio, even when using fuel oils.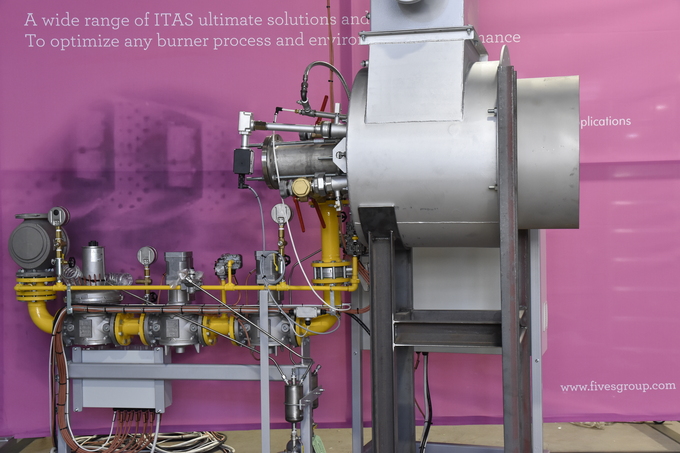 Easy-to-install burners for a wide range of applications
ITAS Intensityflame conical corner burners are ideal for use in direct-fired hot gas generator applications and indirect-fired heater applications. In spite of their advanced technical features, they are compact and easy to install.
These burners are used in various industries and markets—including paper, ceramics and gypsum—and in applications related to drying operations.
Fives understands the clients' needs to maximize the production rate, minimize costs and improve the sustainability of their production processes.