FIVES,
ONE OF THE SOLUTIONS TO DECARBONATIZATION
"Twenty years ago, we took a bold and visionary gamble on the industry of the future. An industry that would be digital and low-carbon or would no longer exist."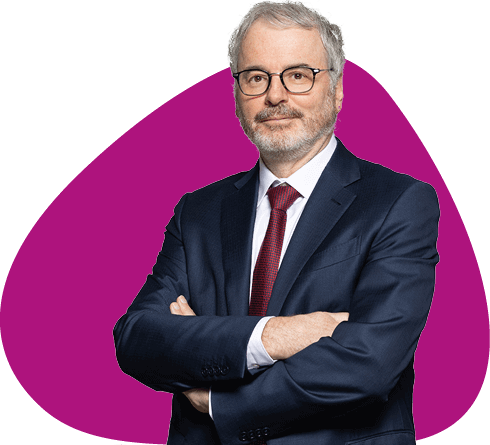 Fives has been taking action for more than 20 years with
3 objectives
to fight against climate change:
REDUCE THE ENVIRONMENTAL IMPACTS
of its sites

IMPROVE THE ENERGY PERFORMANCE
of its installations

DEVELOP EVER MORE INNOVATIVE SOLUTIONS
to enable its customers to reduce their carbon footprint
FIVES WILL GO
FURTHER
in its climate strategy by proving that industry is one of the solutions to decarbonization, through:
REDUCING CO2 EMISSIONS FROM OUR ACTIVITIES BY 30%
by 2030 (Scopes 1 & 2, compared to 2019)
CONTINUING TO DEVELOP SUSTAINABLE SOLUTIONS
1. By implementing
proven solutions

available on an industrial scale
Reducing by half the CO2 emissions related to cement production
Clay calcination to produce artificial pozzolana, a low-carbon substitute to replace clinker
Concrete waste recycling and use of the recovered components within the cement process
Grinding technologies offering the best energy efficiency
Optimal substitution of fossil fuels with low-carbon alternative fuels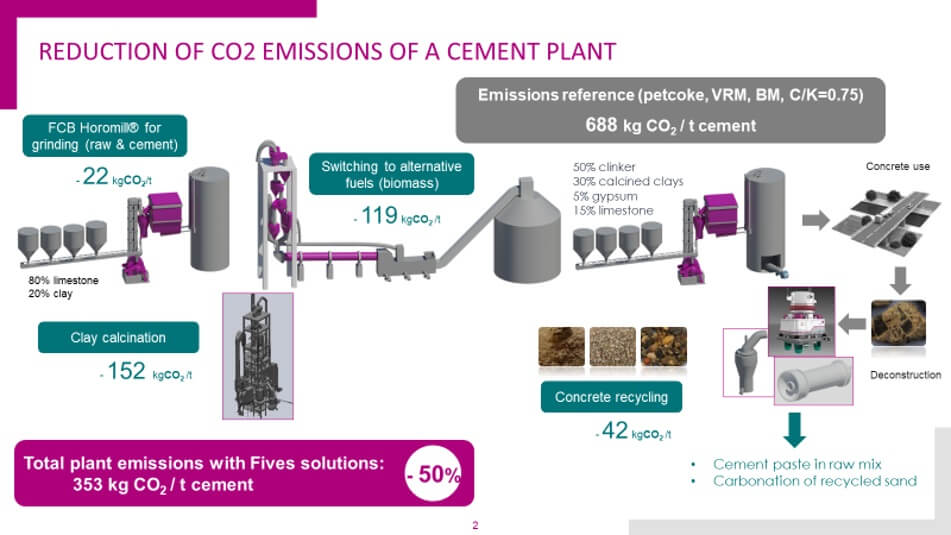 Implementing proven solutions available on an industrial scale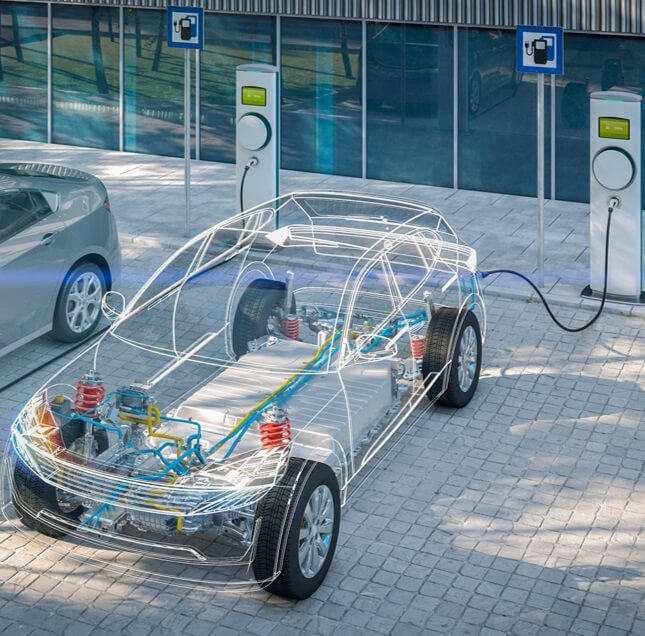 With its long-standing expertise in the automotive industry, Fives supports major market players in their transition to more environmentally friendly vehicles.
To meet the growing demand of the e-mobility market, Fives offers automated solutions for the production of Battery Electric Vehicles (BEV), Fuel Cell Electric Vehicles (FCEV), Hybrid Electric Vehicles (HEV) and Plug-In Hybrid Electric Vehicles (PHEV):
Precision robotics systems and automation of complex production flows
Laser welding processes
Fluid filling, leak testing and sealing equipment
2. By facilitating the adoption of
low-carbon energy
Substituting gas with electricity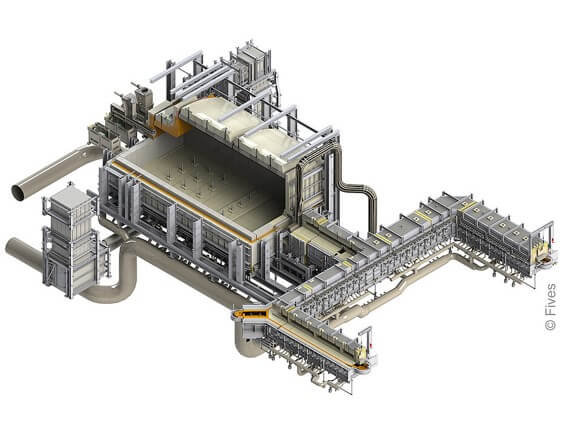 Five meets the challenges of process electrification
Guarantying the sobriety and performance of processes. This isn't the simple substitution of one energy by another
Offering shedding capacity, renewable energy being by nature intermittent
Allowing for gradual adoption by the industry as truly decarbonized energy becomes available
With Prium® Eco-Flex:
This technology offers the ability to substitute gas for electricity in a range of 10% to 80%.
3. By improving process control thanks to
digitalization
Strengthening energy performance and product quality
The Smartline control software, the result of more than 20 years of development and modelling by Fives, enables the steel production process to be controlled with unparalleled precision, and to achieve substantial gains in both product quality and the energy required for their production. This performance has been recognized by the award of the Solar Impulse label in 2021


Optimizing carbon consumption and production costs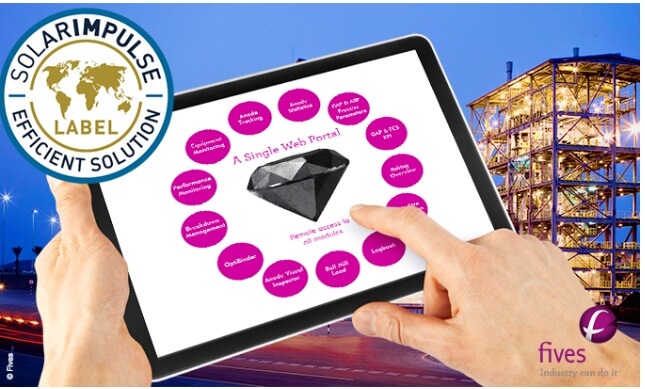 Amelios Suite is a complete digital suite, based on data from advanced sensors to control the entire anode manufacturing process, and thus optimize carbon consumption associated with primary aluminum production. This solution ensures a high-quality anode, and potentially reduces the amount of CO2 emitted per ton of aluminum produced. The solutions has been recognized by Solar Impulse Foundation as a Clean & Profitable Solution for Climate Change.
CO2 emission reduction: -35 to -70 kg CO2/tAl associated with a decrease in net carbon consumption
Total anode production cost reduced by 2.5% thanks to an optimized net carbon consumption.
4. By designing
new processes
Suppressing the use of chemical reagents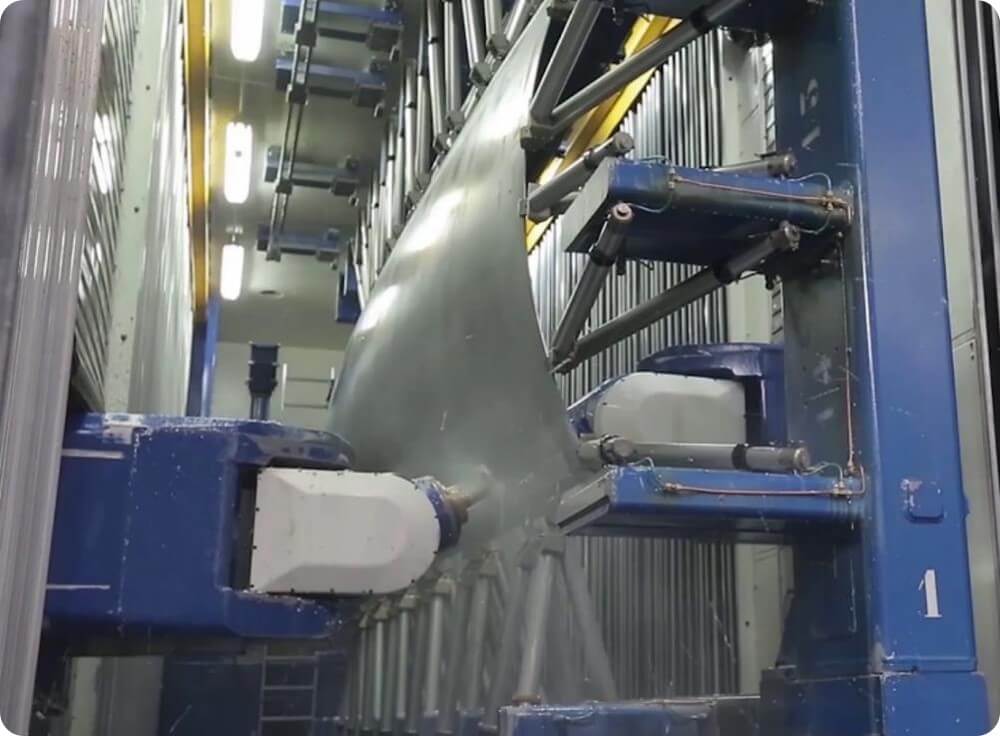 Reducing the carbon footprint of industrial processes involves optimizing cycle times and energy consumption, as well as waste management.
Fives' patented Dufieux® MMS (Mirror Milling System) technology, which was developped for aerospace panels, replaces chemical machining using an acid bath and reduces cycle times and electricity consumption for the same production capacity.
Without MMS:
Long cycle including multiple discontinuous operations
Use of large quantities of chemical reagents, the production of which generates greenhouse gases.
Generation of sludge difficult to recycle
Annual electricity consumption for 7,000 panels: 7 GWh
With MMS:
Several operations performed in a single 4 to 6 times faster cycle
No use of chemical reagents
Production of easily recyclable metal chips
Annual electricity consumption for 7,000 panels: 3 GWh
Reducing carbon & HF emissions

In an aluminium smelter, most of the Hydrogen Fluoride (HF) is released to the atmosphere directly from the potroom. Fives has developed a solution to eliminate emissions coming from hot spent anodes (@ 650°C) thanks to an a dedicated box filled with fluidized alumina designed to confine anode butts: the Anode Inert Tray (AIT).
This allows stopping the interaction between:
The carbon in the spent anodes and the oxygen in the ambient air and therefore the carbon consumption and CO2 emission,
The fluorine on the spent anodes and the humidity in the ambient air leading to zero HF emissions.
For one Potline producing 200,000 t of Al/year, the yearly savings will reach 7,300 t reduction in CO2 emission
Reduction of 70% of HF emissions coming from anode butts. CO2 emission reduction: -30 to -40 kg CO2/tAl associated with 2% decrease in Net Carbon Consumption
5. By developing the
energy solutions of tomorrow
Answering the growing demand thanks to a partnership approach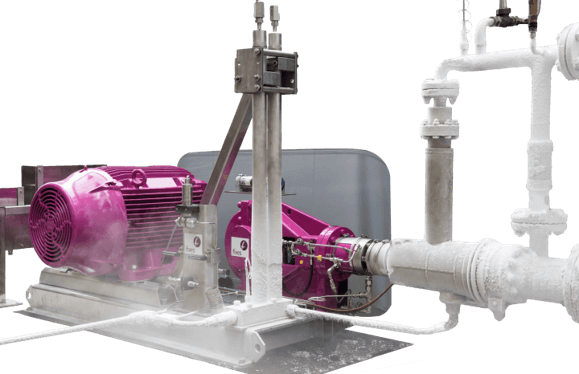 Liquid hydrogen is a vector of choice for the transport of decarbonized energy. The exponential growth in demand requires the rapid availability of equipment to enable larger production, transport and distribution.
As a technological leader in cryogenics for over 60 years, Fives has been driving/supporting innovation in the hydrogen sector for more that 20 years .
Partner of Atlas Copco and of Plug Power, Fives develops heat exchangers to liquefy hydrogen and cryogenic pumps to transfer and distribute liquid hydrogen to answer the needs of the numerous actors on the hydrogen value chain. Fives provides key hydrogen equipment to all major industrial gas players and supports historical as well as new players in the hydrogen sector to meet the needs of the liquid hydrogen market. By 2030, this market will represent between 10 and 20% of the global hydrogen market.
Fives has an investment plan of €15 millions up to 2025 for developments regarding hydrogen.
FOCUSING OUR BUSINESS DEVELOPMENTS
in markets that contribute to the low-carbon transition
For more than 50 years, Fives dedicates its high-value piping know-how to the French nuclear stock maintenance and modernization.
The IoT (Internet of Things), a lever for the energy transition:
Through better control of processes via digital twins and the reduction of energy consumption,
By facilitating the use of renewable energy sources through greater flexibility.
Fives is creating the conditions necessary for the development of low-carbon hydrogen by offering:
Manufacturers equipment to develop hydrogen as a new energy carrier (liquefaction, cryogenic pumps, combustion, industrial piping)
Solutions for industrializing production lines for sustainable mobility (tank testing line, automated electrolyser production, fuel cells and tanks)
With its long-standing expertise in the automotive sector, the Fives Group's e2Motion Business Unit offers automated solutions for e-mobility:
Precision robotic systems and automation of complex production flows, to deliver very high availability rates and performance indices
Laser welding, leak testing and gluing processes for flexible and scalable assembly lines
The Fives Group's e2Motion Business Unit thus supports the market's leading players in their transition to more environmentally friendly vehicles: hybrid, 100% electric or hydrogen vehicles.