Responding to the most demanding requirements
Fives offers a complete range of Cryomec® centrifugal pumps for industrial gas and liquefied natural gas (LNG) applications.
Our pumps stand up to these industries' most stringent requirements, with flow rates up to 8,000 L/min (2113 gal/min) and differential heads up to 2,800 m (9,186 ft).
Our solutions also minimize maintenance requirements by reducing the number of parts that can experience wear and tear. This boosts durability and reduces the total cost of ownership for clients.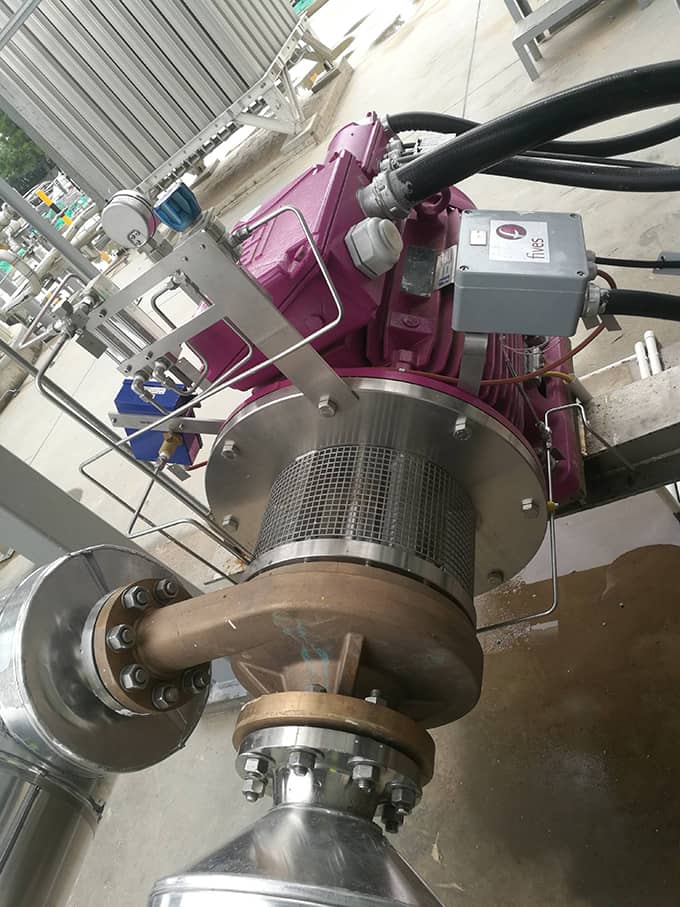 Tailored centrifugal pump solutions, backed by unequaled knowhow
Industrial gas and LNG facilities require safe and reliable centrifugal pumps. For these process critical items, EPCs and end users need to be able to trust their suppliers. Fives provides state-of-the-art encapsulated, centrifugal pumps that meet the needs of these high-stakes sectors.
We develop and produce high-quality Cryomec® centrifugal pumps, offering specialized solutions for both LNG and industrial gas facilities.
With more than 40 years of experience, we design and manufacture our Cryomec® centrifugal pumps at our facility in Switzerland.
Our wide range of product solutions come with a safety guarantee, thanks to their high quality and reliability.
Our pumps are backed up by a world-class organization of field experts and qualified industry suppliers. No matter where our pumps are installed, our worldwide sales and service support staff can respond to any follow-up requests, providing service on our installed base equipment.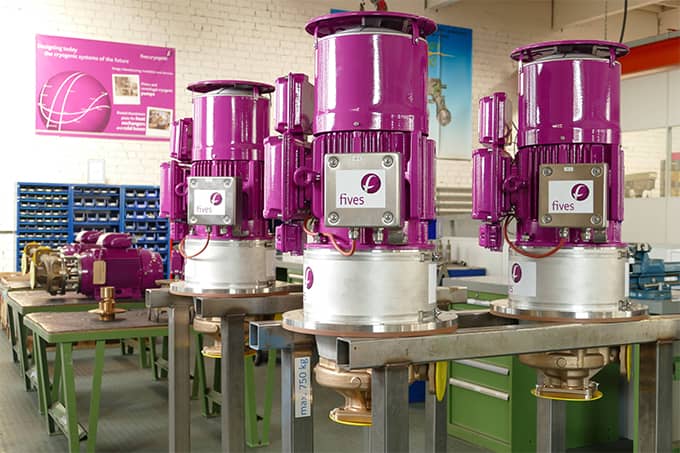 Process performance for all industrial gas applications
Within the industrial gas sector, our range of Cryomec® centrifugal pumps can be used for the following applications:
Air separation units (ASU)

Process and transfer applications

Stationary pumps for liquid transfer

Cryogenic liquid unloading from tankers
Our Cryomec® LABS (Labyrinth Seal) pump's hot nitrogen injection system is adapted to permanent cooling, allowing motor bearings to be kept at an optimum temperature.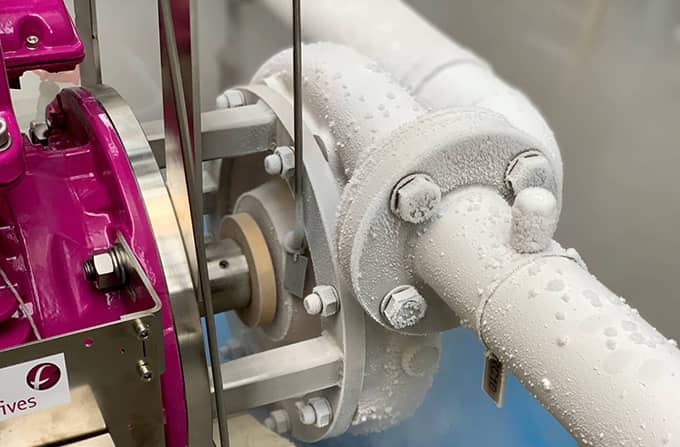 It can also be configured in two or three chambers to suit and enhance process performance. With Cryomec® cartridge technology, it is low-maintenance. The pump can be extracted without removal of other parts. Avoiding the need to open the cold box, this saves time on maintenance and eliminates deburring problems and perlite loss.
Specially designed for unloading cryogenic liquid from tankers, the Cryomec® NLL (Mechanical Seal) features an ergonomic design and reduced weight. This enables it to be placed in confined spaces. It can be either configured with a variable-frequency drive (VFD) or as a fixed-speed with a gearbox. The VFD provides the benefit of a robust variable speed gearless solution and the flexibility of liquid interchangeability.
Our Cryomec® DGS (Dry Gas Seal) is utilized for process and transfer, ASU and liquid transfer stationary pump applications. It offers a wide range of GN2 purging systems, and our patented Cryomec® Supercharger is integrated for low NPSHr. Uniquely versatile, it is slow-roll and cold standby available and is designed to be interchangeable with both the Cryomec® LABS and Cryomec® NLL.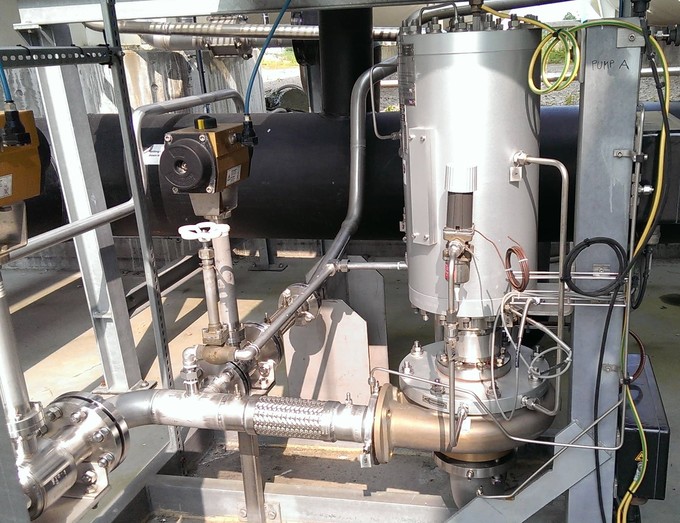 Versatile pumps for the LNG sector
Our Cryomec® centrifugal pumps can be used for the following areas and applications:
Peak-shaving

Bunkering

Floating LNG

Liquefaction

Gasification

HyCO plants

LNG terminals

Power plants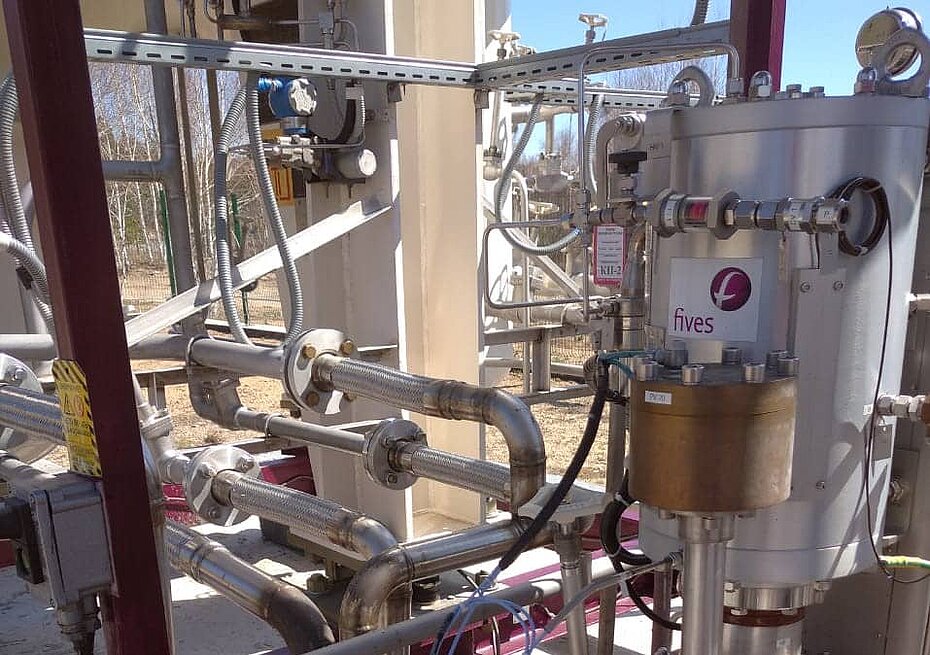 Fives' sealless pumps have the particular advantage of being suitable for use in exproof areas (Zone 1 or 2) for cryogenic liquids like carbon dioxide and nitrogen. They can also be used for expensive and rare gases like argon.
Both our Cryomec® Vertical Sealless Motor Pump (VSMP) and our Cryomec® Horizontal Sealless Motor Pump (HSMP) offer maximum safety, are easy to maintain, and carry our patented Cryomec® Supercharger technology.
The Cryomec® VSMP is a totally encapsulated pump that is 100% secure when pumping LNG.
Highly reliable and requiring minimal maintenance, the VSMP has bearings designed to withstand over 50,000 hours of use.
The Cryomec® HSMP features an encapsulated design, making it safe for use in explosive atmospheres. The absence of a seal also boosts the pump's reliability as maintenance requirements are minimized. Fives offers this single-stage pump with a differential head of up to 120 m (394 ft) and a flow rate of up to 1,500 L/min (396 gal/min).