Fives' maintenance engineering department for cement & minerals plants is specialized in technical inspections to prepare major maintenance operations. We apply the most advanced techniques on the market for diagnosis, repair and adjustment.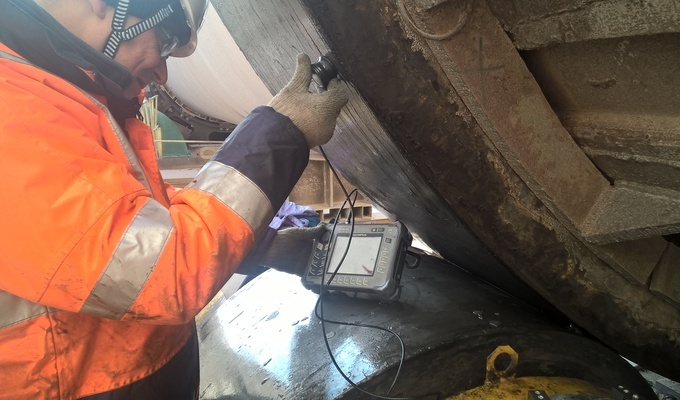 Mechanical inspections, non-destructive tests and vibrations analysis
Relevant analysis and explanation of mechanical issues are essential to efficient repair, replacements or upgrades
All maintenance projects, even simple standard exchanges, require a serious methodology:
Root cause analysis to understand the failure or wear mode
Analysis of mechanical interfaces to anticipate potential damages during dismantling, dimension compatibility and more
Review of design changes in comparison with original drawings
Review of operations & process conditions
Control of as-built dimensions
Fives' maintenance engineering department is specialized in technical inspections to prepare major maintenance operations. We perform the required root cause analyses, verification, and risk analyses to prepare maintenance works and shutdown schedules. Our technical experts are able to perform a large range of inspections on site, including dimensional controls, ultra-sonic tests, magnetic particle tests, spectral vibration analysis, electrical and structural analysis, and more.
FCB Nova-Gear® is a unique and patented solution to refurbish girth gears
FCB Nova-Gear® is an on-site machining solution to refurbish the girth gears of rotary equipment such as rotary kilns and mills, without dismantling them. The solution returns the involute form of active tooth flanks to the same dimensional tolerances as new girth gear. It is a quicker and less-expensive alternative to girth gear reversal, usually performed after 20 to 25 years of operation.
FCB Nova-Gear® is also a safer alternative to manual grinding operations, which are time-consuming and exhausting for operators, and produce unpredictable results dependent on the operator's precision.
Standard wear on teeth causes irregular movements and therefore vibrations, which may damage the power transmission system (e.g. the reducer, couplings, bearings, etc.). In addition, a badly aligned contact surface between the pinion and the girth gear can induce deep defects in the material, and accidental wear. FCB Nova-Gear® returns the active tooth flank profiles of the girth gear to their original tolerance.
The machine operates as a linear shaving tool and ensures perfect straightness as well as surface finishing, unlike a milling tool reamer. Contrary to manual machining, FCB Nova-Gear® is a maintenance solution which does not compromise quality and time. It can remove up to 8 mm (0.31 in) of thickness, where manual machning is most often limited to 2 mm (0.08 in), due to tight stoppage schedules. On average, FCB Nova-Gear® can machine 1 mm (0.04 in) on all girth gear teeth in less than 48h. Each additional millimeter requires only 3 to 5 hours, depending on the size of the girth gear.
Discover FCB Nova-Gear® in operation
Read our latest article on FCB Nova-Gear®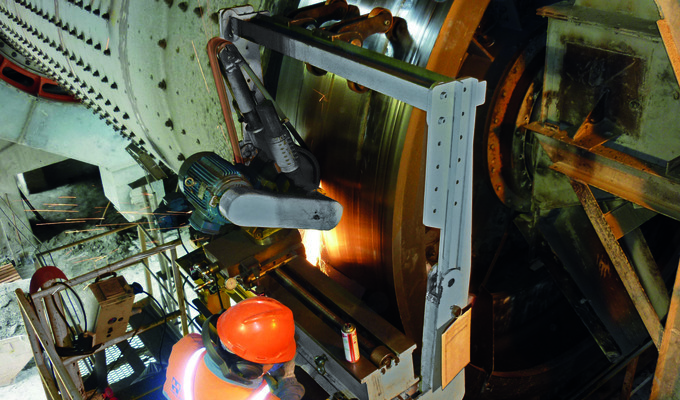 Tyre & roller machining and adjustment
Adjustments before and after machining must be carefully considered to avoid premature wear and failures
Fives remains focused on problem solving. The premature wear of tyres and rollers can be caused by several mis-adjustments, such as poor contact surfaces, incorrect roller slopes, parallel defects, skewing issues, bad axial position, or faulty design or erection.
Before any machining operation, Fives recommends performing a full mechancial inspection of the rotary kiln to determine the root cause of abnormal wear and prevent it in the future.
Fives provides a comprehensive technical analysis and a clear schedule of tasks before and after machining, including kiln axis and roller skewing adjustment.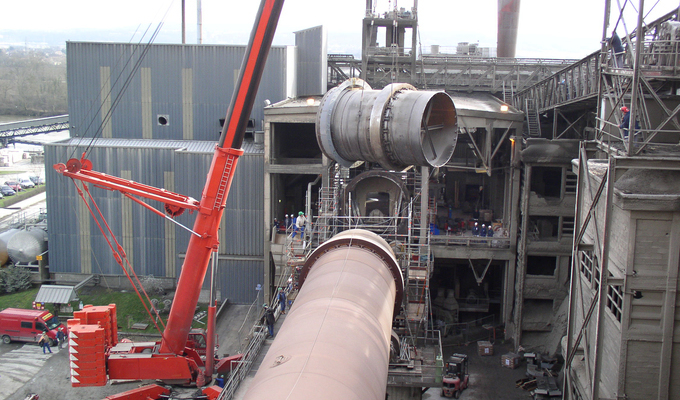 Methodical preparation & disciplined execution
Shell replacement requires a methodical preparation:
Controls for general shell eccentricity and local deformations
Shell thickness and material health tests
Measuring as-built diameters
Root cause analysis of existing damages and provision of solutions to prevent them in the future
Mapping of existing welds
Shell thermal expansion calculation
Controls for slopes and axial position supporting systems
Our methodical preparation and disciplined execution ensure the highest quality equipment and services.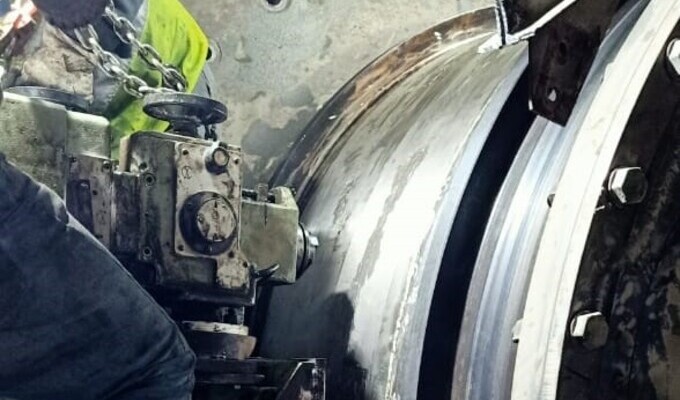 Mill trunnion & mill tyre repair
Fives performs complex repairs using the most advanced techniques on the market
In case of fatigue, cracks or accidental damage (from uncontrolled loss of lubrication or overload, for example), our experts will first provide as a clear map of damages (e.g. geometrical controls including 3D laser tracker measurement if needed, or ultrasonic tests). Then, they will implement the most advanced repairing techniques, including:
Welding repair and overlay
Stress relief of the welded area
Machining with or without reference pattern
Fives is able to perform the most complex repairs with high responsiveness and strong methodology.