Comprehensive crushing plants for increased production
Fives develops equipment and integrated plants for dry process mineral grinding applications. Our solutions are designed for high performance and flexibility, and reduced costs. From stand-alone machines to comprehensive systems, our efficient crushing solutions are equipped with proprietary equipment such as the FCB VIF™ crusher and FCB Rhodax® 4D.
Thanks to our extensive process and integration expertise, Fives can also modernize and modify existing plants to increase production capacity and performance.
The FCB VIF™ hammer crusher: high crushing reduction ratio for primary and secondary applications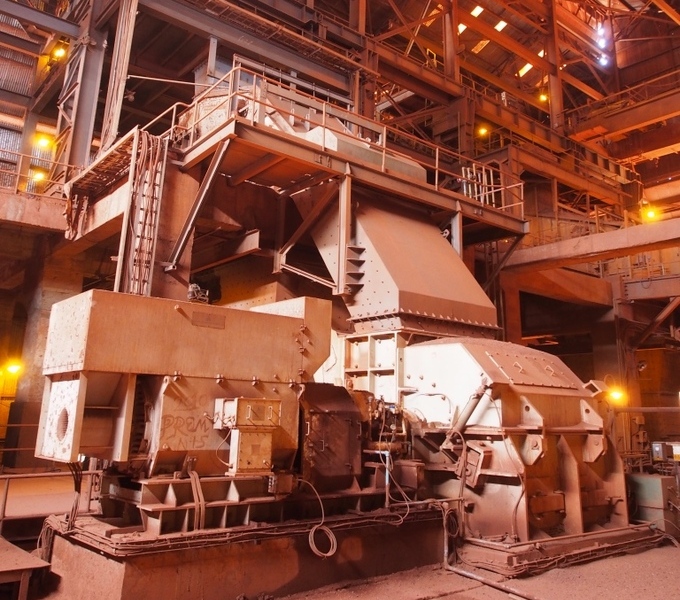 The FCB VIF™ crusher is an impact hammer mill equipped with hammers and a non-clogging mobile anvil device. Designed either for primary or secondary crushing stages, it features a high crushing reduction ratio capacity.
Customer benefits:
Sturdy design, with a long lifetime and reduced maintenance requirements
Handles sticky and clogging raw material with 5-15% moisture content
Key features:
A welded steel frame and heavy-duty forged rotor with two double-row self-aligning roller bearings
Perfect retractation thanks to slotted discs and single- or double-head hammers in an alternate and staggered arrangement
Anti-clogging Mobile Anvil Device (MAD)
FCB Rhodax® 4D: an efficient and energy-saving cone crusher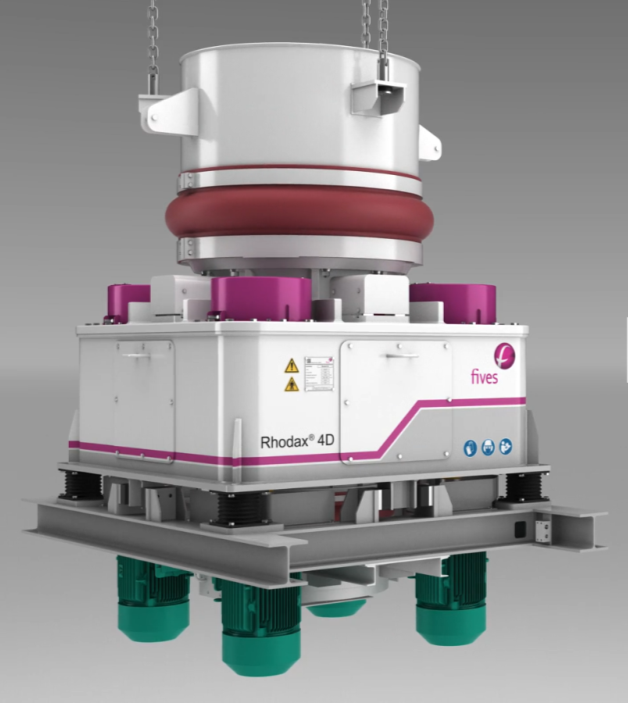 The FCB Rhodax® 4D is a vibrating cone crusher offering a more efficient alternative to traditional crushing technologies. The FCB Rhodax® is the ultimate technology merging crushing and grinding applications within a single machine.
Customer benefits:
Offers interparticle compressive grinding for constant product quality, particle size distribution and capacity
Offers high liberation ratio for greater beneficiation and a low flakiness index
Reduces the overall number of crushing and grinding stages, thus offering significant energy savings
Key features:
Closed-circuit operation offers a low noise level and zero dust emissions
Product quality is constant regardless of the liner wear, and wear parts last three times longer than a traditional cone crusher
Advanced solutions for a variety of applications
FCB VIF™ crusher
The FCB VIF™ impact crusher is designed for primary and secondary applications for crushing of:
Iron ore
Phosphates
Bauxite
Gypsum
Aggregates
Limestone
Clay materials
In primary applications, the crusher accepts blocks over 1 m3 (35 ft3) to obtain a 40 mm (1 1/2 in) product. In secondary application, the 300 mm (12 in) feed size produces a 20 mm (about 3/4 in) product.
FCB Rhodax® 4D
The FCB Rhodax® 4D offers advanced grinding force control with a high reduction ratio (up to 100/1). It can be used in concrete recycling and crushing applications, including:
Abrasive materials
Ceramics, tiles and fired clay
Silica,
Ferro-nickel, ferroalloys, ferrochrome
Silicon metal
Copper, ilmenite and steel slag
Diamond and iron ore
Phosphates
Aggregates
Limestone
Long-life wear parts offer significant savings, particularly when grinding hard and abrasive materials.