Increase reliability and reduce maintenance costs
Our state-of-the-art methods for rotary kiln mechanical inspections are applicable to all kilns, by any equipment manufacturer. Moreover, our reporting and technical assistance are known globally as an industry standard. Our experts perform detailed root-cause analyses and comprehensive data cross-checks, followed by relevant maintenance action priorization.
Fives is renowned for its ability to address root causes and prevent damages rather than simply repairing them. Our field engineers provide long-term solutions to ensure the reliability of our clients' rotary kilns, and reduce their maintenance costs.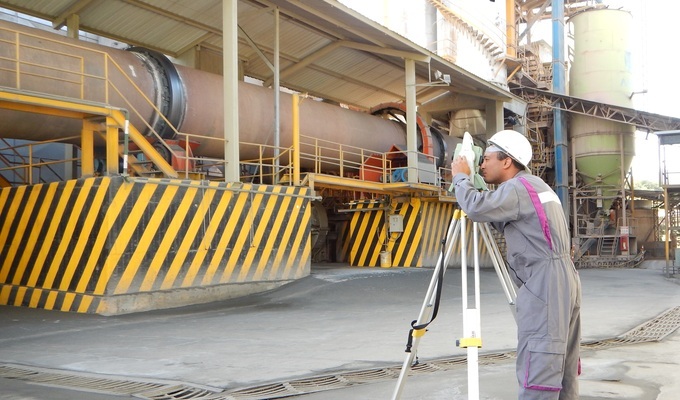 Hot kiln alignment control
A new method with unrivaled accuracy for kiln axis measurements
Fives' advanced methods enable us to perform evaluations while the rotary kiln is in operation. Our measurements include:
Acquisition of more than 200 points per tyre to determine the center of each one and calculate the kiln axis
Base leveling measurements and geometry control (e.g. triangulation, bearing slopes and roller axes)
Roller & tyre diameter, and wear profile measurements
Hydraulic thrust position control, with respect to kiln axis
We deliver immediate results to enable adjustments during operation or stoppage.
These measurements are recommended before and/or after major maintenance operations, such as shell, tyre or roller replacements.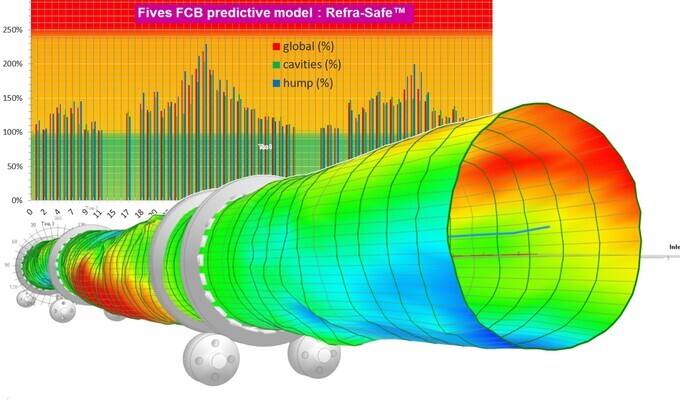 Kiln shell deformation control
Shell deformation control with relevant analysis of general eccentricity and local defects
Thanks to our general eccentricity measurements, Fives' experts can provide a clear 3D visualization of the shell axis in correlation to the same angular reference of:
Roller shaft bending
Girth gear eccentricity and wobbling
Tyre wobbling
We also perform local deformation measurements:
400-point measurement of individual shell sections

Refra-Safe™ analysis

: identification of risk areas for refractory wear
Comprehensive mechanical inspections
Deep analysis of mechanical problems, focused on understanding root causes
We provide clear and easily understandable visual reports to facilitate maintenance priorization actions. Our reports cover:
The axial position of pinions, girth gear, tyres and rollers, and their surface contact optimization
Tyre/shell clearance adjustments
Kiln axial balance (for roller skewing and hydraulic thrust pressure adjustements)
Overall equipment condition (including bearings, lubrication system, inlet seal, outlet seal and drive system)
We present results and recommendations immediately, and provide technical assistance for maintenance and adjustments.