Customized flash dryers to suit our customers' needs
Fives has extensive experience in supplying flash drying technologies for customers worldwide. We select the system best suited to the constraints imposed by the physical properties of the material to be dried. We also consider the process context in terms of other equipment used (for example, ball mill grinding vs. FCB Horomill® grinding or separation).
Our solutions are configured to obtain the best energy yields in reliable units. They also have a limited footprint, reduce the circuit pressure drop and offer efficient drying of any material, with minimal maintenance.
Our tailor-made flash dryers are cost-efficient and suitable for a range of turndown ratios.
Optimized equipment for every step of the drying process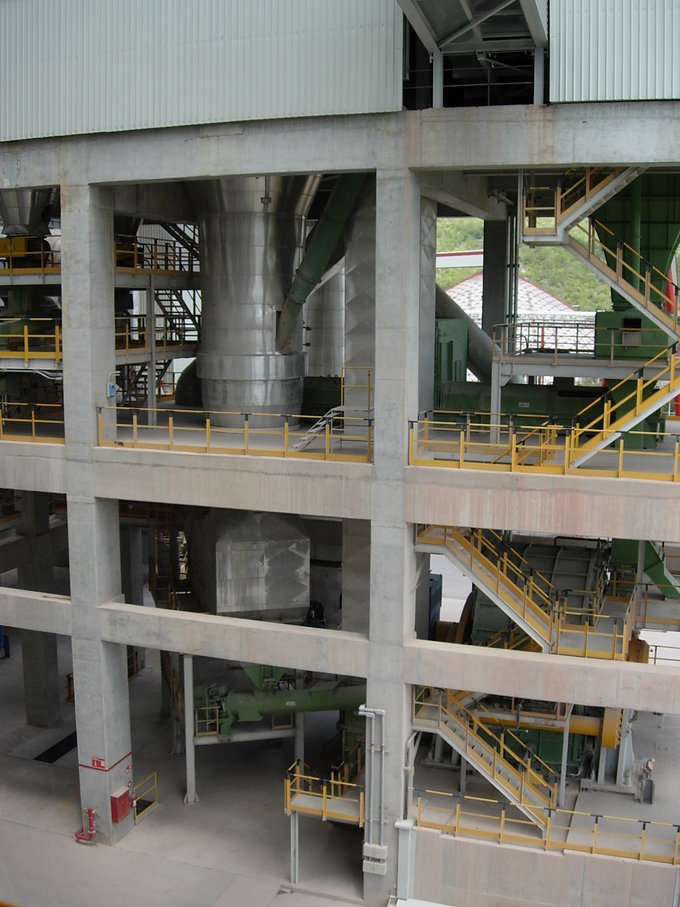 Our drying process schemes are designed according to the installation size and the physical characteristics of the material (such as grain size distribution, moisture, hydroscopy and stickiness).
In most cases, the feed's particle size distribution (PSD) will determine our flash dryer design. A Venturi-shape reactor or FCB Aerodecantor will be used, depending on the particle size. Then, a hammer mill or shredder can be placed in the flash duct at the upper level, to break up the material.
The final-product grain size can be controlled by adding an FCB TSV™ Classifier at the top of the flash dryer. Rejects from the FCB TSV™ can be removed from the circuit or milled. The dry product can then be collected through a cyclone, a baghouse filter, or both.
Fives' tailor-made flash dryers have a number of technical advantages:
The FCB Aerodecantor decreases the classifier specific load thus increasing the FCB TSV™ Classifier efficiency
No autogenous milling, which can result in further PSD evolution and ultrafine particle production
Optimized drying process, with coarse particles partially dried and recirculated into the grinding circuit
Drying and classifying in a single circuit
Many possible flow sheets and feeding arrangements:

at the top of FCB TSV™
in the flash dryer
a mix between FCB TSV™ and flash dryer feeding
partial recirculation, with an external or internal grinding loop
A low-maintenance, compact and energy-efficient solution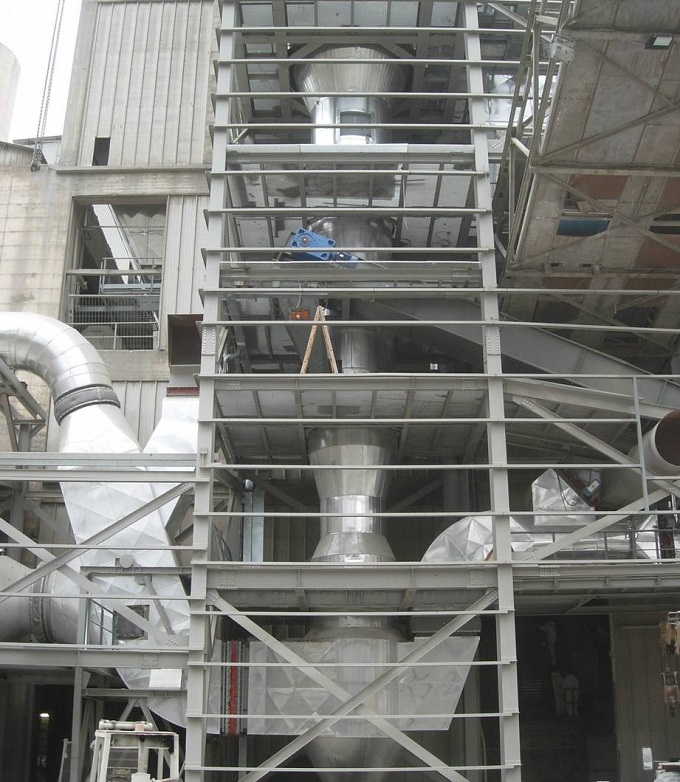 FCB flash dryers are smaller in size and represent a lower investment compared to a classic rotary dryer.
They also have a host of other customer benefits, including:
Lower thermal consumption and possible air transport with induced draft (ID) fans, especially when there is no need to dry the coarser fraction
Low maintenance, due to the absence of mechanical components
Prior drying of product reduces milling circuit wear and maintenance
Lower footprint compared to a rotary dryer (can be installed in narrow spaces in existing plants)
Reduced classifier fan power
The ideal dryer for any type of material
Fives' flash dryers are suitable for a wide range of applications and are especially adapted to fly ash, slag, pozzolana, industrial minerals and limestone. Our solutions can handle any type of material, whether soft or abrasive, and typically have a moisture feed of 2-25%.
FCB flash dryers are effective solutions for a fine feed size. The addition of our FCB Aerodecantor in closed circuit grinding plants enables flash drying of larger feed sizes, from 4 mm (< about 1/8 in) up to 80 mm (3 in).