A leader in nuclear and industrial piping
Fives is a leader in terms of client support and achievement.
The biggest names in the nuclear industry (EDF, Framatome, Alstom), petrochemicals or the oil and gas industry have trusted us to successfully carry out their projects. A source of pride which continues to build the reputation of Fives in all its industrial diversity.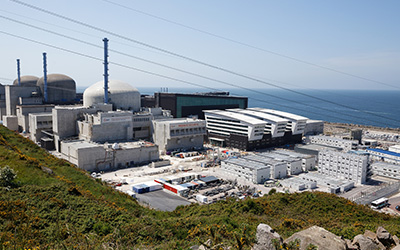 Nuclear
With 10,000 m2dedicated to nuclear energy and 60 years of experience in the field, Fives is involved in numerous projects. Fives works on new projects such as the construction of EPRs (European pressurized reactors: conventional island, nuclear island and reactor) in Finland, France and China, or the ITER fusion reactor.
We also supply maintenance services for the 58 active French nuclear reactors, and we regularly work overseas.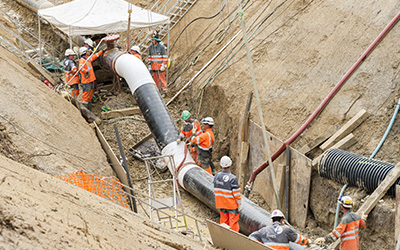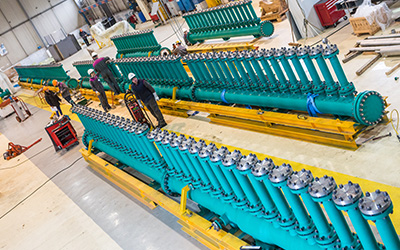 Chemical / Petrochemical / Pharmaceutical
Fives works with major companies in the chemical, petrochemical and pharmaceutical industries. We work with them to study, prefabricate and assemble process pipes for new projects and maintenance services.
ARKEMA, BOREALIS, TOTAL, LFB, LILLY FRANCE, PARCHIMY, PFIZER and SANOFI-AVENTIS are just some of the companies that trust us.
Replace DN2000 stainless steel dome
REPLACING A DN500 EXPANSION COMPENSATOR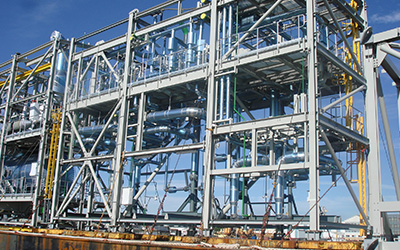 Thermal energy
Fives is an active figure on the energy market thanks to expertise dating back to the 1970s, a local service and mobile teams working across all French sites.
We offer services for new projects and maintenance for thermal power stations.
Our clients include Alstom Power, EDF and Uniper.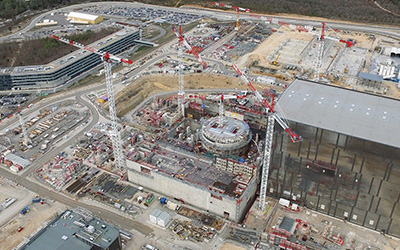 Testing and research center
Fives offers expert services at testing and research centers. We design and deliver distribution and recovery piping for noble gases, cryogenic and light lines, as well as cooling circuits.
Some of our clients include CEA, CEPR – CERN, ITER and SYNCHROTRON SOLEIL.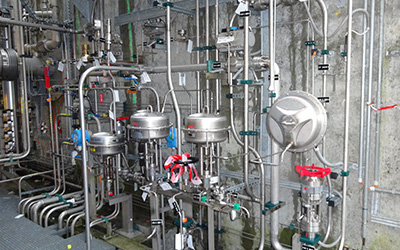 Automotive / Aeronautical
Fives is a partner of major French aeronautical and automotive groups. We have modernized factories for PSA Peugeot Citroën and Renault (installing paint circulating systems, creating skids, creating high-pressure steam networks).
In terms of the aeronautical industry, Ariane Group, Roxel and Snecma have asked us to create process pipes for new projects and maintenance services.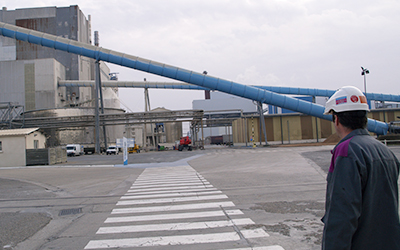 Paper
A long-term partner of papermakers in southwest France, Fives is involved in new construction projects, maintenance services and the supply of pressure vessel devices.
Groups like International Paper, Fibre Excellence, Rayonier and SKCP have asked us to study, prefabricate and assemble their piping and pressure vessel equipment.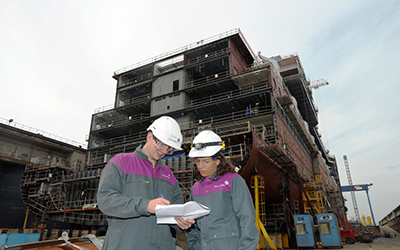 Shipyards
With 20 years of experience at French shipyards, Fives has prefabricated and assembled GRP and steel piping for different vessels.
Fives notably helped build vessels for AKER YARD and STX Europe.