Wear parts stabalize parts while they are being turned and ground. CITCO PCD wear parts provide longer lasting tool life and reduction of wear. Maximze your production process with improved efficieny and consistency.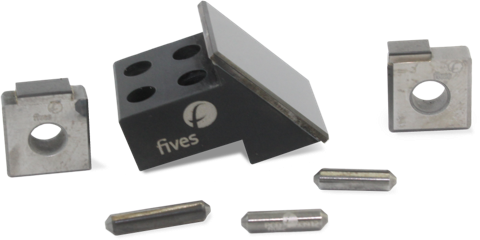 The ultimate PCD solution.
High impact machining applications rely on wear parts to maintain operational precision and efficiency.
Wear parts also play a very important role in the quality of the component being manufactured. A suboptimal wear part can result in damaged goods, inaccuracies and machine downtime.
With its remarkable strength, high thermal conductivity and extreme wear resistance, PCD is the ideal material for wear parts. Creating very low friction, PCD wear parts behave consistently and show minimal wear. In fact, it is estimated that PCD wear parts outlast those made from carbide or high speed steel (HSS) by 50 to 100 times.
— Consistent high-quality
— Improved precision
— Achieve tighter tolerances
— Repeatable results
— Suitable for all materials
Customized for your machines
Every production line has different requirements. That's why our wear parts are customized to meet the needs of your individual machine.
Our expertise helps optimize the performance of your wear parts. Whether you are starting from scratch or looking to upgrade your existing operation, we can help you achieve your production goals.
Simply send us a detailed blueprint or an existing tool. We will use our powerful design and manufacturing technology to create a wear tool that is right for you in a very competitive timeframe.
COMPLETE SOLUTIONS PROVIDER
We understand that extended tool life and consistency are key, that's why we offer a wide range of PCD & PcBN tools that are custom-engineered to meet your manufacturing needs. We also provide additional support for all of our customers, including qualified application support and training.

PCD & PcBN Cutting Tools | Abrasives | Superabrasives | Diamond Dressing Tools | Grinding Machines