Pioneering solutions to fight climate change
Fives is firmly invested in supporting the cement industry of the future. We work with our clients to reduce emissions while ensuring optimum productivity and energy efficiency.
Fives designs and supplies calciner systems for pyroprocessing plants worldwide. Our FCB Zero-NOx Preca hot spot calciner and FCB In-line Preca calciner system are both designed for ultimate efficiency and reduced NOx emissions.
FCB Zero-NOx Preca hot spot off-line calciner: High stability and NOx reduction with low-volatility fuels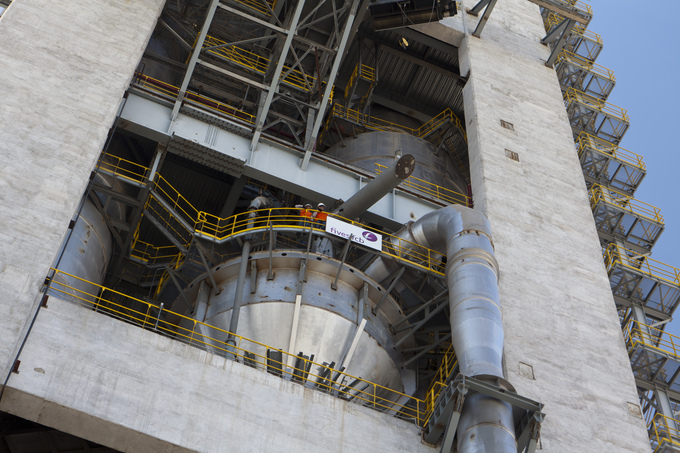 The FCB Zero-NOx Preca hot spot precalciner increases production and cuts NOx emissions while stabilizing the burning line. It can be used with a wide variety of fuels but was specifically developed for low-volatility fuels such as petroleum coke (petcoke) and anthracite. The unit can also use oils and solvents, plastic, wood and tire chips to achieve a high alternative fuel ratio (AFR).
The standard FCB Zero-NOx Preca can achieve exceptionally low emissions of down to 200 mg/Nm³, with air staging and selective non-catalytic reduction (SNCR) injections.
Customer benefits:
Staged combustion initiates burning at very low air ratios and minimizes emissions
NOx reduction to less than 500 mg/Nm³ (0.018 oz/35Nft³) when processing petcoke without SNCR
High-speed ignition and a high burn-out without CO emissions
Can burn all fuel types
Accepts waste tire chips of up to 150 mm (6 in)
High operating stability provides a constant raw meal calcination rate at the kiln inlet, and overall high stability of the burning line
Key features:
Multichannel, low-NOx burner for main and ignition fuel ensures stable combustion
Meal distribution is ensured by an efficient splash box and ring chamber
Air flow is regulated by a sturdy, air-cooled tertiary air damper
Gravity is used to feed alternative solid fuels (ASF), which fall straight into the center of the flame
Drop-out box makes the meal fall onto the kiln in case of abnormal fluctuations
FCB In-line Preca: 100% substitution rate with any alternative fuel type
Fives' FCB In-line Preca precalciner is a flexible, multi-staged solution that helps reduce emissions and increase fuel efficiency. It is made of three in-line chambers to ensure proper combustion control, reduce NOx emissions and optimize calcination and burn-out.
The FCB in-line Preca is designed to achieve up to a 100% substitution rate, depending on the mix of alternative fuels. This is possible even when processing coarse solid alternative fuels, if combined with the FCB Preca-Max® rotary combustion chamber.
Customer benefits :
High fuel mixing flexibility:

Accepts medium-sized alternative solid fuels and high ASF humidity
Up to a 100% substitution ratio

Reduced emissions

Very low NOx emissions even without Selective Non Catalytic Reduction (SCR)
Minimized CO emission thanks to staggered meal introduction

Efficient combustion and perfect heat transfer
Optimized gas distribution and micro-mixing of fuels and O2
Key features :
Staged combustion by tertiary air staging in order to reduce kiln NOx in substoichiometric and high-temperature conditions
Enhanced recirculation zones increase the residence time for complete burn-out of larger fuel particles
Customized venturi to avoid ASF dropping to the kiln inlet