Start-up of the new reheating furnace boosting regional market
The new complex is located in the municipalities of Boucau and Tarnos of the New Aquitaine region of France and is specialized in the production of steel billets from the recovery of scrap. This is the first walking beam furnace for billet reheating installed in France over the last 40 years.

The new reheating furnace - Stein Digit@l Furnace® - has a capacity of 120 metric tonnes per hour and is designed to charge hot billets of different sections and lengths directly from the caster at 800 ºC to significantly reduce ecological footprint. The final products, wire rods and bars, will be serving the construction market boosting the economic dynamism of the region.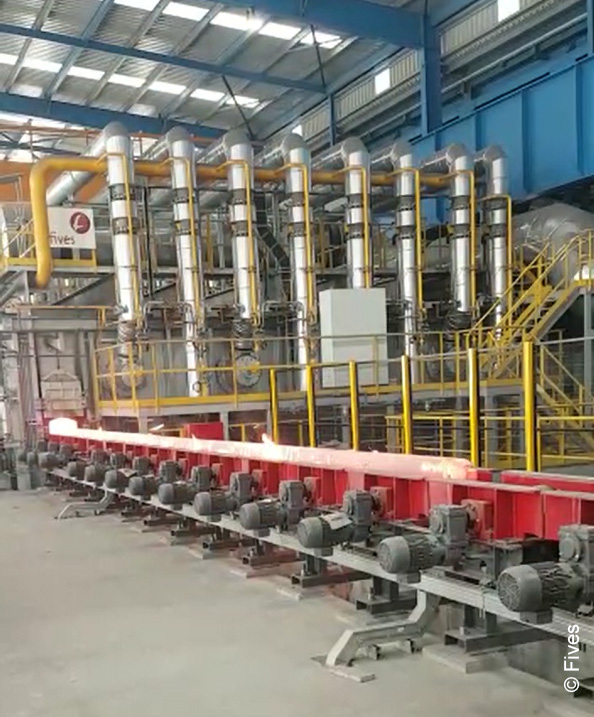 Dwindling ecological footprint
The Stein Digit@l Furnace® features the best available technology, including complete digital on/off control and heat curve control for optimum combustion with the billet discharge surface temperature at 1,170 ºC.
The furnace is equipped with the latest generation of AdvanTek® central wide flame burners. AdvanTek® burners from Fives are a steelmakers' choice for a green footprint and reduced energy consumption, with the lowest NOx emissions – less than 50 ppm.
"We manufactured and delivered equipment during the early stage of the pandemic when everything in Europe was shut down. With the first lot of equipment arriving on site in June 2020, we managed to deliver furnace parts in due time despite very restricted mobility, both in Spain, our main manufacturing base, and at the construction site in France," says Guillermo Imaz, Project Manager at Fives Steel Spain, a subsidiary of Fives which implemented the project. "The first billet was heated on December 17, 2021, without any issues, and that's my best memory. This project brought along a lot of satisfaction, and I give credit to my team who came with lots of expertise due to Fives Steel Spain's 100 years of experience in reheating furnaces to keep the project on track," he adds.
CELSA Group has been a long-term partner of Fives, having ordered overall six Stein Digit@l Furnace® for their plants in Spain and Poland, and now in France due to furnace unrivalled performance.