OTOMES Open House – flexibility and smart monitoring

The showroom was equipped with a complete OTOMES system, composed of hardware stations and software modules which allowed customers to experience direct benefits from a fully integrated manufacturing execution system. The Open House was held in a hybrid format: in person for local steel manufacturers and online for customers from Europe, as well as North and South America.
"Thanks to its modularity and flexibility, OTOMES allows easy interfacing with third parties systems and can be tailored to any customer's needs. It provides real time direct connection from ERP to machinery, gathers all information in one database and optimizes work orders and priorities", says Francesco Cazzola, Automation Sales Engineer at Fives OTO S.p.A. - Systems Division, a subsidiary of Fives Group, during the latest modules presentation.
The unprecedented interactivity offered to customers during the event immediately led to new orders for steel and tube manufactures. Moreover, new features on production monitoring raised during the interaction with customers have been taken into account to develop new OTOMES modules.
OTOMES modules gather and provide information about the machines set ups and performances indicators' feedbacks, by making available a wide range of reports, all easily customizable.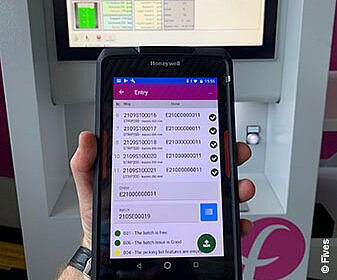 Improved efficiency
All the data is integrated in one database with a user-friendly interface that enables successful production management. Better yet, OTOMES can even be connected from a smartphone to monitor production from the entry of raw materials all the way to the final product shipment.
Fives has been constantly updating and improving its OTOMES products, consolidating customer's feedbacks and in-house know-how in automation on steel and tube manufacturing: slitters, tube mills, cut-offs, skin-passes, etc. Wherever the OTOMES system is implemented, it provides a great variety of advantages:
Increased productivity & stock reduction
Real time data analyses
Hidden cost disclosure
Delivery time predictability
Currently, OTOMES systems have been implemented in over 400 workshop centres, all around the world.