Fives' thermal solutions lower the environmental footprint of carbon fiber recovery for Curti
The "Piano Nazionale di Ripresa e Resilienza" is a remarkable opportunity for Italian companies to launch innovative projects that will have a positive impact on the country's economy and its environmental footprint.
As part of this program, Curti Costruzioni Meccaniche SpA, Hera, and the Department of Industrial Chemistry of the University of Bologna, entered a partnership to design and test an innovative thermochemical continuous process to recover carbon fibers from end-of-life parts of composite materials.
Fiber reinforced polymer matrix composite materials (FRP) are used in numerous industries including the automotive, aeronautical, naval, railway, and wind energy. As their recovery, recycling and reuse can lead to energy waste and the release of hazardous air pollutants in the atmosphere, one of the challenges of this project is to make the whole process more energy efficient and eco-friendlier.
Indeed, the most proven technology for the recovery of carbon fibre is pyrolysis: a heat treatment process in absence of oxygen in which the resins that give the shape to the composite materials, and whose vapors are considered hazardous air pollutants, can be evaporated.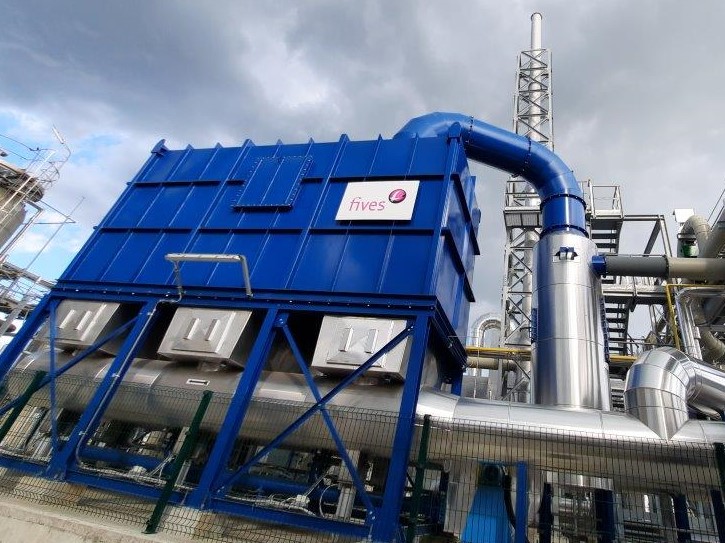 As an industry leader with decades of expertise in the destruction and abatement of hazardous air pollutants and volatile organic compounds, Fives is the right partner to support Curti's ambitions. The ITAS thermal oxidiser designed by Fives is capable of transforming resins vapors, into not dangerous oxidation products that will be released into the atmosphere.
The equipment will be installed in a new carbon fiber recycling plant in Emilia-Romagna, the first of its kind in Europe, that will treat up to 320 tons per year of composite materials with positive impacts in terms of environmental footprint and economic sustainability in the region.
The new plant will enable the production of high-quality carbon fibres, with energy savings of 90% compared to the production of virgin fibers and a reduction of CO2 emissions into the atmosphere of approximately 7,000 tons per year, notably due to the a "zero kilometre" policy for the disposal of these waste products.