Fives renews its maintenance contracts with SNCF
A successful partnership based on Fives' expertise in railway maintenance
SNCF, the French leader in rail transport, has Technicentres throughout the country in charge of maintaining rolling stock and component parts.
Since 2009, Fives has supported SNCF with the maintenance of its I&T. The 150 Fives employees entirely dedicated to railway maintenance will continue to work on a wide variety of installations within the Maintenance and Industrial Technicentres (including underfloor wheel lathes, lifting equipment, pit jacks, machine-tools, etc.).
Fives is aware of the challenges affecting the rail sector, and in order to help the SNCF to improve its competitiveness, its safety and the quality of service it delivers to its end customers, the company is committed to achieving two objectives: to optimize its customer's productivity gains by 30% and improve its results in terms of safety, availability of installations and quality.
Confidence renewed by awarding the maintenance of 3 batches
In 2020, SNCF issued a call for tenders for the maintenance of all the installations and tools in its Technicentres, which are divided into five batches.
Fives was awarded the maintenance of three of these batches, the maximum number possible for a single service provider:
Batch 1: Maintenance of its Industrial Technicentres
Batch 3: Maintenance of TER Sud-Est Technicentres
Batch 4: Maintenance of TER Sud-Ouest Technicentres
Furthermore, Fives was awarded all of the Industrial Technicentres which are the most technical.
In total, Fives will provide the maintenance at 23 SNCF sites, including, the following Technicentres:
Bischheim Technicentre
Auvergne-Rhône-Alpes Technicentre, in Clermont-Ferrand
Romilly-sur-Seine Technicentre
Nevers-Languedoc Technicentre, in Béziers.
"Since I&T was first outsourced in 2009, it has been great adventure for us alongside the SNCF. Our partnership has enabled the two companies to improve internal safety and significantly increase the reliability of the maintenance of I&T while optimizing costs.

Our contract was renewed on the strength of our shared history, our maintenance methods, the skills of our technicians and engineers, and our latest innovations, allowing us to maintain our position as the national leader in SNCF I&T maintenance. Based on our national transformation plan, we are developing our organization and our digital tools, methods, and innovations to achieve the level of performance expected by SNCF.

We are all very proud to be writing this new chapter in the history of maintenance."

Kévin Pierre-Emile, President of Fives Maintenance.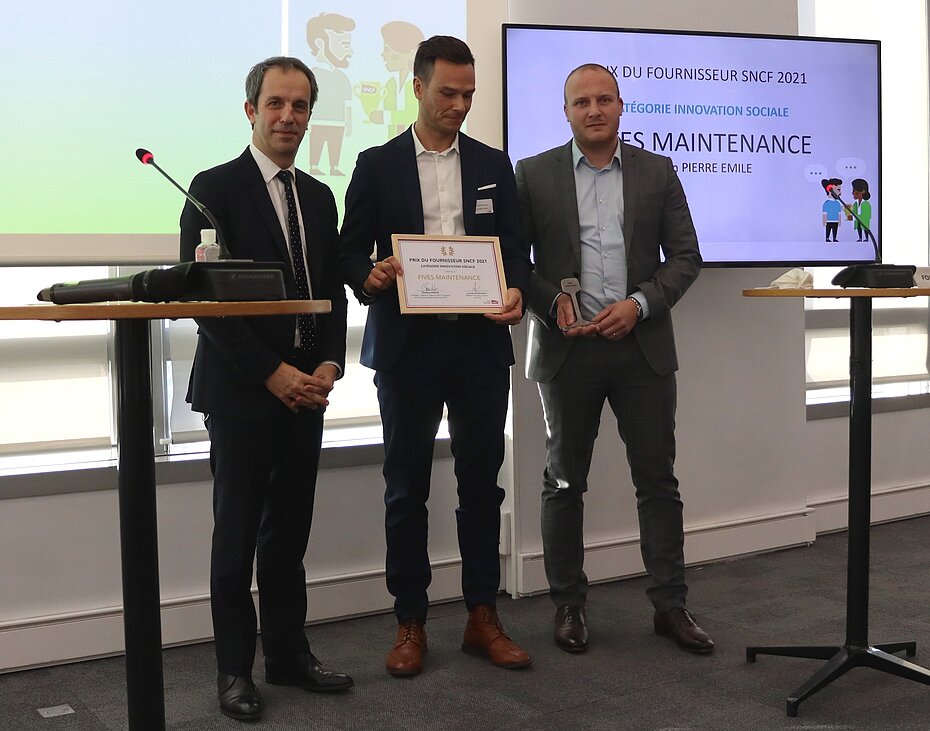 Renowned expertise in the field of maintenance training
In addition to this achievement, Fives was also awarded the prize of "2021 SNCF supplier" in the "social innovation" category for its internal training school, the Fives Academy – Maintenance.
The SNCF award recognizes the objective of the Fives Academy – Maintenance, which aims to address the lack of qualified labor that affects the whole industrial maintenance sector.
The exhaustive range of training given by the Fives Academy – Maintenance provides Fives employees and its clients with the vocational skills needed in the area of maintenance.