Fives and Severstal strengthen mutual collaboration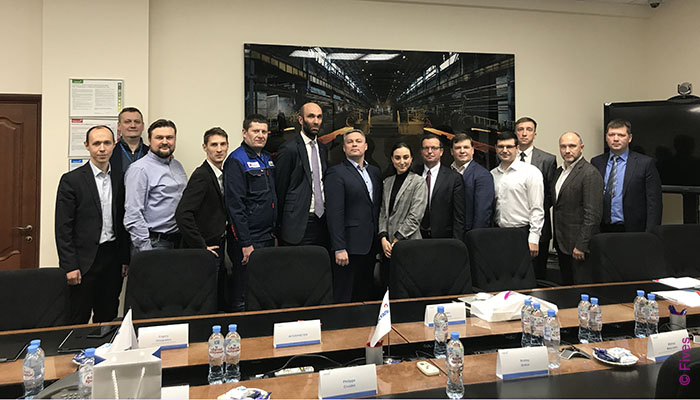 Fives was represented by Philippe Cruiziat, Executive Vice President of Sales & Marketing at Fives' Steel business unit and Andrey Zhilkin, Head of Department at Fives Russia, who presented "Bringing value through innovative technologies and solutions" to Severstal managers at the working group focused on engineering.
Fives and Severstal have been partners for more than 40 year, since 1976, when Fives designed and supplied decarburizing, annealing & coating lines. Recently, Fives has implemented a digital system EyeronTM in the steel shop, the hot rolling mill 2000 and the plate rolling shop N2 of Severstal. This real time quality management system enables the shops to automatically manage more than 20,000 rules to make decisions on product quality. Early in 2019, Severstal entrusted Fives with a contract for two new high-capacity slab reheating furnaces for its hot strip mill 2000.

The delegation visited the blast furnace "Severyanka" serving the hot strip mill 2000 of the rolling plant №2, which currently under major reconstruction. The two Stein Digit@l Furnace® from Fives, featuring high heating efficiency, will replace two of the four existing furnaces of the mill 2000.

"We are very happy to work with Severstal on the reheating furnace project and looking forward for our cooperation in other projects", says Philippe Cruiziat in his greetings to Evgeny Vinogradov, Chief Executive Officer of the Severstal Russian Steel Division. Severstal expressed its vital interest to continue working with French companies on energy efficiency, plant modernization and digitalization.