State-of-the-art cryogenics products and services
At Fives, we are proud of our standing as a technological leader in the cryogenics market. We specialize in the design, manufacture, installation and maintenance of brazed heat exchangers, cold boxes, core-in-drums and cryogenic Cryomec® centrifugal and reciprocating pumps.
Our cutting-edge, high-performance and complete product portfolio is specially developed for the gas production and processing industry and have a wide range of applications. These include air separation, distribution, natural gas processing, LNG, petrochemicals and hydrogen.

Expertise gained over years of experience
We trace our heat exchanger and cryogenic Cryomec® pump businesses to the Trane (France) and Cryomec (Switzerland) companies in 1959 and 1977, respectively. When the Fives Group acquired them in the late 1990s, Fives Cryo and Fives Cryomec AG became the world leader in cryogenics technology for the gas production and processing industries.
We expanded to China in 2009 with the creation of Fives Cryo Suzhou. In 2016, we established Fives Cryo Inc. in the US, with an engineering and sales office in Houston and a service center in Cleveland Ohio. The companies, all united under the Fives name since 2014, offer heat exchangers and cryogenic Cryomec® pumps via the Energy | Cryogenics business line. Our primary service mission is to support our clients' installed base, wherever they are located.
Fives cryogenic activity is strengthened by over 60 years of experience with the world's largest engineering and gas manufacturing groups. With state-of-the-art product design capabilities and truly global reach, we have established a reputation for reliability and long-term relationships with customers.
Supporting industry all over the world
As a founding Aluminium Plate-Fin Heat Exchanger Manufacturers' Association (ALPEMA) member, Fives constantly innovates to provide clients with the safest, most reliable and cost-effective products on the market. In addition, we offer a comprehensive range of services, both during projects and far beyond product delivery. These include operational and ongoing optimization support to help clients ensure the safety of personnel, boost productivity and reliability, and maximize return on investment.
We have three dedicated industrial production lines in France, China and Switzerland. Each is composed of similar facilities manufacturing, assembling and test areas, providing our clients with optimum quality. To satisfy clients completely and adapt to specific needs, we are committed to complying with national and international regulations as required. We are certified ISO 9001, 14001 and 45001 and thanks to our comprehensive Quality Management System, we can obtain new certifications quickly and easily when necessary.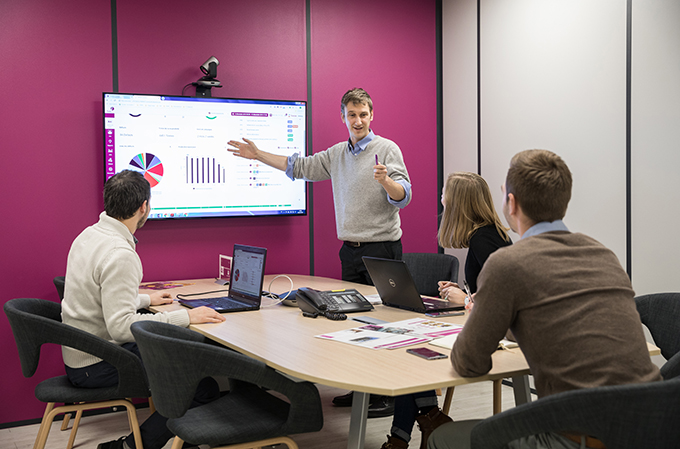 Working in a dynamic environment
Fives is a specialized team of experts working within an international multidisciplinary Group. We are committed to serving our clients by providing best-in-class products and high value-added services.
Working with us means choosing excellence, quality and market leadership. It also means joining a Group that puts the development of skills and knowledge first—because that it how we stay at the forefront of innovation. As you grow, so do we, and that is how we continue to provide clients with first-rate products and services.