Cost-efficient control of NOx and other pollutants
Fives designs and manufactures catalytic dry scrubbers for efficient control of nitrogen oxides such as nitrogen monoxide and nitrogen dioxide (NOx). Fives also supplies and installs high efficiency selective catalytic reduction (SCR) systems. Our NOx reduction (deNOx) solutions remove up to 99% of NOx.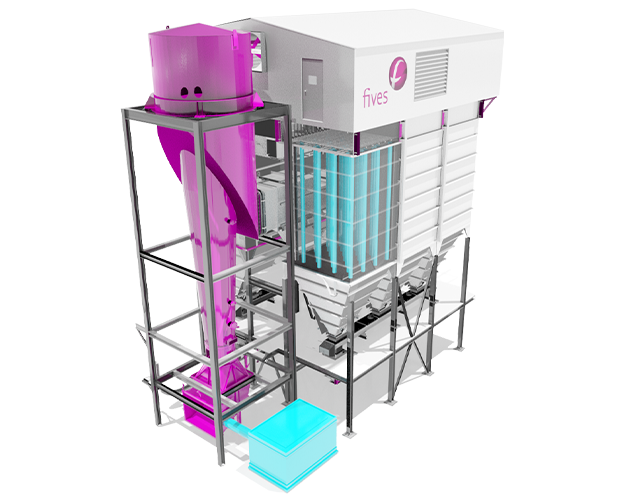 AD-NOx: multiple pollutant control within the All-Dry Scrubber
Fives' AD-NOxTM solution is an All-Dry (AD)TM Scrubber fitted with catalytic bag filters and an ammonia/urea injection system. It is specifically designed to provide the best contact between the ammonia/urea, NOx and catalyst. This enables it to neutralize NOx while removing acid gases and capturing particulates.
The system achieves deNOx without the need for an SCR reactor, thus reducing the CAPEX of the complete solution in some applications.
This cost-effective solution removes up to 97% of NOx and over 99% of SO₂, SO₃, HCl, HF and other acid gases. Much more efficient than a selective non-catalytic reduction (SNCR) system, the AD-NOx can be installed in substitution or in addition to an SNCR.
SCR: high-efficiency deNOx within a catalyst
NOx reduction using urea or ammonia as a reducing agent occurs naturally at 850 - 1,100°C (1,562 - 2,012°F). Using a catalyst increases performance and enables the process to occur at much lower temperatures. Fives supplies high-efficiency deNOx systems using ammonia within a catalyst (called SCR).
KEY FEATURES
Very high efficiency
Low temperature NOx control (starting from 180°C / 356°F)
Negligible ammonia slip
Minimized CAPEX through the use of shared catalysts
In cement applications: low compressed-air consumption thanks to the high efficiency of the preheater cyclones (< 50 mg/Nm3)
We also offer regenerative SCR systems, designed to deliver high-performance NOx reduction at low temperature while cleaning the catalyst.
Fives' SCR in the cement industry:
We leverage our expertise to develop SCRs that achieve the lowest NOx emissions on the market and respect specific criteria:
Suitability for common dust rates (50-100 g/m3 / 0.05-0.1 fl oz/ft3)
High reactivity
Mechanical and chemical stability
Low pressure drop
SNCR: EXPERT INSTALLATION FOR LONG-TERM EFFICIENT NOX REDUCTION
In an SNCR system, urea or ammonia is injected in the riser duct and gooseneck, where the temperature is optimal for deNOx.
Installing an efficient SNCR system requires particular expertise. Our engineers are trained in choosing the ideal reagent and dosage, as well as identifying the best injection points, temperature gas composition and residence time.
KEY FEATURES
Tailor-made solution
Consideration of process conditions (fuel mix, temperature changes, precalciner and gooseneck specificities)
Limited footprint
Low CAPEX
Provides storage for ammonia and urea, dosing equipment and injection lances