Transat Jacques Vabre Normandie - Le Havre
Rémi Aubrun will be Louis Duc's co-skipper!
Master sailmaker for roughly the past 35 years, Rémi Aubrun is also an open sea veteran sailor. He got onto many podiums during the past 30 years: Class40, Mini, IRC… Rémiwill be Louis Duc's co-skipper on the Transat Jacques Vabre 2023. This race is a first for him - his very first IMOCA transat! Rémi Aubrun will also be in charge of the Fives IMOCA sailmaking.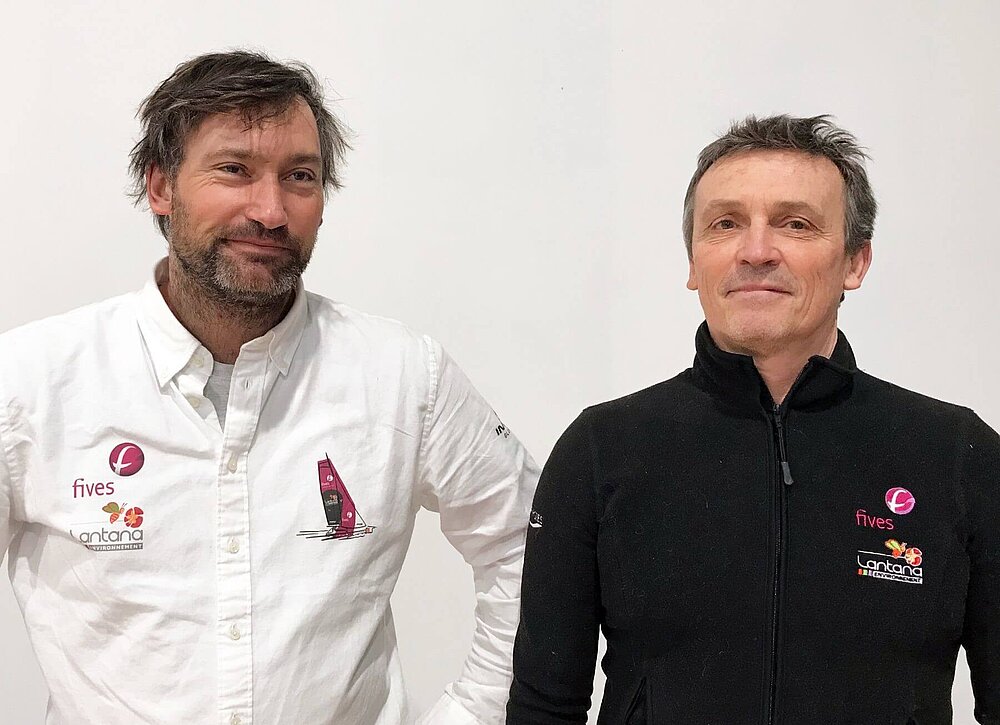 Rémi Aubrun: "It has been a very good surprise for me... I must say I don't even think I realize what's happening right now. I raced in the Mini Transat, the Québec - Saint Malo, but I never raced a transat with an IMOCA. This Transat Jacques Vabre will be twice as much a first! I take it as a real gift."
Louis Duc: "I really like Rémi. He has a very high technical level, even if he refrais from admitting it! I saw him during the Class40 races: he knows where to go! He sailed on the America's Cup, on Mini, on Class40, ... he is highly adaptable; that's precious."
Human-powered sailing
Rémi Aubrun: "It always went well with Louis. He's a good guy, fair and square. He's a sailor that I fancy sailing with. Louis is, no doubt, a good 'manager' for whom we're ready to give our best!"
Louis Duc: "I like a lot Rémi. He's discreet and humble. I know that it will go perfectly fine with him, humanely speaking. That's essential."
Two hats
Rémi Aubrun will manage the making of a new set of sails for the Fives IMOCA, along with Maxime Paul (Louis already worked with him before). He will therefore wear two hats: co-skipper and master sailmaker.
Louis Duc: "We already worked together with Rémi for my last Class40 and I saw his work for Miranda Merron's IMOCA: I know he has a perfect technical eye. Moreover, he works like no tomorrow every time so that everything goes smoothly with trusting teams.
When he'll be on board, he will be a racer and a master sailmaker. We will make use of our time sailing so that he can use critical thinking on our sails and identify where we can improve before the Vendée Globe. The goal is that next year, we will have the best balance between performances and durability."
Rémi Aubrun: "We will work on the sails during our preliminary sorties. I really enjoy Louis' trust. I'm enjoying it a lot!"
Louis and Rémi will participate to the Rolex Fastnet Race at the end of July, and to the Défi Azimut - Lorient Agglomération in September. All of that before launching into the Transat Jacques Vabre on October 29th.
Palmarès Rémi Aubrun
Mini 6.50
15 podiums (Proto and Series)
3rd Mini Fastnet 2019
Mini Transat 14th in 2017 – 12th in 2009
Class40
3rd Rolex Fastnet Race 2017
2nd Normandy Channel Race 2014
Winner of Mondial Class40 2008 and 2011 – 2nd in 2012
2nd Transat Québec Saint Malo 2012
IRC & monotype
3rd Duo Cat Amania 2019
Winner of Spi Ouest France 2004 in IRC 2
3rd Sail Tour de France 1994 and 1995
Master sailmaker for roughly the past 35 years for big sail-lofts and 2 America's Cup teams ('92 and '95)
A respectuous and circular sporting event
The Fives IMOCA is an "upcycled" boat. Thanks to Louis, it lives a 2nd life!
Louis and his team gave a new life to a very damaged IMOCA because of a fire. This refurbishment undertaking was a real technical challenge... that succeeded in only 10 months!
Louis and his team continue to apply this upcycling principle and optimization research with a constant effort on sobriety throughout this Vendée Globe program.
Louis is also very keen on respecting everyone's work and giving a chance.
The Fives Group, a major partner in this Vendée Globe program, has been seduced by such commitment and values, as it shares the same values and responsibilities.
Fives, your partner for a more virtuous industry
For over 200 years, the Group has designed the breakthrough solutions and technologies that make industry what it is. From the first railways to the Eiffel Tower, through the spatial conquest, Fives always spearheaded the industry of the future. Pioneering decarbonization, the Group is an unconditional partner of the industry's energy transition. Through digitization, the promotion of a circular economy and the development of new processes and new energy sources, Fives puts its technological leadership to its customers' service.
www.fivesgroup.com