Guyader Bermudes 1000 Race
Master and student on the same boat
"It's a bit because of - or thanks to - me if Louis didn't study for long!", smiles Halvard Mabire. "When I stopped school, Halvard took me under his wing to help me go in the right direction", attests the Fives skipper. Today, "it's the student inviting the master to sail, in order to get stars, or homeworks!", laughs the veteran skipper from Cherbourg.
Indeed, if Louis chooses to invite his former mentor on this first race of the IMOCA season, it's for the pleasure to race with him in duo for the first time. A powerful symbol. But it's also to keep learning...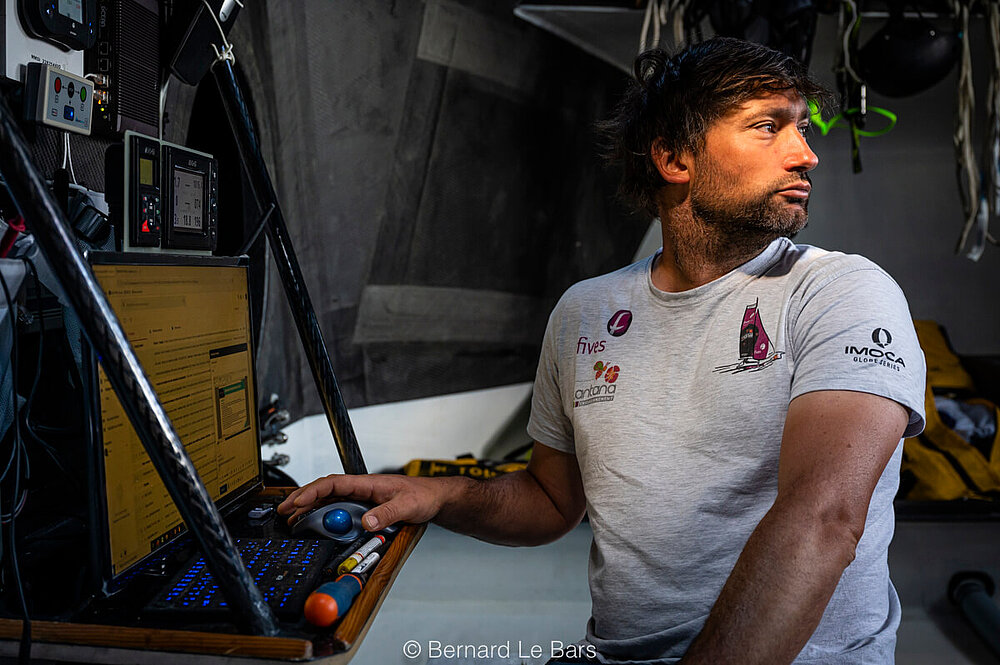 Two generations, one vision and - more than anything, a beautiful and long story of passing down knowledge will be present on the Fives IMOCA during the Guyader Bermudes 1000 Race: Louis Duc embarks Halvard Mabire for this 1,000 miles loop, starting in Brest on May 7th.
It's amazing!
Halvard Mabire: "It's amazing! I'm very happy. Sailing with Louis, it's a personal story. I know him since he was a toddler. He chose the university of life at a young age... He wouldn't be where he is, had he not gotten navail experience very early in his life. This experience proves to be precious now. Because when you start an IMOCA project, you go from sailor to company boss. And he's doing quite well."
Louis Duc : "I know Halvard since I was 7. He used to sail a lot with my grandfather. He then help me a lot, I fully trusted him when I began racing in open sea. I admire him. I had the privilege, at the start of the Route du Rhum 1994, to go and visit his wonderful 50 feet in Saint Malo. He even put on display my small boat from my early days on his chart tabke..."
Despite this long and powerful story they share, this Guyader Bermudes 1000 Race will be the first they will run together as a duo.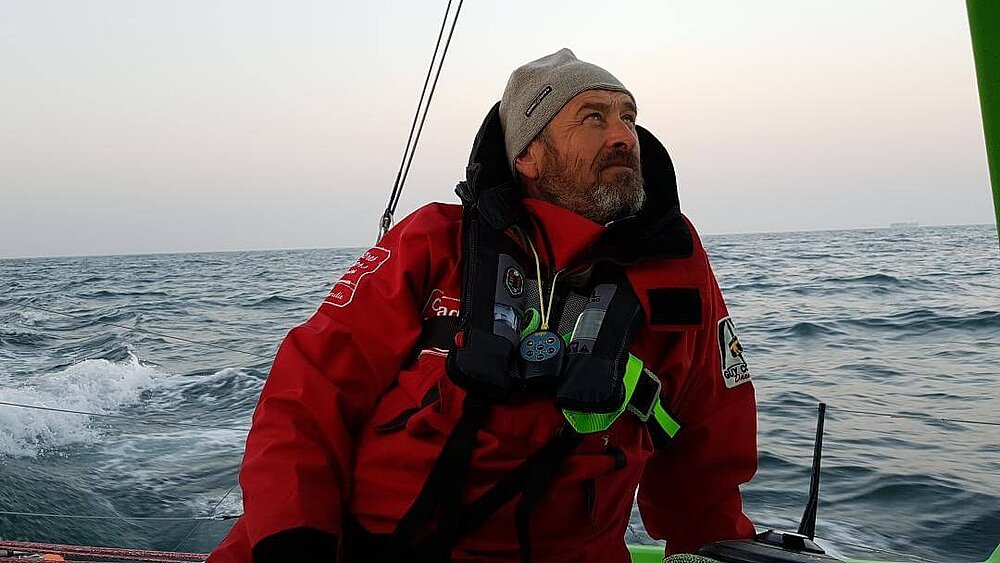 He sailed with the best sailors in the world
Finally, evident complicity, humor and shared moments should do very well on the Fives IMOCA during those 4 to 5 racing days.
Halvard Mabire: "We get along well. We have the same philosophy on quite a few topics. It's important when sailing as a duo."
Louis Duc: "It will go very well. I want to learn from him, from his ways. He sailed with the best sailors in the world, for instance on the Whitbread (world tour with a crew). He learned techniques he absorbed and improved... I don't have such experience."
This Guyader Bermudes 1000 Race will have a very special flavour for these two sailors, linked by a long story of mutual respect and admiration.
---
Making a nod
Louis Duc: "In 2008, we were competitors on The Transat and then is when I felt the proudest of my life. I finished 4th, a few minutes before him! It's one of my greatest victories!"
Halvard Mabire: "Louis won't see me drowsy! I'm going to start this race well accustomed: I'll be back from 2 months at sea and really happy to participate in this adventure!
But it will still make him exercise; I am not as fit as I used to!"
---
Halvard Mabire is among the pioneers of open sea. In 1977, he stood on the podium of the very first edition of the Mini Transat. He then goes in Figaro with - notably - 7 « Solo » (and 2 podiums) and many transatlantics and world tours.
45 years later, he scores 5 world tours (Whitbread Round the World Race), 32 racing transats (Ostar, Artémis Transat, Route du Rhum, Transat en double, Twostar…): nearly worth 18 world tours in total! That's 450,000 miles racing… and soon a thousand more!
1977: 3rd - Mini Transat
1981: 3rd - Twostar, with Éric Loizeau on Gauloise 4
1988: 6th - British Transat on Gérard Hénon, a 60 feet trimaran
1989: 2nd - Solitaire du Figaro
1993: 1st - Course de l'Europe in open 60 feet monohull
1996: 7th - transat Québec-Saint-Malo with Lionel Lemonchois
2008: 1st - Transat Québec-Saint-Malo, in Class40, with A.Carpentier and D.Le Vourch
2008: 5th - Artemis Transat in Class40
2010: 2nd - Normandy Channel Race in Class40, with Peter Harding
2012: 1st - Transat Québec-Saint-Malo in Class40 on Campagne de France
2012: 2nd - Normandy Channel Race in Class40 with M. Merron, on Campagne de France
2022: 4th - Route du Rhum, in multihull on GDD-Le Kraken
A respectuous and circular sporting event
The Fives IMOCA is an "upcycled" boat. Thanks to Louis, it lives a 2nd life!
Louis and his team gave a new life to a very damaged IMOCA because of a fire. This refurbishment undertaking was a real technical challenge... that succeeded in only 10 months!
Louis and his team continue to apply this upcycling principle and optimization research with a constant effort on sobriety throughout this Vendée Globe program.
Louis is also very keen on respecting everyone's work and giving a chance.
The Fives Group, a major partner in this Vendée Globe program, has been seduced by such commitment and values, as it shares the same values and responsibilities.
Fives, your partner for a more virtuous industry
For over 200 years, the Group has designed the breakthrough solutions and technologies that make industry what it is. From the first railways to the Eiffel Tower, through the spatial conquest, Fives always spearheaded the industry of the future. Pioneering decarbonization, the Group is an unconditional partner of the industry's energy transition. Through digitization, the promotion of a circular economy and the development of new processes and new energy sources, Fives puts its technological leadership to its customers' service.
www.fivesgroup.com