It's been two weeks already that Louis and his team have reopened their toolboxes in Caen, at V1D2. "There was something to do for everyone", explains Louis.

Starting with rather heavy handling: "We dismantled the keel's head to work and optimize the actuator."
The centerboard setting system was also reinforced and the tail, slightly damaged during the Vendée Arctique, have been repaired.

"We discovered a few scratches here and there. Nothing to worry about, but it's been repaired."

On top of this, more work has been done on finishing, seamanship, sail paint adjustments, electronic updates...
The team also made a full checkup of all halyards and other riggings that should be replaced before the start of the Route du Rhum - Destination Guadeloupe.
There was quite some work and it will still be the case up until getting the boat back into the sea this Wednesday, August 31st and up until the conveying to Lorient, planned on September 8th.
The summer break allowed the whole team to recover. After so many winter and pre-season works, that was quite expected!
"Everyone is back in shape!", smiles Louis. He, too, for the first time in 2 years, could relax a bit…
Louis Duc: "We cleared our minds during these 2 weeks, it's relieving! It has been so long since the last time I did that! Since the start of the project. But thanks to our partners' enthusiasm, we can now project ourselves long-term in a more relaxed way and organize ourselves in consequence. This is really interesting."
Some backup!
The team is growing with the come back of Louisette and François Angoulvant soon joining.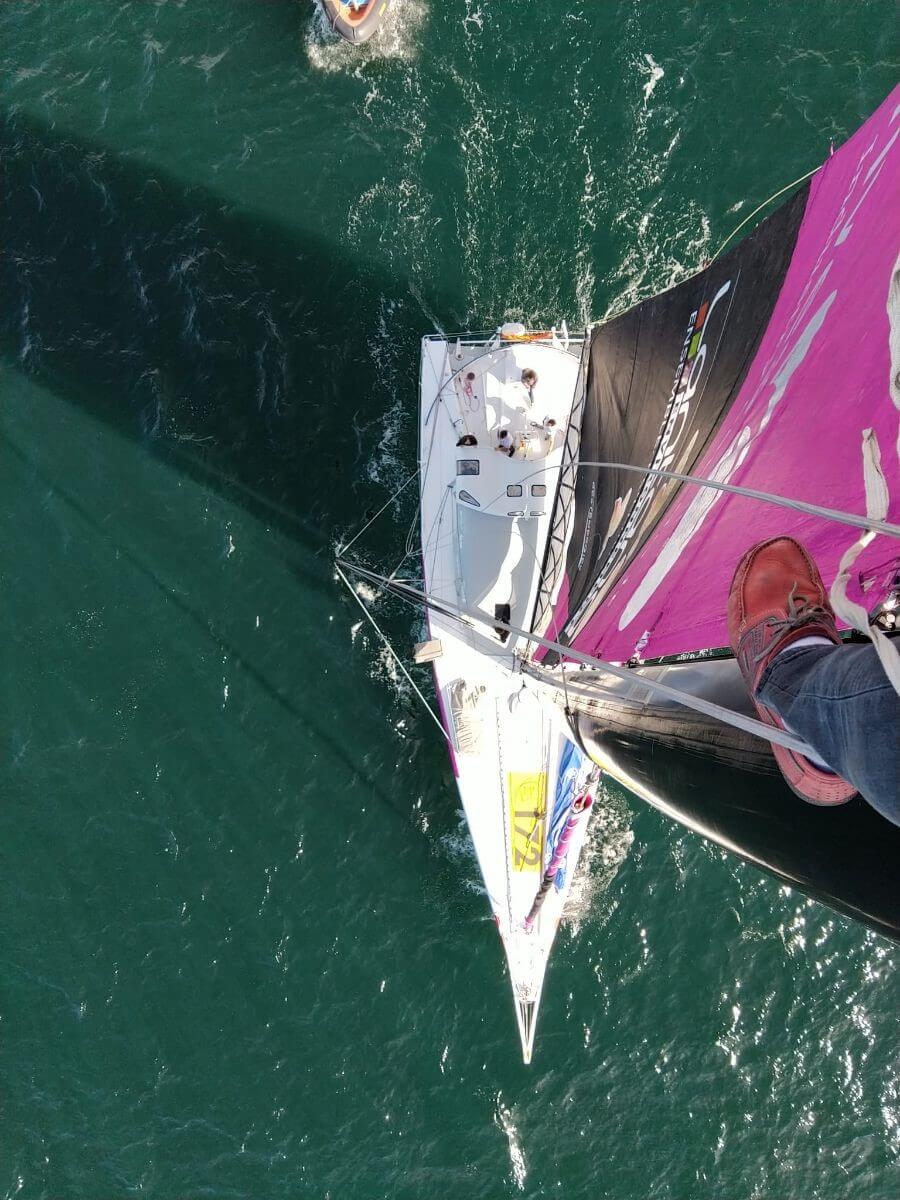 What's next
Sept. 8/10th - Conveying Caen - Lorient
Sept. 13/18th - Défi Azimut in Lorient
Sept. 21st - Route du Rhum – Destination Guadeloupe Presentation in Paris
Oct. 3/5th - Conveying Lorient – Cherbourg and last technical preparations in Caen
Oct. 25th - Conveying to Saint Malo
Fives, your partner for a more virtuous industry
For over 200 years, the Group has designed the breakthrough solutions and technologies that make industry what it is. From the first railways to the Eiffel Tower, through the spatial conquest, Fives always spearheaded the industry of the future. Pioneering decarbonization, the Group is an unconditional partner of the industry's energy transition. Through digitization, the promotion of a circular economy and the development of new processes and new energy sources, Fives puts its technological leadership to its customers' service.
www.fivesgroup.com